While the Bundesliga has already started, and has already produced some interesting results, we continue our preview. Lots of matches still to played, and the first match day makes for a small sample size to already derive too much insight from. So let's keep going.
RBL are still fairly new to the Bundesliga, but have established themselves as a top team of the competition already. They play fresh, modern, attacking football, bring young players in, and had their first full season under manager Julian Nagelsmann just prior. Given their hunger for success, and the desired marketing drive of their main sponsor, ultimately they will be looking for more than just swimming along with the rest of the field.
Will they give Bayern a run for their money?
On first look: If Bayern manage to conserve the form they have shown in 2019, most likely no other team is going to touch them. So can Leipzig maintain their position and try to stick with Bayern for as long as possible, especially after Timo Werner as their pivot in offense has left for Stamford Bridge?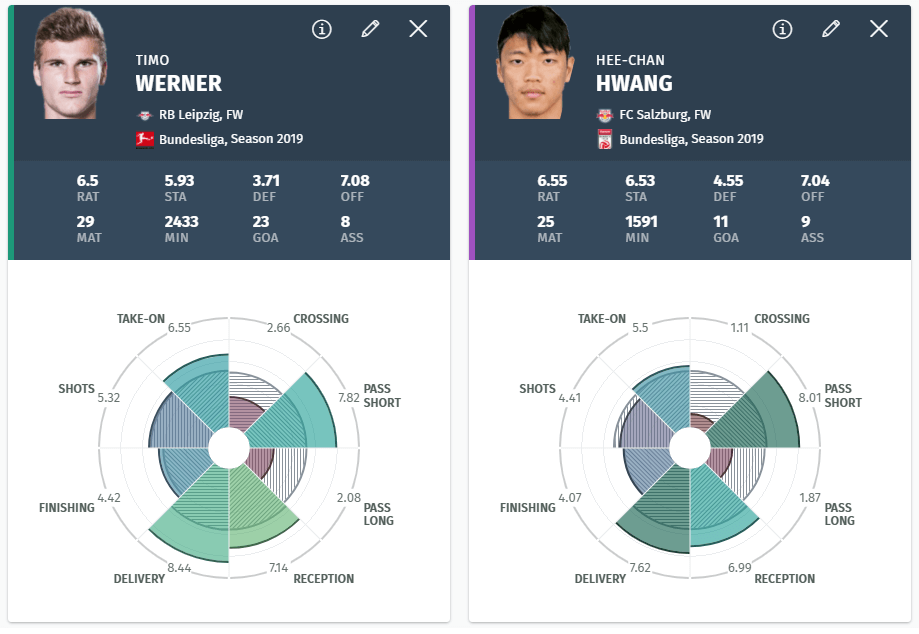 They signed Hee-chan Hwang and looking at the polars you can see why. The charts are nearly congruent. Werner generated more value with his dribblings and proved slightly better link-up in positions of offensive value (DELIVERY and RECEPTION), while Hwang had a minor advantage in build-up play with short passes. If Hwang can transfer that style and level of performance to the German Bundesliga, he would be a nearly 1:1 replacement. But the Austrian Bundesliga can be considered a slightly softer competition and there are many variables, also of personal and social nature, that affect a transfer. But even with a slight drop-off, Hwang looks like a very reasonable transfer.
So much for what they had to do. Now let's get to the exciting part: With Dani Olmo (transferred past winter) and Lazar Samardzic they have signed two of the most promising young players in the game.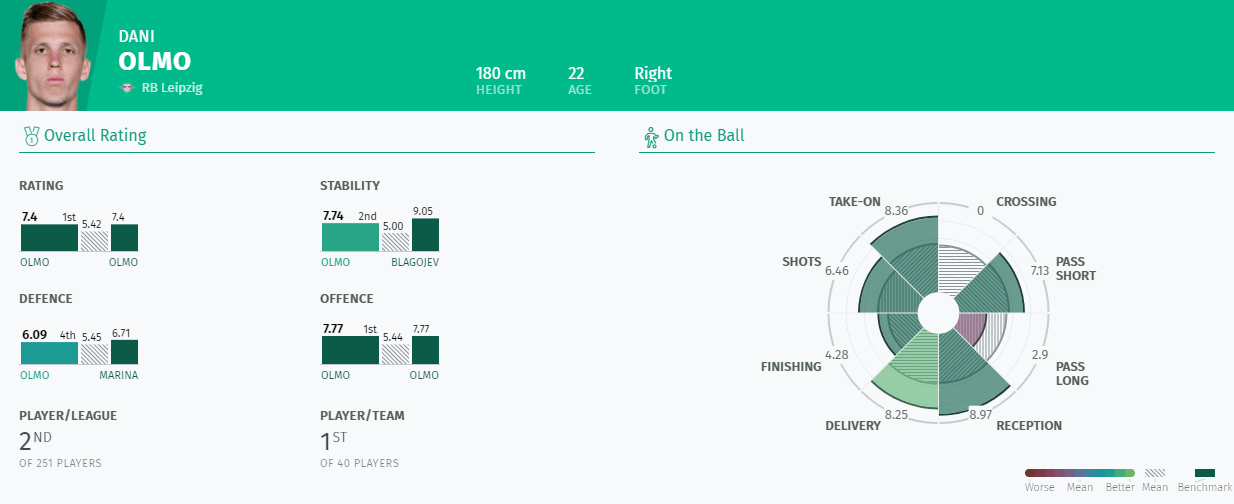 This is Olmo's profile at Zagreb, with rather spectacular offensive output. Yes, the competition is not quite at Bundesliga level, but someone outperforming the rest of the field in that way and at that age is always worth a second look. We have been tracking him for a while before his move, and given his background as a Barca youth player, this kind of offensive profile makes for a very compelling case. He could very well become mainstay of their starting eleven.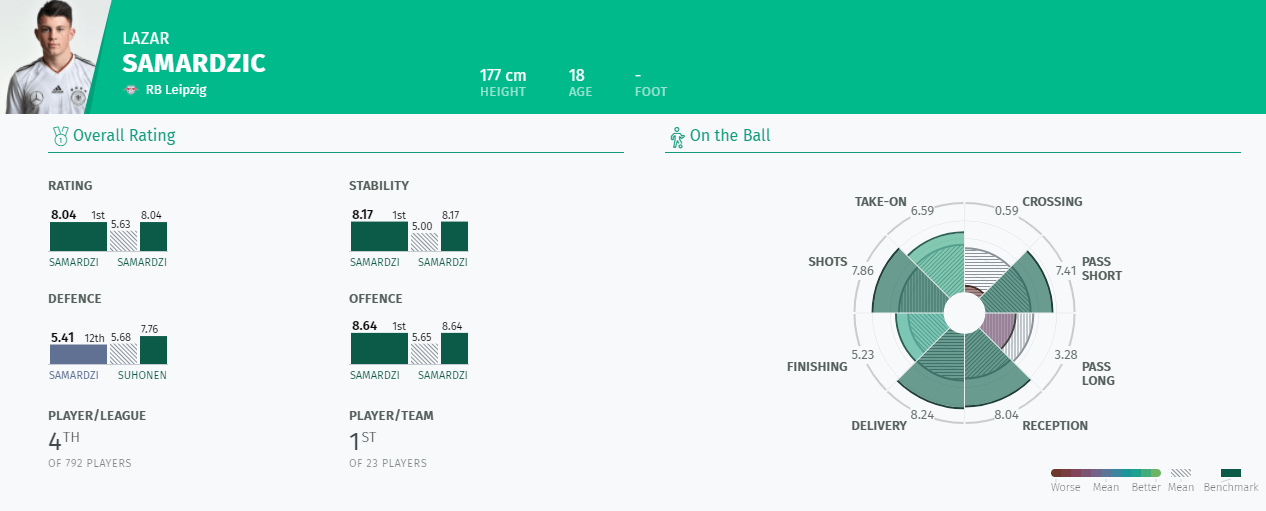 While we are on the topic of players we have been tracking for a while, let's talk about Lazar Samardzic. Right now it seems like everyone is looking towards English talent to find the next big thing in football, while little faith is being put in German young players. Is our training and education worse, and the pool of ambitious prospects any smaller? Not very likely. Maybe RBL are the ones to break the mold here, because they managed to snap up Lazar Samardzic for a neat 500k, and as far as Scoutpanel is concerned, he is considered the fourth best player of German U19 championship of 2019 and looks ready to make the jump into professional high-level football. With this kind of profile it would be very surprising if he did not manage to make an impact and put his abilities on display. It remains to be seen how quickly RBL integrate him into their plans for the season, but given the right opportunities, other clubs might be scrambling for German U19 players by winter.
Every club of the European top flights should have been aware of him and eager to make a move at that price point. Scoutpanel provides a wide array of different interesting players from the German U19 and U17 competitions that are well worth a look, at sometimes even a second and third and talk with their agent or parents.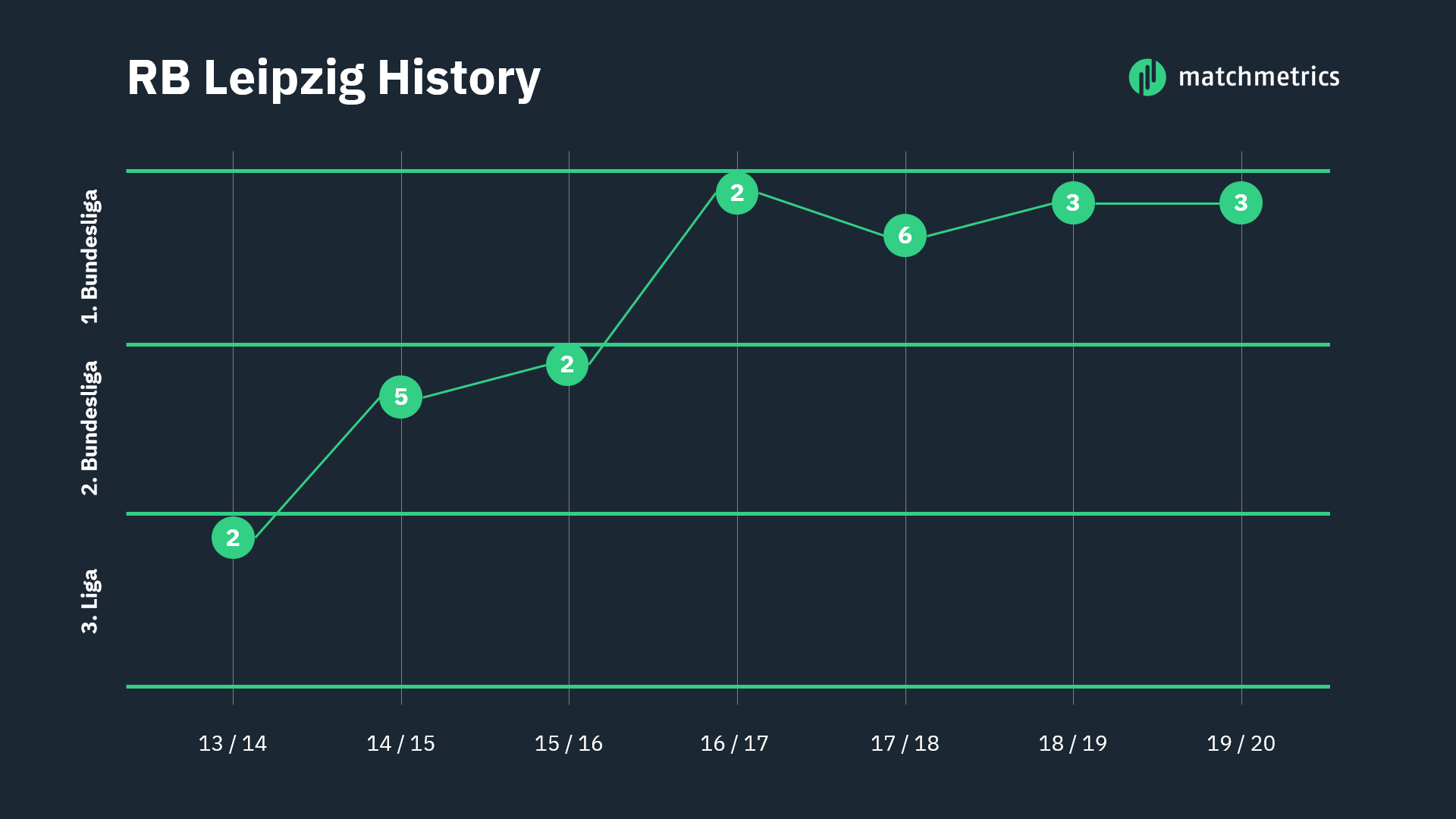 While it would require a lot of circumstances to converge for RBL to truly challenge Bayern for the title, we are looking forward to some entertaining attacking football from them as they mix it up at the near-top of the table. And it's going to be very interesting to see how the young players who have joined the side will develop and show us what the future of football looks like.
Author:
Michael Markefka
Head of Analytics @matchmetrics
e-mail: m.markefka@matchmetrics.com