Quo vadis, Borussia Dortmund? With their last Bundesliga title receding further into the distance with each passing year, what is next in store for Borussia Dortmund? Bayern seem unbeatable (except for when they are being beaten, like last match day), und there is a strong suite of competitors contesting the CL spots. Will they rally the troops to try and storm the top of the table? Or will they quietly consolidate and wait for the right opportunity? Or even have a hard time keeping up with the rest of the pack?
It is going to be an interesting season, and there will be some challenges ahead. So how did they perform in the 2019/20 season? What is the base they are building on?

At least in our ratings, their table finish seems slightly lucky. They have been let down by their defensive ratings and their stability, which describes how much the single match performances deviate from the team's average. Defensive ratings can be low if a team is so overwhelming and controlling in offensive terms that their opponent does not get to develop much offensive initiative. Yet clubs like Bayern, Bayer and Gladbach managed to arrive at much higher defensive ratings while providing comparable offensive ratings. So defense is going to be an issue, as is keeping their level of performance up.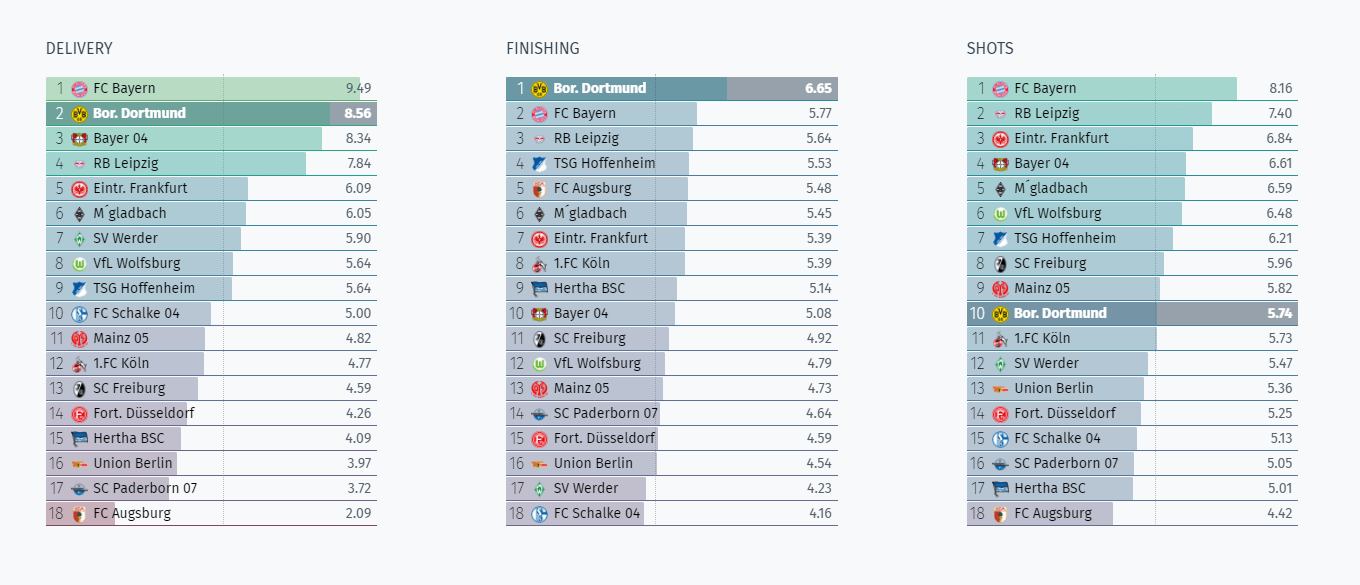 Let's take a look at their offensive output. They have been very good at getting the ball into positions of offensive value (DELIVERY), but actually did not manage to create a high volume of total value in the positions they tried to score from (SHOTS). For some reason they could not convert offensively valuable possessopms into attempts at goal. To some extent this has been alleviated by a very high Finishing rating, which describes the efficiency in converting their chances, taking the quality of those situations into account. They have outperformed the rest of the field by a considerable margin, but there is an issue here: Finishing, how clinical you are in front of goal, tends to regress to the mean the longer your time axis is. If that is a particular strengths of yours, you can maintain an above average rating, but given the clear gap to second placed Bayern there, this level of Finishing performance does not seem sustainable.

Looking at Haaland's profile for the German Bundesliga in 2019/20, you can see his on the ball profile looking fairly average, except for his Finishing, which is significantly above average. His counter pressing could also be improved. Yes, he's scoring goals, but while he may score a considerable number of them, his playing style could leave the team as a whole with fewer goals than if they were fielding a more constructive forward.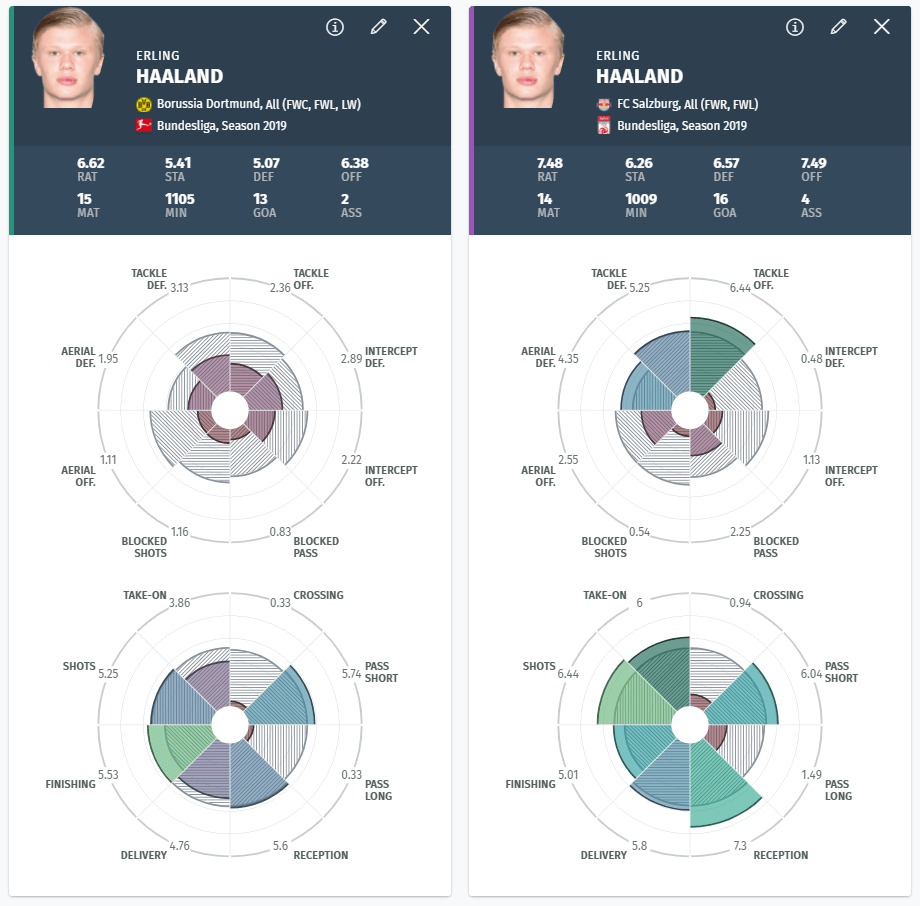 Alas, he is young and still adapting to the level of competition, so he could get there. His profile at RB Salzburg in the Austrian Bundesliga shows a much more complete player. But, right now, it could be considered a risk to go into the season with him as the main forward.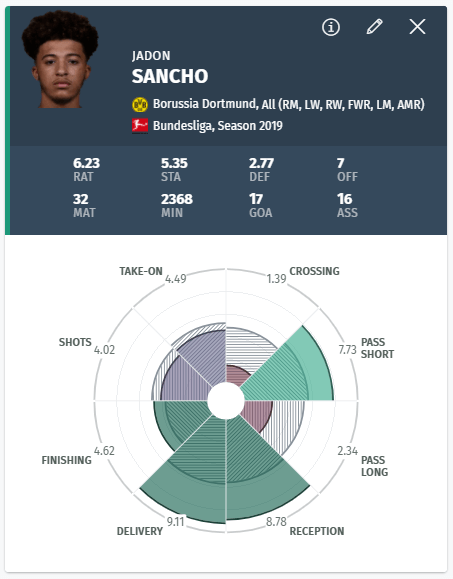 Losing someone like Jadon Sancho, who creates a lot of value in build-up and link-up play in valuable positions, while also a threat in front of goal, would then hurt a lot. Especially after Achraf Hakimi has left for Inter. Raphael Guerreiro, Thorgan Hazard and Julian Brandt could become pivotal to the team's season, but Dortmund's offensive play could begin to stutter if any one of them became unavailable or experienced a slump in form.
There are also some question marks regarding Thomas Meunier, given his performance at PSG. But we will leave that to a season review and look back then whether he could improve on his form. There are reasons to suspect that his position might become an issue during the season though.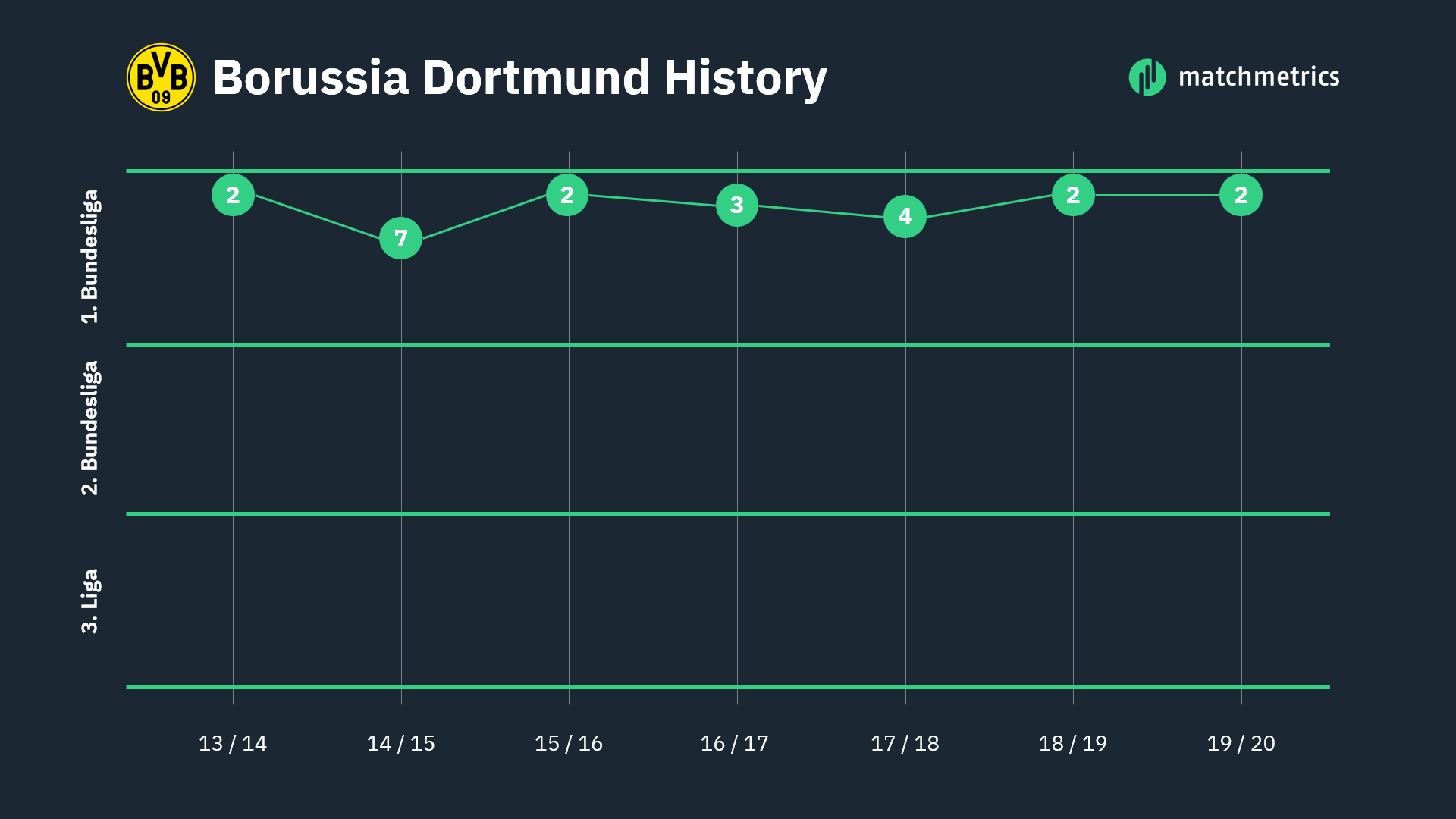 Summing up, this could become a bumpy ride for Dortmund. Some of the players have to deliver on their promise, while potential outgoing transfers could leave the team weakened, and others have to prove that they earned their laurels. We expect some brilliant performances along the way, but they will have to stay sharp to qualify for the Champions League. Challenging Bayern seems rather unlikely.
Author:
Michael Markefka
Head of Analytics @matchmetrics
e-mail: m.markefka@matchmetrics.com