What do you do when you have won the domestic league eight times in a row, have won the domestic cup, the highest continental cup, and both corresponding super cups? Where do you go next? Common wisdom would say there is no way but down. But that does not sound like a direction Bayern München would agree with. They are still favorites to win the league, favorites to win the cup, and a deep run into the CL's later stages is expected and could be considered a success for any team at any time. They should have a comfortable season ahead of them. Should.
Because there are some changes to the squad, and perhaps the serial success could play tricks on their motivation, even if on a subconscious level. I won't bore you with charts on their team performance in 2019/20. The team as a whole pretty much did everything well past season, and it seems like Flick can steer the ship. So we will focus on the individuals and what has happened in transfers. Sané, Roca, Sarr, Choupo-Moting, Costa in, and Thiago, Coutinho, Perisic out.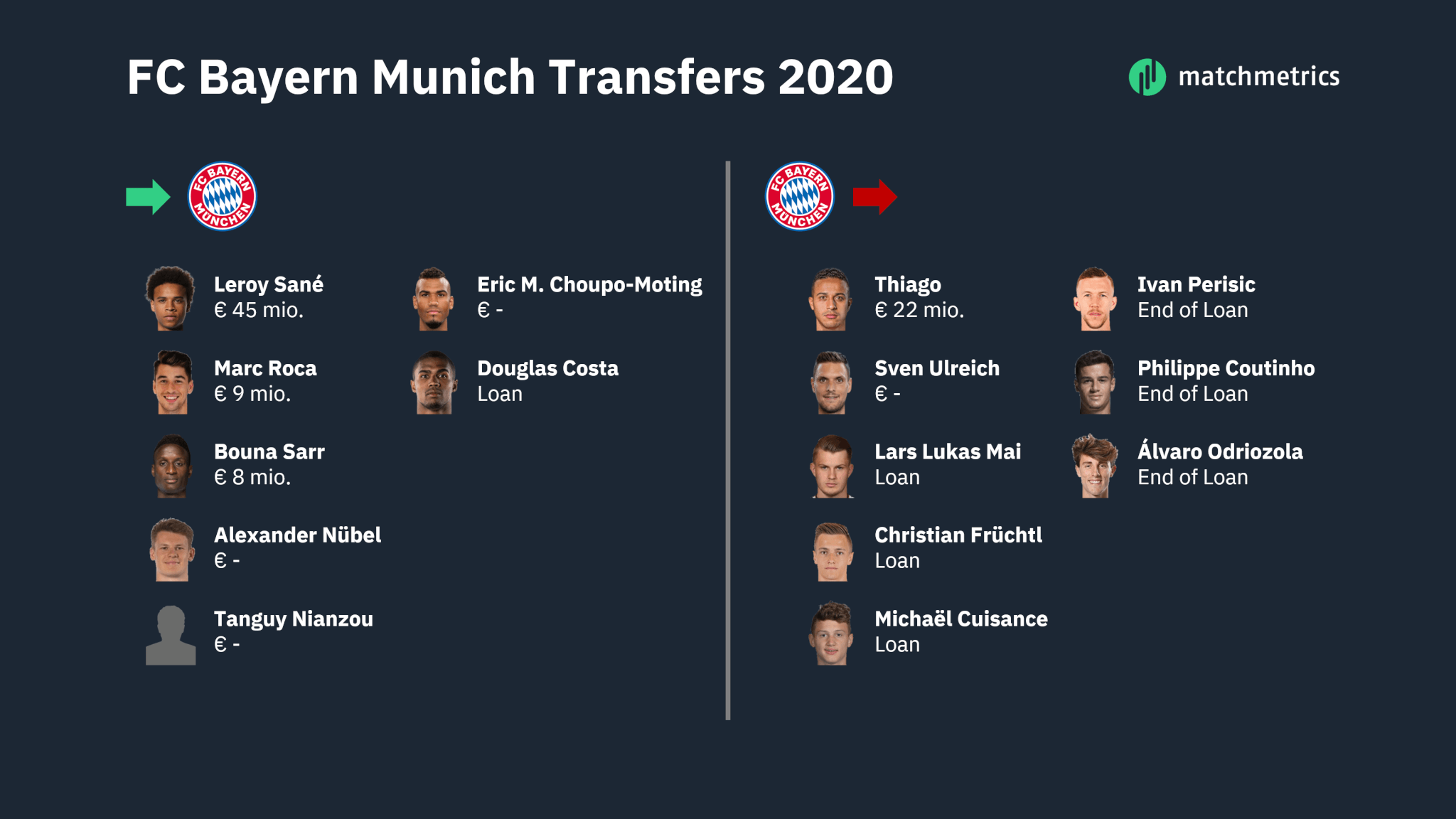 Of those who have left, Thiago and Coutinho are the high-profile names.

Despite less activity towards goal than previous years, Thiago provides a great mix of defensive attention and offensive structure, link-up in offensively valuable positions, and individual quality on the ball to get past defenders and open up his team's play. The more players like him you can field to arrange your team like a self-amplifying feedback loop, the more likely you are to arrive in front of your opponent's goal and keep the other side away from your own. He has shown this kind of quality for many years with great consistency, except for occasional injury spells. At his age, it would not be unreasonable to expect him to perform at that level for a few more years, before the inevitable decline sets in. His departure can only be considered a loss for Bayern.

In a more advanced position, Coutinho's profile paints a similar picture. With this kind of performance profile you should be sad to see him leave your team. Of course a loan deal at €8.5m seems expensive at first, but if you break some of the recent transfer sums down to their per-year amortization, enabling a club to tie down a player for up to five years, then €8.5m per year appears to be a very reasonable lease. Barcelona should be able to make good use of him upon his return. But will Müller be enough to fill this gap on his own for Bayern München?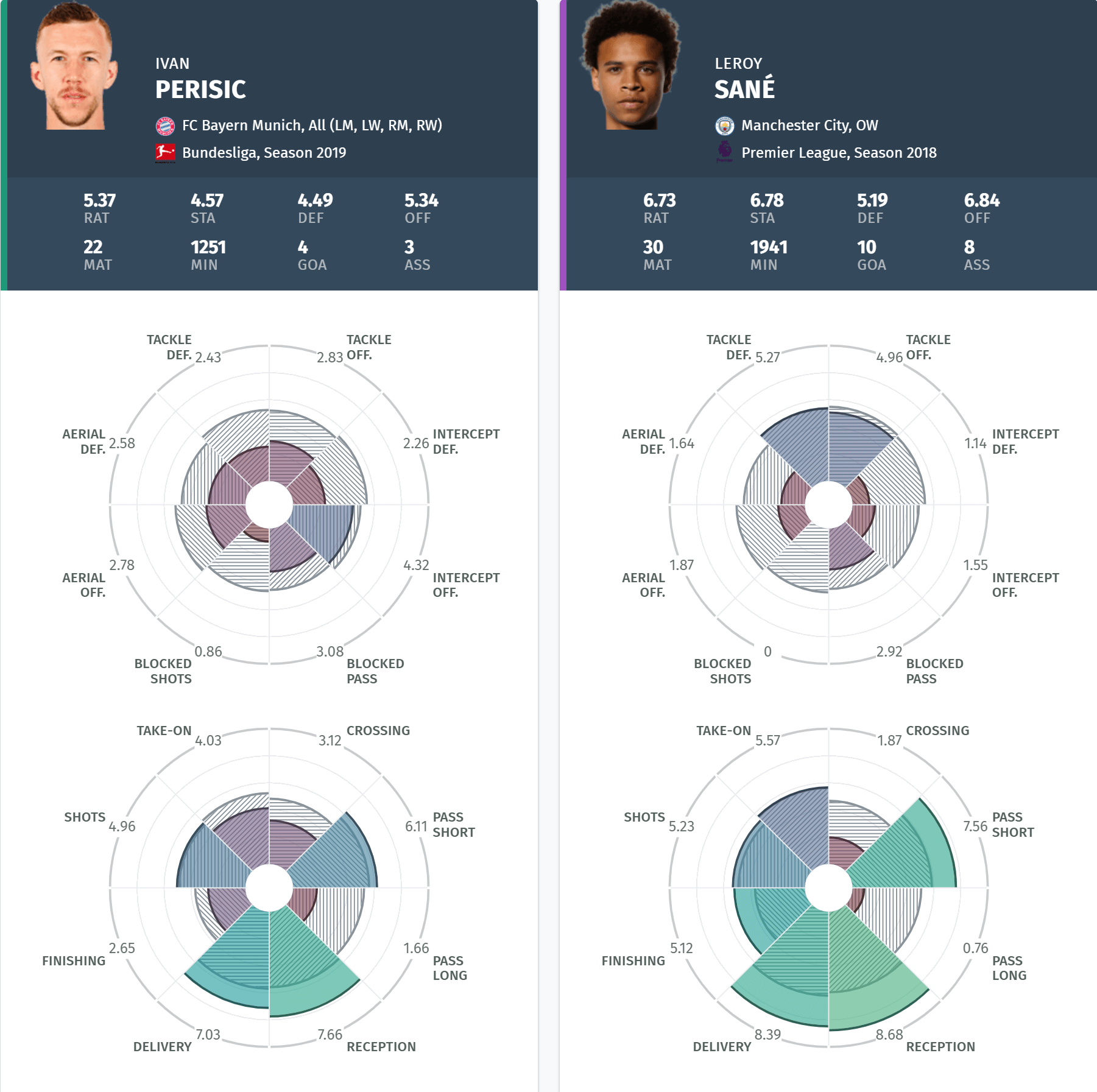 Granted, it's been nearly a whole season since Sané had significant playing time in the English Premier League, but if he manages to continue where he left off, he is not just going to be a fitting replacement, but a substantial upgrade. He's more active in trying to win back the ball and provides a much larger offensive output in all relevant categories. There are question marks regarding his fragility, but if they manage to stabilize him and increase his availability, he could become a valuable asset.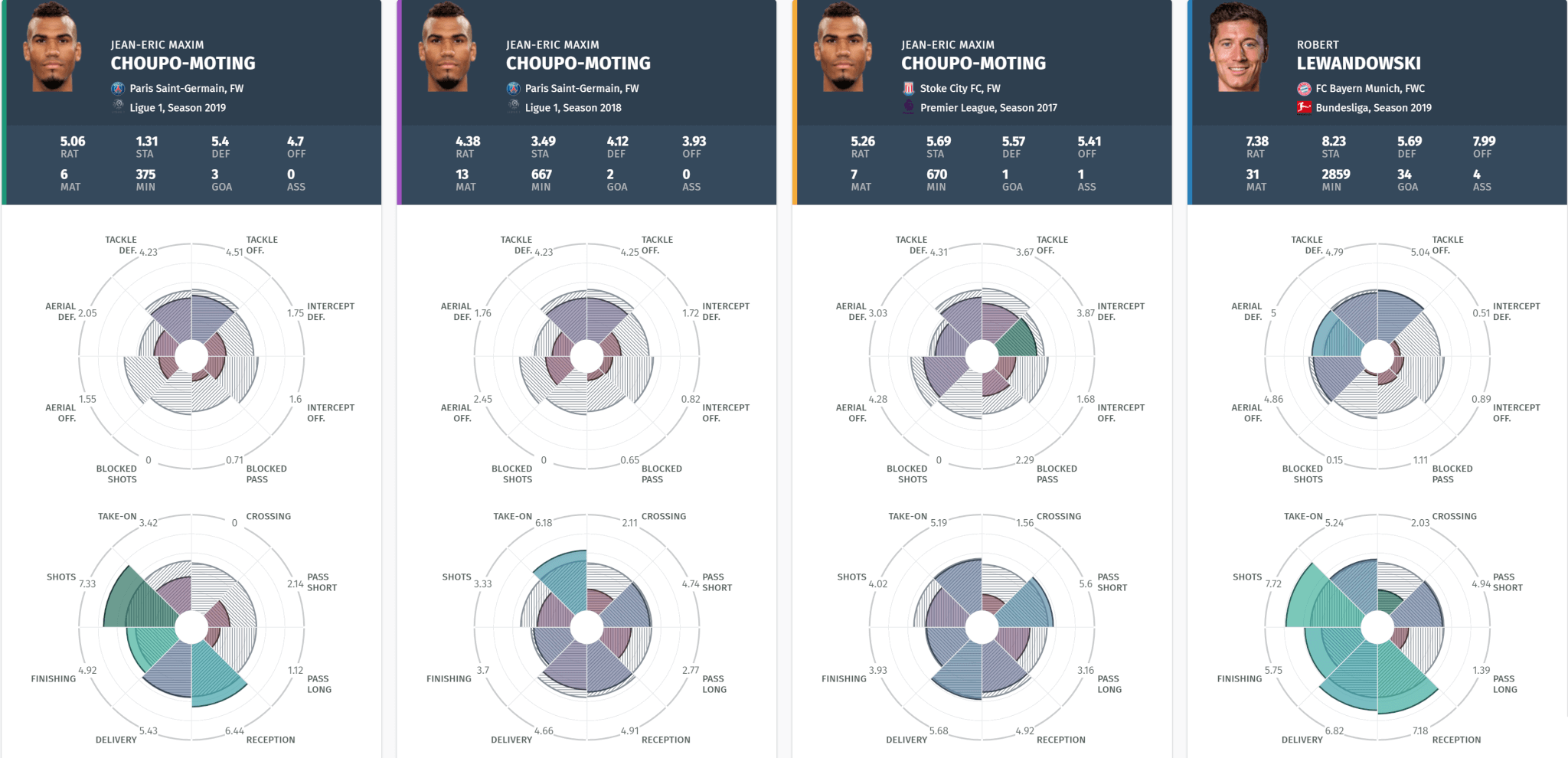 Let's finish this off then with the position that could make or break their season: Centre Forward. Lewandowski has been incredibly resilient and tough throughout his career. Built like a tank and always ready to go. But what happens to Bayern's play when he should become unavailable for selection? Maxim Choupo-Moting has come in from PSG as cover, but is he really going to pull off being a credible replacement? Frankly, this seems doubtful. He may score some goals when given enough playing time, but he is not likely to be as successful in fulfilling the target man role, provides less of an aerial presence, and is not as participatory in setting up offensive play. Take his age and injury history into account, and then this situation leaves a little something to be desired.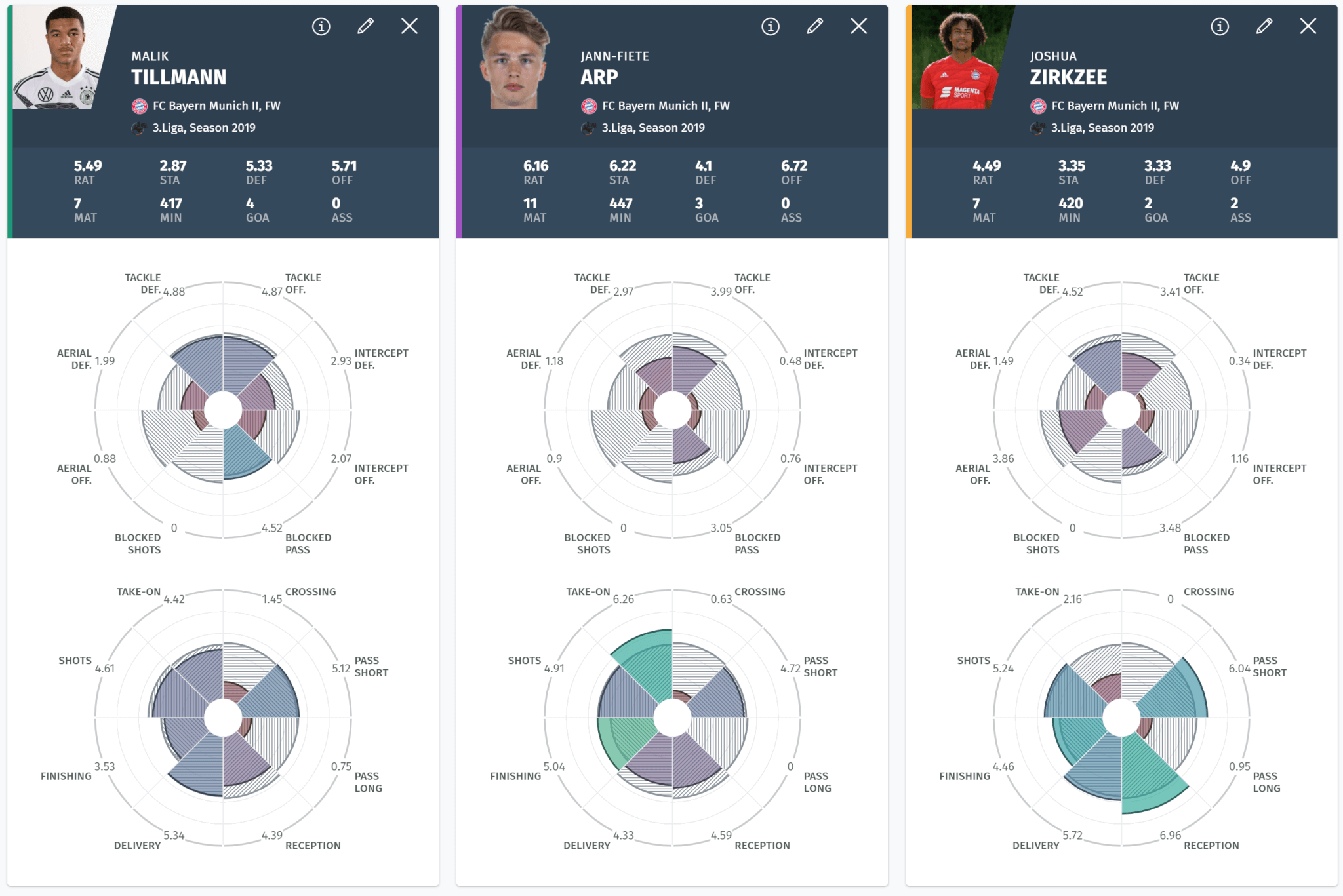 And their young players, while promising, don't seem be quite there yet either.
Will this work out for them?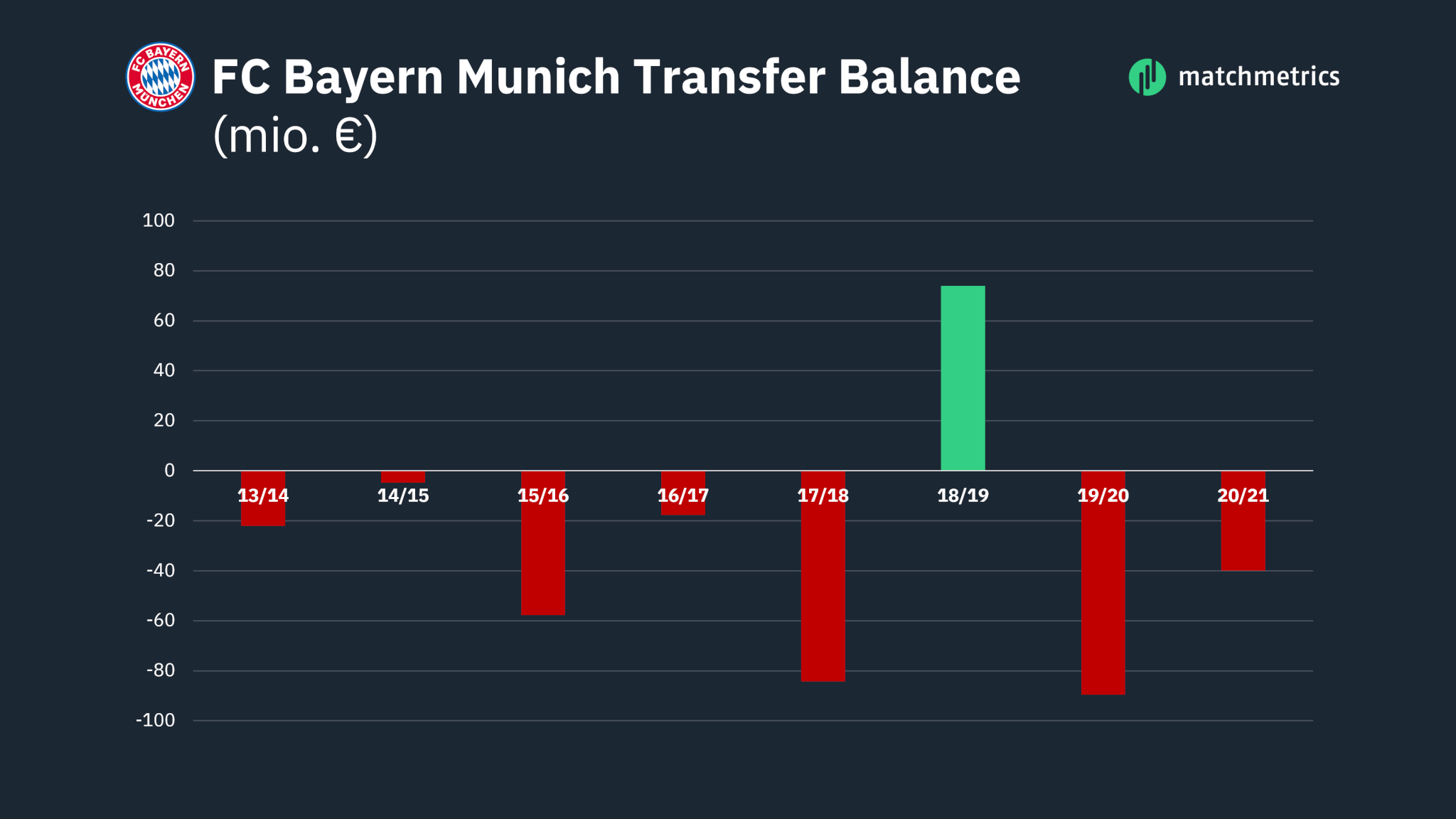 It's going to be interesting to see how their central midfield reconfigures itself and how well the team is going to cope. And which solution Flick will go for if anything should befall Lewandowski, and how that would work out. While Bayern rode into the season on a wave of success and can field a squad of incredibly talented players, these are two eventualities that could put their season at risk. Perhaps it's going to be more thrilling this year than previously expected.
Interested in a more in-depth look at any other team or players? Contact us for your own Scoutpanel trial and let's talk about how we can help you find what you need.
Author:
Michael Markefka
Head of Analytics @matchmetrics
e-mail: m.markefka@matchmetrics.com