While opinions vary on whether United need a new winger with Jadon Sancho, there is a case to be made why they should stick with their effort to sign him. But, of course, that is exactly the same case for why Borussia Dortmund should try to hold on to him. Given his level of performance at this age, he can only be considered very special. Let's take a look.
SANCHO-BUNDESLIGA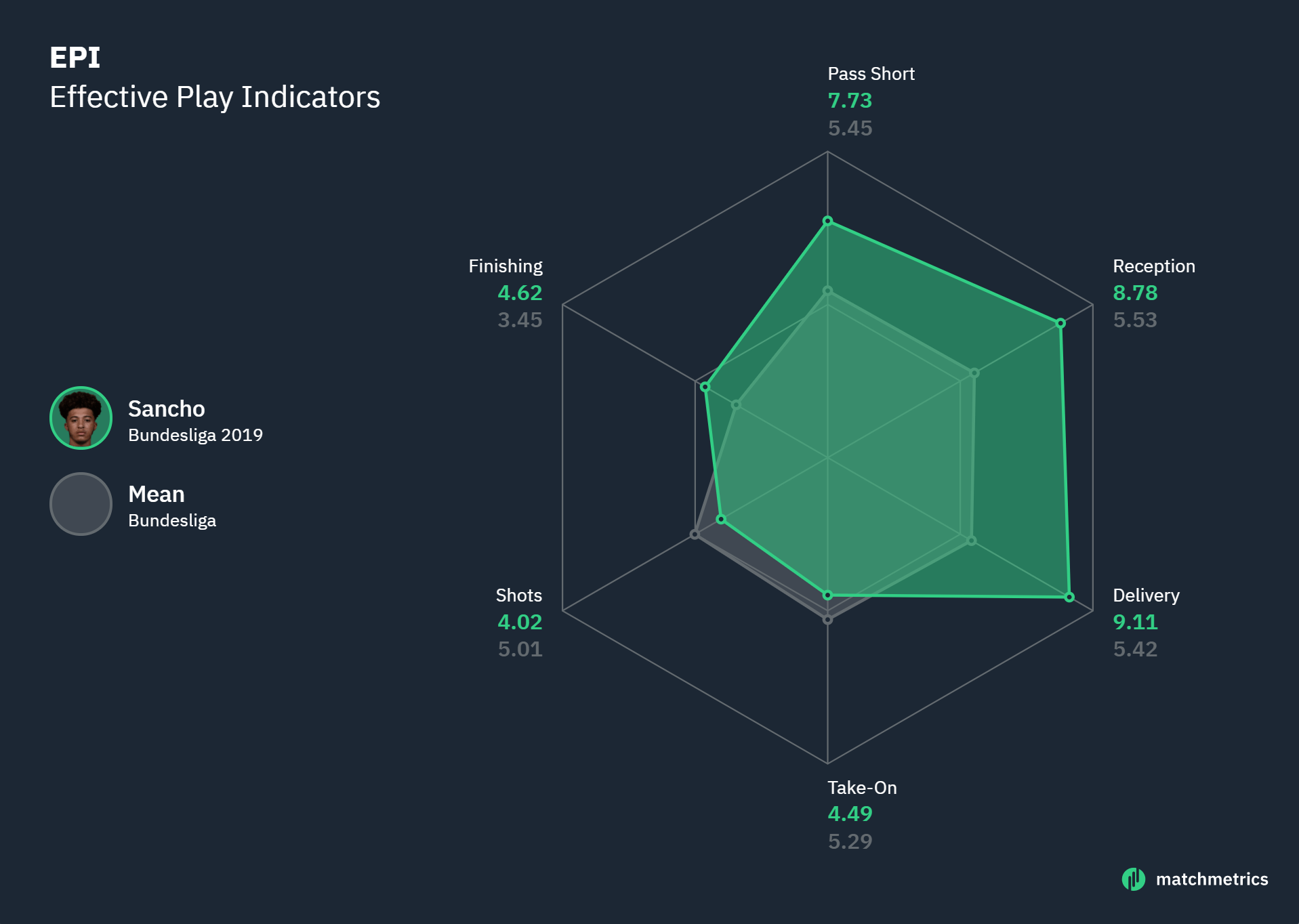 It is immediately overwhelming how much value Sancho provides across most offensive categories compared to the average Bundesliga winger. His build-up play with short passes is great, his ability to successfully receive the ball in positions of offensive value (Reception) is stellar, and his ability to deliver the ball to teammates in positions of offensive value is just as good. While he did not find as many opportunities for attempts at goal as the average Bundesliga winger, it seems like rather decided to creatively set up other players, shown in his excessively high Delivery rating. When he tried to score though, his Finishing rating marks as rather clinical in front of goal compared to the rest of the field. His 1v1 take-on rating is not very high, but given his Reception rating it seems like he's already getting the ball in positions that are so valuable he does not really need to try to get past any defenders with the ball at his feet.
SANCHO-RASHFORD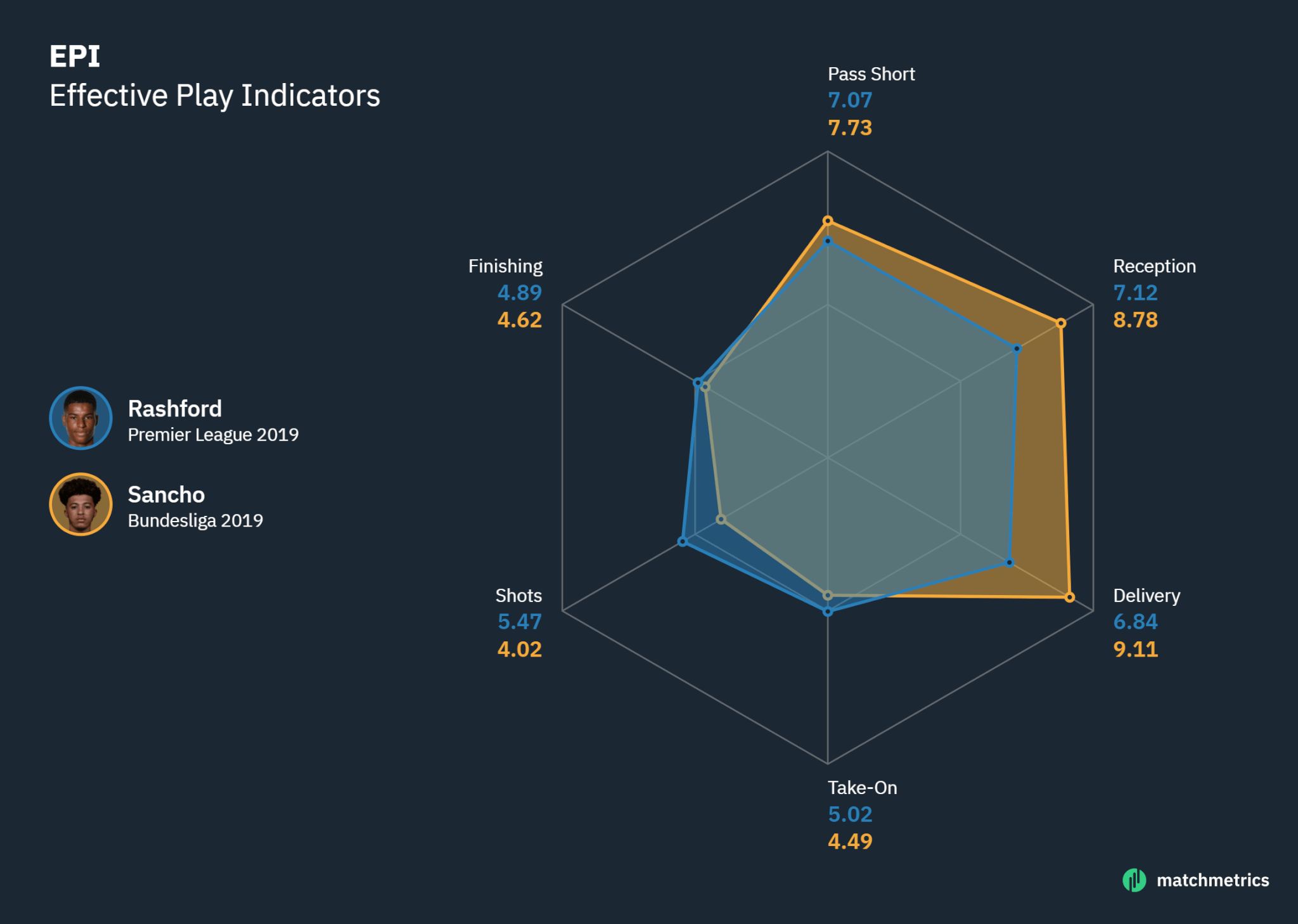 The most obvious comparison at United would be Marcus Rashford, and Sancho holds his own there. While Rashford finds more value in positions to attempt to score from and is very similar in Finishing and Take-on, Sancho handily outperforms him in link-up. That is in build-up and especially so in positions of offensive value, where he could supply the team with a shot of fluidity that could help break down drawn-back teams.
SANCHO-JAMES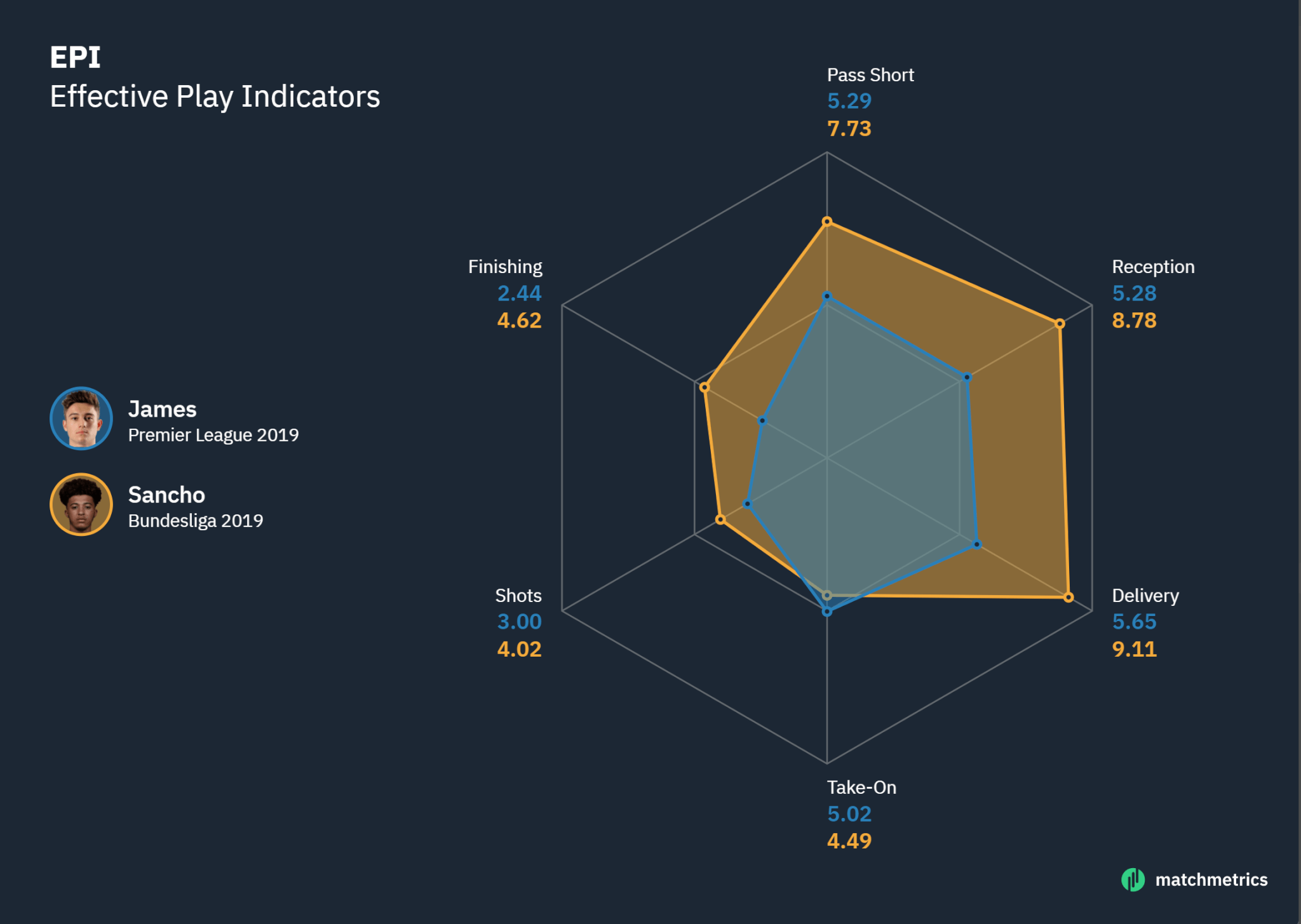 United have young offensive players coming through the ranks, most notably James and Greenwood, so do they need Sancho at all? Looking at our data, the answer seems clear. You argue that the Premier League is slightly tougher competition, but not by much. Consider them just about equal. And then just let that picture sink in.
SANCHO-HAZARD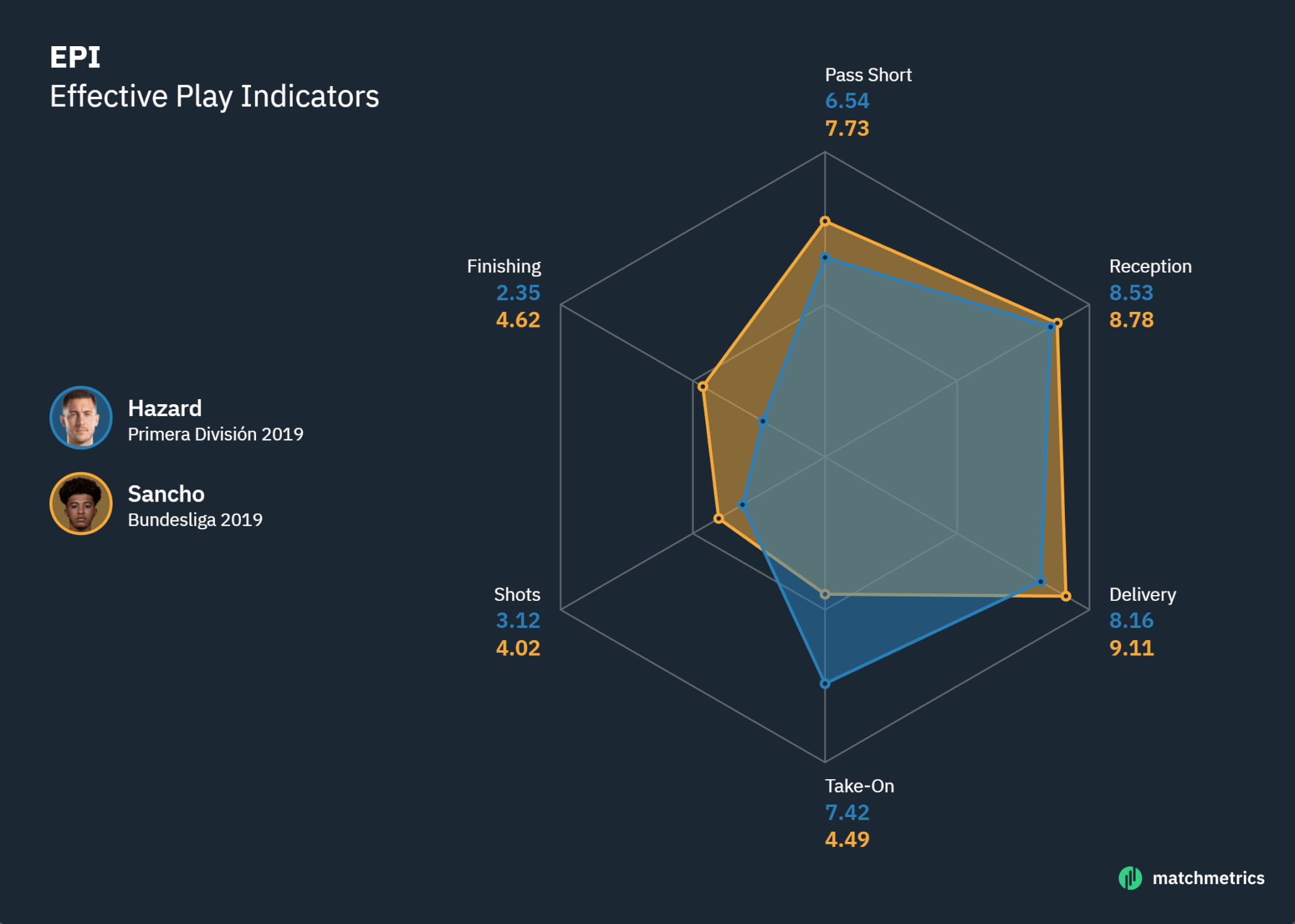 So how does Sancho look compared to another player of note, like Eden Hazard? Hazard creates a lot of value in his dribblings, but it seems like he could do better in converting that into value for the team. This further solidifies just how constructive of a player Sancho is. Goals, build-up, passing threat, passing availability: it's all there.
SANCHO-MARTIAL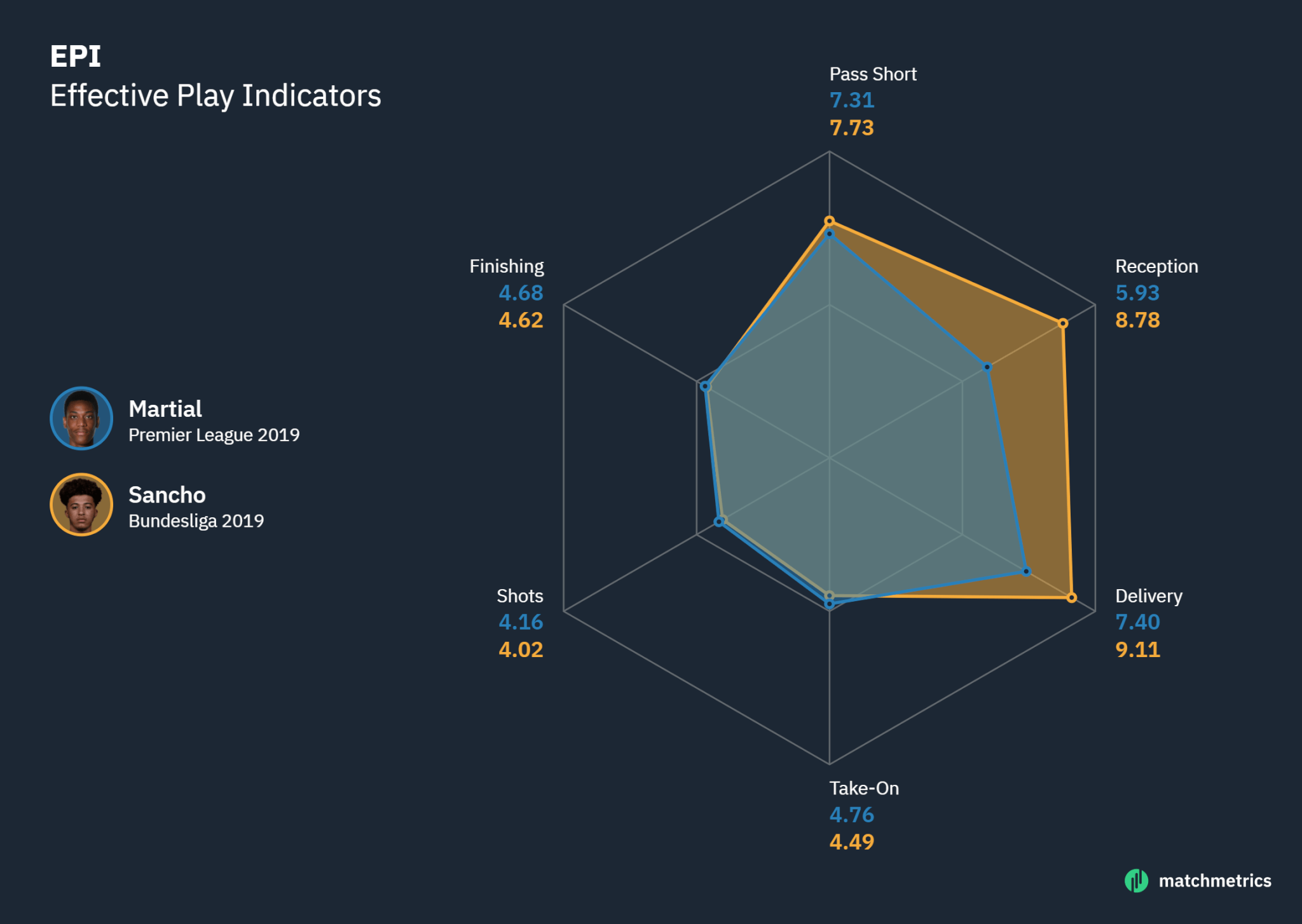 To round up and end our quick take on Sancho, let's compare him to Martial, even if that is across positions. In four out of six categories they are identical. And then Sancho provides much more offensive link-up. At age 20, which is four years younger than Martial. He is already at a very elite level of performance, with ample room to grow. He might be locked in by whichever club signs him next, because after that move he's likely going to be too expensive for any kind of transfer for many years to come.
Author:
Michael Markefka
Head of Analytics @matchmetrics
e-mail: m.markefka@matchmetrics.com