Image by Steffen Prößdorf. Source: Wikimedia commons
From the Championship to the Premier League (1/2): Who made the cut?
Overcoming the gap between the Championship and the Premier League is the desire for many teams and players, some of which have managed to do so in the last couple of years.
We will explore, using Matchmetrics' big data software Scoutpanel, the players who have been through the transition from the Championship to the Premier League and had instant impact, without any considerable loss of performance and even sometimes improvement. Based on this data, we also picked five emerging talents which we will present in the following blog posts. Who can be the next players to make such a move and what team should they join? Let's find out.
1. Kortney Hause
Signed on loan from Wolverhampton in January 2019 to help Aston Villa in their pursuit for promotion, Kortney put in a string of solid displays for the Villans' defensive line. Standing at 1.91m tall, with good strength and comfortable on the ball, the left-footed defender already had good performances in this season's Premier League. 
The Comparison
Born in 1995, the 24 years-old is still approaching his best years, and that can be duly noted when we see the improvement he had from one season to another. It's glowing how much his EPIs related to on the ball actions have improved. The player developed better positioning to receive passes and better vision to deliver the ball for teammates in valuable positions. The decline on his take-on, finishing and crossing EPIs is due to the fact that the player has not been deployed at left-back in the Premier League, as he had been occasionally in the championship. It's also worth praising how his defensive performance is on the same track, with his interceptions – both offensive and defensive – EPIs improving, just like his aerial contests. This means on standard stats a rise from 1.64 to 1.73 interceptions per 90 and 6.79 with a 71% success rate to 7.99 at 81% for aerial duels.
2. Emiliano Buendía
The Argentinian signed for the Canaries after a season on loan at CD Leonesa, which saw him playing in Spain's second division. A spell of 38 matches saw Buendia helping Norwich to find its way back to the Premier League as second division champions. Being able to play at either wing or as an attacking midfielder. The 23 years-old is proving to be a bargain purchase and is impressing with his work rate and talent when in possession.
The Comparison
Buendia has great EPI ratings when it comes to reception and delivery, meaning he is clever and gives the right value to possession whilst bringing progression to his side. His ability to tackle and regain possession both in defensive or attacking situations is also something to behold. Putting that into a standard metric perspective, Emiliano Buendia is winning his side 6.39 tackles per game, whilst performing 4.66 successful take-ons and creating 1.19 chances per 90 in the Premier League. His numbers in the championship were 6.28 tackles, 3.52 take-ons and a technical even 1.18 created chances.
3. Tammy Abraham
The Chelsea academy graduate went to the Championship on loan to ply his trade for midlands side Aston Villa in what turned out to be a very prolific season and ended with Abraham tied for second place as top goalscorer. With Frank Lampard the newly appointed manager at Stamford Bridge, and youngsters now getting more playing time, Abraham is finally getting to showcase his ability for his parent club.
The Comparison
The striker keeps showing and making use of his trademark skills in the Premier League. With a good Shots EPI which illustrates the quality and sum of positions where the player takes his shots from, aligned with a good finishing – the efficiency of shots taken – Abraham lives up to his fame of being a marksman and a reliable striker to provide your team with goals. A good tackling contribution both defensively and offensively, shows the player efficiency either pressing forward or tracking back, making him tactically flexible. Coming to standard stats: Abraham saw a rise on his shots per 90, as he had an average of 2.54 on the championship and now ranks 2.83 and despite the slight decline from 2.97 to 2.33 tackles per game, it's winning rate has gone up from 87% to 91%.
4. James Maddison
It's Maddison's second season in the Premier League and the Coventry born attacking midfielder is arguably Leicester's best player as the Foxes go hunting for the first Champions League qualification since the well-known title campaign under Claudio Ranieri in 2015/16.  The technically gifted midfielder can do a bit of everything, pass, tackle, dribble and score, and he already showed that for Norwich in the Championship. Now Leicester's recruitment strategy is paying off big time. 
The Comparison
It's hard to choose where to start. In the Championship Maddison was the benchmark midfielder for short pass and delivery, meaning he was the best on finding teammates in good, progressive positions and playing passes no longer than 32 meters. He also had a very strong tackling rating, as well as take-on and finishing. Forwarding two years in time, Maddison has the 7th best delivery and shots rate for Midfielders in the Premier League and 8th best for take-ons and short passes, whilst is the benchmark at offensive tackles EPIs, which take into account the context the tackle is made to weight it's defensive or offensive importance. Not bad for a 23 years-old, right? Shedding a light into standard stats: Maddison went from 3.91 completed tackles to 4.41. His proportion of shots inside the box also jumped from 34% to 45% and he also raised from 0.76 created chances and 1.33 through ball per 90 to 1.26 and 2.09 respectively.
5. Jack Grealish
Third time's a charm they say? Jack Grealish featured a combined 33 matches in the Premier League 14/15 and 15/16, but with Villa going down, so did he. Grealish already gave sparks of his raw talent from a very young age, even being invited by the FA to switch his nationality and represent England at international level, which he did so 4 years ago. Finding consistency seemed to be the impending part on Grealish's development that he couldn't really meet – until now at least.
The Comparison
Although the tenacious midfielder saw some drop from being the 1st on take-on for last year's Championship to being the Premier League's 14th, his overall performance is still similar, still able to deliver and receive the ball in good, progressing positions, whilst having the third highest rating for defensive tackles, just one of the indicators of his competitiveness, energy and commitment. On the standard stats the numbers we have are: Grealish went from 5.11 to 4.72 completed tackles per 90, although as when considering the context, those tackles have been of greater defensive importance to Aston Villa than before. On the opposite hand, his 1.95 shots, where 37% happened inside the box, turned into 2.04 with now 61% of them coming in the 18-yard box.
6. Adama Traore
He's strong, quick and skillful. La Masia graduate Adama Traore has caught the eye this season being a vital part of Wolverhampton`s pursue for continental football. His performances against the biggest clubs in the league have been turning heads towards the Molineaux, but in fact Traore deserved this amount of attention way before. 
The Comparison
In his last Championship season, 2017/18 with Middlesbrough, Traore made himself the best offensive winger when it came to offensive and defensive tackles and take-ons – the later of which he still as the player to follow in the Premier League. His tackling ability, as well as finishing and crossing, are still a strong part of his games, whilst an improvement in his passing, delivery and reception ability made him an even better player. From the 4.8 completed tackles in the Championship, Traore now has 4.68 whilst for completed take-ons he moved from 14.7 to 11.84.
Stay tuned for the analyses of emerging talents in our second series of "From the Championship to the Premier League".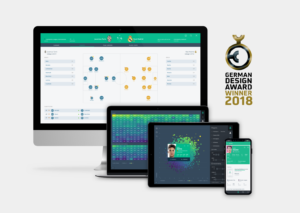 Read more about EPIs and Scoutpanel →