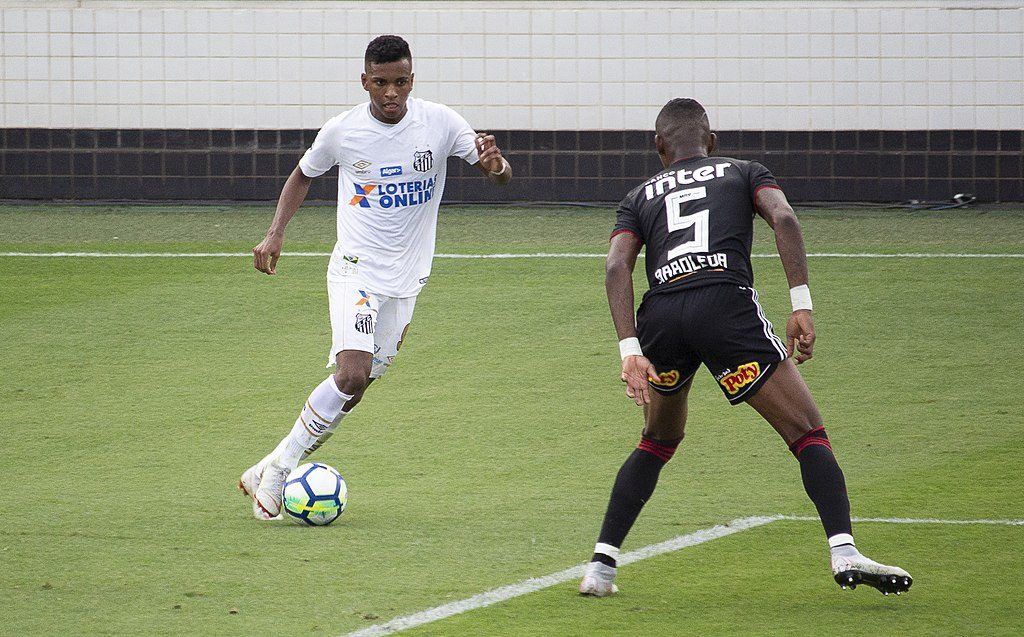 Original image by Douglas Teixeira/Futebol Santista. Source: Wikimedia Commons
To closely watch the development of a teenager into a world-class talent is an exciting and entertaining journey appreciated by fans, pundits, and industry professionals. With the winner being unveiled in December, we are going to analyze how each of the young stars performed in the last 12 months. Without further ado, let's dive into the data.
Roberto Piccoli
To play for your local club is a dream of many and achievement of very few. Born in Bergamo, Roberto Piccoli currently fights for his place in the starting line-up for Atalanta, after a loan spell with Spezia Calcio last season. Capped for Italy since U15 level, he is still looking to establish himself at senior football.
With an underwhelming offensive output, despite a handful of goals, Roberto is likely to be an outsider contender for the Golden Boy award. He showed slight glimpses of good off-the-ball movement, but remains still far below the average Serie A striker. As he lacks in overall offensive contribution and participation, Picolli faces an uphill path to become a top striker, and needs to step up his game soon.
---
Filtering wingers born in 2001 or later, with at least 1,000 minutes played within a competition rated at least 5.5/10, Scoutpanel can find 46 players with a better rating than Roberto Picolli. Curious about them? Book your demo.
Yeremi Pino
Almost 3,000 kilometers lie between Villareal and Las Palmas, an island city that belongs to Spain and where Yeremi Pino started his football career.
After starting with his local team Las Palmas and a move to Valencia-based Roda FC, it is at the yellow submarine where the winger blossomed and helped his team crown themselves as Europa League champions. During this campaign he continued to earn caps for Spain's National Team, after a long career in the youth competitions for La Roja.


An interesting data output shows a player capable of doing well on and off the ball. With a good blocked pass and satisfactory tackle off  EPIs, Pino is suited to counter-pressing, and high pressing tactical systems, traits much appreciated by the leading teams in Europe. Important on-the-ball characteristics such as pass sort, reception and delivery are very close to La Liga's mean value for offensive wingers, which is a good sign for such a young player. The final third impact, however, needs to grow. His presence in dangerous scoring positions as well as his efficiency when finishing are below the desired standards. As is the volume and value of take-ons he goes for. It is here though that some weaker performances mire his ratings. But, keep in mind: At just 19 years of age, his overall rating is already significantly above average in a very tough competition. Throughout the season he has shown glimpses of brilliance and as he stabilizes at the higher performance level he is capable of, his overall rating will increase accordingly. And make his class even more obvious.
---
Filtering wingers born in 2001 or later, with at least 1,000 minutes played within a competition rated at least 5.5/10, there are 18 players with a better rating than Yeremi Pino. Who are they? Find out by booking a demo.

Giovanni Reyna
The son of USMNT legend Claudio Reyna and one of the most promising talents ever from the United States. After a move from New York to Dortmund, the player started to draw attention from many clubs as he broke into Borussia Dortmund's first team and delivered on the promise he has shown. High hopes are an understatement for the American, who is expected to provide the highest level of performance for both club and country in the next decade at least.


Just 18 years old, he is already the 10th highest rated player in a squad full of talent such as Borussia Dortmund. Very well rounded, Gio Reyna shows good vision, with precisely delivery to teammates in progressive spaces. His off-the-ball EPIs allows us to see a committed player, who lunges into tackles, is keen to press the opposition player in possession, and doesn't hold back, both forward pressing and tracking back when needed.
---
Scoutpanel first noticed Giovanni Reyna in 2018, as a 16 years-old still based in the United States. Interested in finding a future Golden Boy nominee?  Schedule a demo.
Rodrygo Goes
When you spend 45 million euros on a teenager, this will certainly raise eyebrows. Real Madrid didn't hesitate to pay this hefty sum for then Santos' winger Rodrygo. Another thunderbolt, as Santos academy players are nicknamed, Rodrygo benefited from a Brazilian side not afraid to trust their youth, and gained valuable experience and notoriety as he established himself as a starter shortly after his debut at 16 years old.


Rodrygo helps during progression in different manners: passes to teammates in valuable positions in the pitch and clever movement to explore gaps in the opposition's line and receive passes in promising positions. In defense, he shows good tactical discipline to track back and attempt to regain possession. He does show the will to press opponents, but his effort against the ball is not enough when compared to top players on his position. When on the ball, his decision-making on where to shoot from, whether to take on a defender, or whether to pass could do with a balancing polish for this Brazilian gem.
---
Scoutpanel can find you 36  wingers born in 2001 or later, with at least 1,000 minutes played within a competition rated at least 5.5/10, that have a better rating than Rodrygo Goes. Find the winger you need by booking a demo.
Don't miss our first analysis on the Golden Boy nominees and follow us on social media so you don't lose next week's analysis about Daniel Maldini, Jamal Musiala, Nuno Mendes and Pedri.