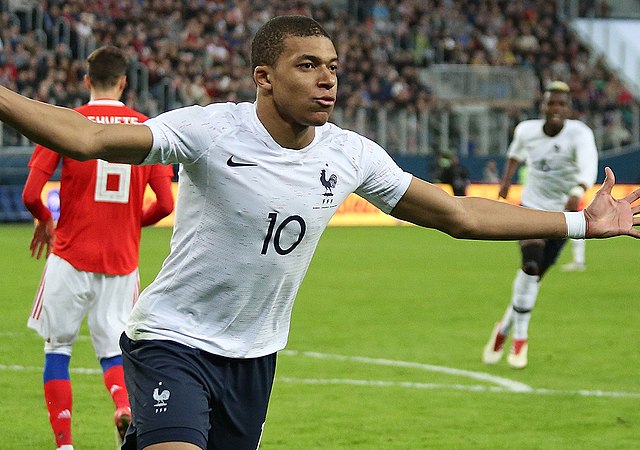 Picture by Кирилл Венедиктов. Source: Wikimedia Commons
The final part of our analysis out. In the last weeks you've been through all the Ballon D'or nominees accordingly to our EPIs, exploring how they performed, their strengths and weaknesses. With the winner being nominated on Monday, enjoy this read during the weekend and visit the other profiles and our analysis here.
Kylian Mbappe FRA / Paris Saint-Germain
In 2021: Won UEFA Nations League, French Cup & Super Cup; 44 goals, 22 assists.
It is the third nomination for the French superstar at such a young age. Mbappe is also the youngest player ever listed in the final shortlist, which he achieved back in 2017 when he was 18. Mbappe has a chance for a top 5 finish after his displays in France's UEFA Nations League finals. But his wait for a first major individual award is set to go on. Recently, his name is often involved in transfer speculation, and reports suggest that the young starlet will end up in Madrid this summer.

At 22, Mbappe is already a world-class footballer. The gifted forward is well known for his intelligence, otherworldly pace, close ball control at high speed, and lust for goals. Mbappe utilizes his explosive acceleration well to beat defenders 1on1 or take quality positions. Thus the huge Reception and Take-on ratings in his profile. Excellent ratings in Pass Short and Delivery shows football intelligence and vision are not very common for players his age. Decent finishing speaks of good composure in front of goal, but his Shots rating is average and means his finishing needs slight improvement. Lastly, Mbappe's solid Stability deserves the most praise and indicates how mature and professional the young forward is. Limitless talent and professional approach, no doubt a recipe for a future Ballon d'Or winner!
Phil Foden – ENG / Manchester City
21 years old; In 2021: Won Premier League & Carabao Cup; 16 goals, 14 assists.
Another young Englishman is on the Ballon d'Or final shortlist for the first time. Just 21, Foden shows excellent competence and quality regardless of the position Guardiola places him in. He played a crucial part in his club league triumph and was a regular starter in the Euro 2020 campaign. Dubbed by the Citizens, the "Stockport Iniesta" Folden can be the next big thing in blue Manchester.

Foden began his career as a winger, but Pep needed him in the midfield or even as a false-nine. His organic flair and positional sense allow him to play those roles naturally in a very effective manner. Intuitive link-up play, elegant first touch followed by a swift turn, and the ability to invade free spaces are Foden's best traits. Thus, the excellent Delivery, Reception, and Pass Short ratings in his profile. Take-on, Shots, and Finishing ratings suggest the youngster has to work on his end product. But adequate Tackle shows he is dedicated to his defensive responsibilities. Finally, the moderate consistency rating can be justified with the lack of experience. And regardless of the position Foden chooses to develop in the future, no doubt he has the means to climb to the top of English football.
Luis Suárez URY / Atlético Madrid
34 years old; In 2021: Won La Liga; 23 goals; 3 assists.
When Ronald Koeman arrived in Barcelona in the summer of 2020, Luis Suárez became unwanted and was transfer-listed by the club. After a short transfer saga and a failed transfer to Juventus, the forward signed a two-year contract with Atlético. In his first season, the experienced striker scored 21 goals in 32 league games and carried the club to a first La Liga title in seven years.

The first thing we notice in Suárez's profile from 2021 is rather natural for a 34 years old footballer's stamina drop. Lesser movement on the pitch and limited participation in the build-up are consequences of that and the reason for the moderate offensive rating. Especially the Delivery and Reception. Off-the-ball, Suárez does not disappoint and covers minor counter-press requirements with an adequate Tackle rate. Lack of Stability or consistency is another consequence of the endurance slump, but the 0.65 goal conversion in the league is more than enough for most forwards. Despite the apparent decline in physicality, El Pistolero remains a brilliant finisher. His decent Finishing rating shows that his goal-scoring touch is not age-defined. And the 504 goal record in all tournaments next to his name already bought him legendary status in football's history.
Would you like to use Scoutpanel to see how a player compare to one of the nominees or find a similar player to them? Book a demo!