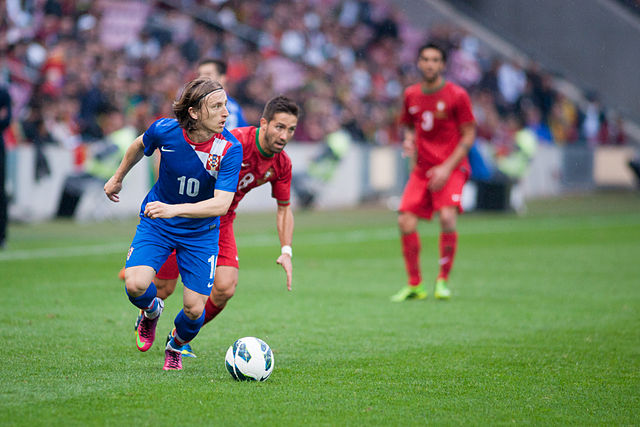 A midfield maestro is always a joy to watch. A player who can pull the strings for a team with his ability. Mastering the middle third of the pitch requires a series of attributes such as passing, dribbling, vision, creativity, positioning, and the capacity to regain possession for your team.
In our fourth piece about Ballon D'or nominees, we'll analyze three players who are the heart of their clubs and national teams. With different ages and different roles in the midfield, the common factor amongst them is their undeniable talent and how they can influence a game on their own.
Nicolò Barella – ITA / Inter
24 years old. In 2021: Won Euro 2020 & Serie A; 6 goals; 13 assists.
The central midfielder shone for the Nerazzurri and helped his team dethrone Juventus and clinch their first title in 11 years. At the international level, Barella was part of the successful Euro 2020 campaign and lifted the trophy at Wembley. This is the first-ever nomination for him, but judging by his performance during the year it might not be the last.




Both, off the ball and on the ball ratings describe Nicolò Barrella's playing style during the year as a box-to-box midfielder with offensive capabilities, pulling the strings rather than getting in front of goal himself as much as possible. Furthermore, that playing style can be defined as what they call a "mezzala" in Italy. An attacking-minded central midfielder who operates in the half-spaces and defends slightly further up the pitch. Some of the key attributes for a proper mezzala are good positioning, vision, passing accuracy, and defensive awareness backed by a high work rate. We find these exact abilities in Barella's solid Delivery, Reception, and Short Pass, as well as Tackle Def and Tackle Off ratings. Stability, or how consistently he performs from match to match, is still shy of the competitions top rating. However, it is significantly above average and more than enough considering his relatively young age. Barrella's performance over the year perhaps won't win him the award but he deserves notice. 
Luka Modric – CRO / Real Madrid
36 years old. In 2021: 8 goals; 9 assists.
The 2018 Ballon d'Or winner lands another nomination this year. Despite Real Madrid's first trophyless season since 2010/11, the experienced playmaker had a positive year. He played a major role both for his national team and his club and his class is undeniable regardless of his age.

Modric's ratings from this year show how the maestro orchestrated his team's build-up and attacking play with his great flair and vision, which we see manifested in his significant Delivery and Reception ratings and his descent Short Pass. A good Take-on rating indicates the experienced playmaker still has the energy and technique to dribble past defenders when it matters. The slightly below-average Shots and Finishing are due to his lynchpin role setting up the offense on the pitch,while slightly below par Tackling and low Interception come as a result of the reduced defensive responsibilities the creative midfielder has held. Luka Modric's performance this year is supported with a fair Stability rating and his holistic profile reminds us how in football sometimes age is just a number.
 Pedri – ESP / FC Barcelona
18 years old. In 2021: Won Copa del Rey; Euro 2020 Best young player; 3 goals; 6 assists.
The young starlet enjoyed a superb season this year. He managed to secure a regular place in the Catalan squad and won his first senior trophy, the Copa del Rey. Pedri's performance did not go unnoticed by Luis Enrique and the youngster became an integral part of the national squad. At Euro 2020 he was awarded "Young Player of the Tournament" and won a silver medal at the Olympic Games in Tokyo. The teenager is also nominated both for Kopa and Golden boy trophies this year and is among the top favorites there.



Pedri's profile ratings look more than decent considering the level he plays on. On the ball, the youngster stands out with competent Delivery, Reception, and Short Pass, perks essential for his position in the midfield. Low ratings in Shots, Finishing and Take-on display where Pedri needs to improve. However, those are of secondary importance for a creative midfielder. In off-the-ball ratings, we read Pedri has worked hard in defense past year and helped his team's counter-press. Stability is probably Pedri's most obvious weakness so far, but as we mentioned before, stability is age-related and the teenager will almost certainly boost his consistency in the future. Given his quite convincing overall profile, his low stability indicates that there have been some stellar performances in his season that hint at his high performance ceiling. And if Pedri's profile can't convince you enough on its own, the release clause of €1 billion Barcelona has put on his new contract illustrates how valuable they find him. 
---
Looking for further nominees analysis? Check our previous posts: Part I, Part II and Part III.
---
A midfield dynamo? Creative flair in the middle of the pitch? A lieutenant who can break opposition's attacks? We can find exactly what you are looking for at Scoutpanel! Reach us  and let's talk about football and data!