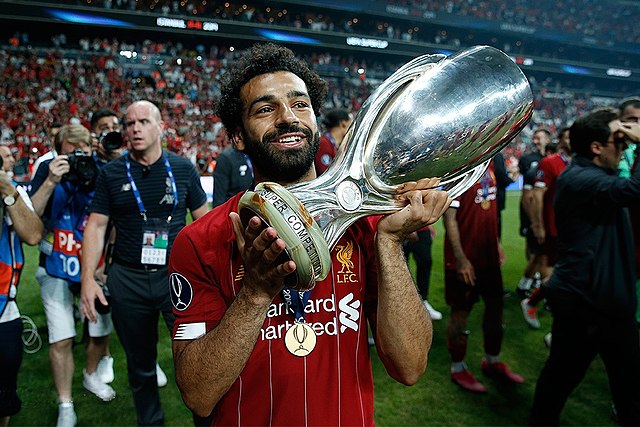 Picture by: Mehdi Bolourian. Source: Wikimedia Commons
Our penultimate article with the analysis of Ballon D'or nominees has arrived! Containing some of the world's most exciting forwards, we take a look at how their performance data looks like, so you can have a better understanding on how those players got to the 30-man shortlist and what their chances are.
---
You can check our previous analysis here, containing Scoutpanel's comprehensive performance data and exclusive EPIs ratings.
---
Mohamed Salah – EGY / Liverpool
29 years old; In 2021: 32 goals, 9 assists.
Despite a year without any trophies, Salah remains one of the very best forwards in football. The energetic winger is in exceptional form this season and his goals preserve Liverpool in the Premier League title race. His goalscoring form is also the main reason the "Egyptian King " was placed on the final shortlist. But inconsistencies in his club's performance and no trophies to account for mean he will possibly have to wait for a shot until next year. For which he could be an early favorite in his current form.

Pace, passion and skill are Salah's best qualities. They shape his profile and are the core reason behind his great rating score. His supersonic pace allows him to beat defenders and place himself in valuable offensive positions. Then, his excellent skill helps him to execute quality shots or deliver the ball to a teammate in a more dangerous spot. The enthusiastic forward has a very passionate approach to the game, even when it comes to defending business. He was active in Klopp's famous «Gegenpress» and we see it in the Tackle rating he achieved. Lastly, his Stability is a bit low, in sync with Liverpool's inconsistency last season. But after the good start to the current season, it looks like those days are far behind.
Cristiano Ronaldo – POR / Manchester United
36 years old; In 2021: Won Coppa Italia & Supercoppa Italiana; 42 goals, 5 assists.
One of football's all time greatest and five times Ballon d'Or winner. At age 36, Cristiano Ronaldo is still driven by the same insatiable desire to be the best in the world. In the transfer window, the Portuguese legend almost ended up on the blue side of Manchester. But his former manager Alex Ferguson managed to persuade him to re-sign for United. Despite the lack of form in the Red Devils squad this season, Ronaldo showed his influence and scored several important late winners.

Cristiano Ronaldo's style has evolved throughout his career. The young Ronaldo was more oriented towards the right wing and delivered crosses into the penalty area. He was able to use his pace and technique to beat defenders one-on-one and cut inside. As Ronaldo matured he improved his physicality and developed a more muscular body type. That allows him to play a more central position in the present and function as a target man or as a second striker. And that is well-illustrated in his profile from 2021. Low ratings in Crossing and Pass Long on-the-ball, but rich in every other category. Ronaldo's consistency over the course of the year was solid and his Stability rating is decent. Some good arguments in his Ballon d'Or case and a place in top 10 is more than expected. But after his new club's below-average start of the season, could this be the last time we find the legend among the final contenders?
Gerard Moreno – ESP/ Villarreal
29 years old; In 2021: Won: UEFA Europa League; 30 goals and 12 assists;
It is incredible for a local club like Villareal to have a player included in the Ballon d'Or final shortlist. Gerard Moreno won't win it, but his nomination seems deserved after his successful spell over the year. The striker helped Villareal win their first major trophy, the Europa League cup, and was voted best player of the competition. Moreno also received a call-up to the national team and was part of the Euro 2020 campaign.


In Moreno's profile we see a very versatile and skillful forward, who can contribute in different phases, lead the attack or pull off an assist. On-the-ball, the Spaniard demonstrates competence in almost all areas. There is a good balance between scoring abilities and playmaking qualities. He has good positional awareness and not only stays on the edge of the attacks, but can fall back and distribute key passes to teammates . Off-the-ball, Gerard Moreno displays dedication in counter-press actions and determination when it comes to defensive aerial duels. Stability is the only attribute where Moreno displays a slight weakness. The high number of games he participated in over the course of the year could be an explanation here. Still, 30 goals and 12 assists in 45 matches speaks of decent consistency in front of goal.
Would you like to use Scoutpanel to see how a player compare to one of the nominees or find a similar player to them? Book a demo!