In the last three seasons Liverpool emerged under the reign of Jürgen Klopp and much of the success achieved comes through the attacking force composed of Sadio Mané, Roberto Firmino and Mohamed Salah. The mingled trio scored, since 2017 a combined total of 209 goals and with now an average age of 27 years, which is usually the peak for footballers, The Reds need to start considering how they will replace their stars in the future.
Despite the obvious claims from fans to sign the likes of Timo Werner and Jandon Sancho, Sporting Director Michael Edwards might look for more under the radar players, in alignment with the FSG's philosophy which helped Liverpool reach the top of world football once again, much like the shrewd buy of Takumi Minamino that Liverpool made in January. So we used matchmetrics' Big Data Platform Scoutpanel to check the players Michael Edwards and Ian Graham, the director of research, might be keeping an eye on for the coming windows, given how their statistical output is similar to the Liverpool stars.
Scoutpanel uses 20 EPIs (Effective Play Indicators), on and off the ball and divided between defensive and offensive value to determine players qualities and how they impact the game. Every EPI is scaled from 1 to 10. It also allows us to quickly visualize if the player is above or below average players from the same position in the same league in each of the 16 EPIs.
I: SADIO MANÉ
The Senegalese international plays a crucial role in Liverpool's system, not only using his pace and dribbling skills to beat opponents but also dropping deep and being an important part in the build-up play.
With 14 league goals and 9 league assists this term the winger is also versatile, being able to play on both sides if required.
Taking a deep look at the Championship we find a tricky winger who is raising eyebrows for Queens Park Rangers – this story may sound familiar but now it's 21-years-old Eberechi Eze who's caught the eye. With a great pace, ambidexterity and dribbling prowess the player looks ready to move to the Premier League.
The Comparison: Sadio Mané x Eberechi Eze
With good delivery and reception EPIs that tend to improve, Eze also has a good contribution when it comes to tackles, translating to standard stats that means that he has 3.98 successful tackles per 90 against Mané's 3.09. When it comes to using their ability to take-on players, Eze also has the upper hand, with 4.75 completed take-ons against Mané's 3.40. However, his positioning and decision-making when shooting demands certain improvement: Only 45% of his shots happen to be inside of the box, where it has a greater chance of conversion, whilst Mané manages a staggering 84% of his shots inside of the box.
Another option to replace Mané is 22-years-old Jamaican Leon Bailey. Currently playing for German outfit Bayer Leverkusen, the explosive winger had his breakout season in 2015/16, earning a move to the Bundesliga in January 2017. A raw player that still needs some coaching but has a huge potential and already extensive experience at a top-level football.
The Comparison: Sadio Mané x Leon Bailey
It's easy to spot how the players are alike. Despite having slightly inferior numbers, Leon Bailey's main strengths are the same as Mané's. Both players are able to receive and deliver passes in good positions, as well as have a good finishing technique, whilst using this resource in good positions (shots EPI). Defensively, both show a willingness to tackle, although the zones where Bailey recovers the ball have a greater defensive than offensive value, this work rate and contribution is something very required to play under Jürgen Klopp. Averaging a goal contribution every 114 minutes, it seems as continuity is the only missing part and that Leon Bailey looks a very promising talent, just waiting to be the next big thing.
But the answer may lie within the Senegal national team, as Krépin Diatta is already raising some eyebrows and getting attention with his displays for Belgium side Brugge. Very strong on the ball, with good athletic ability and suited to a direct style of play, Diatta may be considered a Sadio Mane blueprint. With already some experience, with just under 100 professional matches, the winger still lacks some improvement in his decision making and intensity, but being an understudy of the African Player of the Year, may aid his development and help him reach his peak quicker.
The Comparison: Sadio Mané x Krépin Diatta
With improvements needed on his defensive contribution and performance stability over the course of time, Diatta's abilities on the ball basically mirror Mané's. With 0.86 chances created per 90 minutes, Diatta eclipses by little Mané's 0.74. In terms of shots per game it's now the Liverpool man with 2.21 that takes then upper hand against Krépin's 2.1.
II: ROBERTO FIRMINO
"Mo Salah, world-class, but not every day. Sadio Mane, world-class, but not every day. Roberto Firmino, world-class, pretty much every day." – This quote from Jürgen Klopp shows how highly rated the Brazilian is, mainly due to his intelligence, work rate, unselfishness and flair on the pitch. With a very unique set of attributes, one of the hardest tasks for Liverpool's recruitment team is certainly to find a long term replacement for the Brazilian star.
One option is to keep the samba flow in the squad and bring 20-years-old Matheus Cunha from Bundesliga. Recently moved from RB Leipzig to Hertha Berlin, the U23 Brazilian International looks a shadow of Firmino due to his style: great off the ball movement, good dribbling, strong and good selfless.
The Comparison: Roberto Firmino x Matheus Cunha
The fact that both being good passers and dribblers jumps to the eyes, but their defensive work and versatility are the deal-breaker here. Matheus Cunha has an advantage in most of the standard stats comparing to his fellow countryman. Cunha averages 5.99 completed tackles, plus interceptions and blocks per 90 while Firmino ranks 2.99. Cunha also has more shots (4.5 against 3.02) and completed dribbles (6.02 versus 2.88 from Firmino) per 90, however, if a move to Liverpool awaits, Cunha must be prepared to come a lot deeper to help during the build-up play.
Speaking of selfless, talented, hard-working strikers, a South-American starting to make his mark in Europe can be the answer. Luis Sinisterra was signed in 2018 from Once Caldas by Feyenoord. After his first season acclimating to Europe, the tricky Colombian has now 21 Eredivisie matches between either wing or up front as a central striker.
The Comparison: Roberto Firmino x Luis Sinisterra
With an outstanding defensive contribution, Sinisterra certainly fits the mould to play in the same role as Firmino does currently at Liverpool. His short passing EPI is still considerably shy from the Brazilian ace, but that may be a reflection of the player not coming so deep to help in the build-up play as Firmino does. His shooting positions (Shots) also need some improvement. When it comes to standard stats, Sinisterra has a combined of 6.28 tackles and interceptions per 90 whilst Firmino sits at 2.76. In terms of creativity, the Colombian dynamite produces 0.54 key passes per 90 against Firmino's 0.25.
Going to southern Europe, most precisely in Milan, another Portuguese speaker can be the answer. Rafael Leão is at a yet struggling AC Milan side, who's battling to get continental football next season. A product of the famous and prolific Sporting CP academy, Leão had his breakthrough season at Lille, before moving to the Serie A. Standing 1.88m tall, the player has incredible good coordination, dribbling ability and pace.
The Comparison: Roberto Firmino x Rafael Leão
Rafael Leão, besides versatile as he's able to play up top, on the left-wing or as an attacking midfielder, also has a great delivery and take-on ability, which sees him creating 0.56 chances and completing 5,17 dribbles, when Firmino is at 0.5 chances and 2,88 completed dribbles per 90. As Rafael Leão is also played out wide, he manages 64% of his 2.64 shots in the box and Firmino gets 82% of his 3.02 closer to the target. Off the ball wise, Leão completes 2.76 tackles per 90 and Firmino completes 1.72, also important to state that the tackles from Leão have a way greater offensive subsequent result than Firmino's.
III: MOHAMED SALAH
He runs down the wing, adds plenty of goals from wide positions, takes the breath away from supporters with his take-on ability and the way that he helps Liverpool make blistering transitions from defense to attack is second to none.
Can the top scorer from the last two seasons in the Premier League be replaced in a way that there is no drop in the quality and that his actions in the field, frequently guiding Liverpool to winning ways are not left behind?
One of the three athletes below might be the answer to this reverberant question.
It has been a while since Liverpool went to the southern side of Southampton looking for reinforcements, but it may not be so long until they do so again. Premier League newcomer Moussa Djenepo is a bright spot in an unconvincing Southampton side. Signed from Belgium side Standard Liege, the agile Malian international is still acclimatizing himself to the Premier League but is already managing some damage with his dribbling and pace.
The Comparison: Mohamed Salah x Moussa Djenepo
Improvement is demanded regarding his positioning and where he receives and passes the ball, as also deploying the player in a high pressing system that will see him recovering possession in higher areas in the pitch. What really catches our attention is Djenepo's Shots EPI. Despite somewhat short of Salah's – which is the benchmark in this EPI for offensive wingers, he ranks a good rating and at 21 years old, he is on an upward journey.
In terms of defensive contribution, Djenepo has 2.71 completed tackles plus interceptions per 90 against Salah's 2.4. Take-ons per 90 has Djenepo at 7.27 and Salah 2.93 but when it comes to acute play, Salah has the advantage with 82% of his 3.65 shots happening inside the box, as Djenepo still on 55% of 1.61 shots per 90 coming at a bigger danger zone.
Outside of London, there is a data-driven club that is achieving notorious success in the transfer market with such approach and has within its ranks a player signed with this philosophy who might as well be the ideal Mo Salah replacement. Bryan Mbeumo was drafted from France's second league to the championship, in a move that many would have labelled as bold to say the least, but has proved to be a right call, contributing with 14 goals and 6 assists in 34 matches this season, it's as if the French attacker felt nothing in the transition between leagues. 
The Comparison: Mohamed Salah x Bryan Mbeumo
Able to add goals from the wing, cutting inside with his dribbling ability, Mbeumo has a bigger defensive contribution overall with 4.7 tackles per 90 comparing to Salah's 2.66. Improvement is needed regarding the in-possession and positioning part of his game, especially in the final third as Salah's shots in box edges Mbeumo's at 3.02 against 1.43, but still 20-years-old and with such a swift transition to English football, Mbeumo is certainly a name to be considered.
Last, but not least we find a player who fits the new trend for wonderkids: A talented Norwegian! Hakon Evjen has recently just moved from his homeland to the Eredivisie in order to keep his development going at AZ Alkmaar. Evjen has accumulated 13 goals and 4 assists in 29 Eliteserien matches last year, not to mention his impressive versatility as he played Defensive Midfielder, Central Midfielder, Right Midfielder and Right Winger, being 14 games, 7 goals and 1 assist in the later position.
The Comparison: Mohamed Salah x Hakon Evjen
There is still some discrepancy in EPIs such as shot and reception, so working in his positioning can be the key to unlock all of his potentials. With great agility, ball control and pace the player has a very high ceiling in terms of what he can achieve in the game. Even with the little gap in terms of shots, with Evjen averaging 1.75 against Salah's 3.65 he adds more defensively with a combined 7.92 tackles and interceptions per 90 whilst the Egyptian ranks 2.98.
Conclusion
Despite replacing Mané, Firmino and Salah is a very hard task anyone would like to avoid, time will come and now we can know better who Michael Edwards and his team may have on their radar.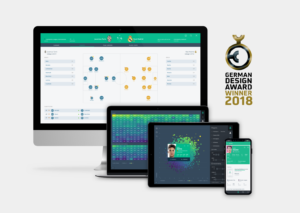 Read more about EPIs and Scoutpanel →