What If Foresight Were 20/20? Finding Wataru Endo in 2016
It is common to say that hindsight is 20/20, which basically means it is easy to judge or evaluate something that has happened, where you can see things as they are, as opposed to how difficult it is to predict something. But, prediction is actually the challenge in scouting and recruitment, isn't it? You don't only want to know how well someone has done somewhere, but how well (or not) he would do at your club next year if you signed him. So how can we help in this challenge?
Basically, there are two parts to this: First, your prediction process. This could be an experienced subjective opinion, a mathematical projection, or a mixture of both. Secondly, there is the data this process is based on. While we do explore some of the options in projection with machine-learning-based approaches, we are going to focus on our data here as it matters to subjective evaluation. What does our data offer to inform your opinion of a player? How can you minimize risk? How to avoid mistakes?
As an example, we are going to pick a player we have been tracking for many years now: Wataru Endo, who has just been picked in defensive midfield in the Top-11 of the 2nd Bundesliga 2019/20 by Kicker.

Translation: "Wataru Endo – For a centre-back (in Europe) slightly too short and the aerial prowess isn't quite there, but the profile looks like a potentially interesting defensive midfielder."
That was an e-mail I sent to Sven (Mislintat, now Sporting Director of VfB Stuttgart) more than four years ago, in May 2016. Back then we had Scoutpanel up and running for our first season, with the proprietary metrics we have been developing since 2013.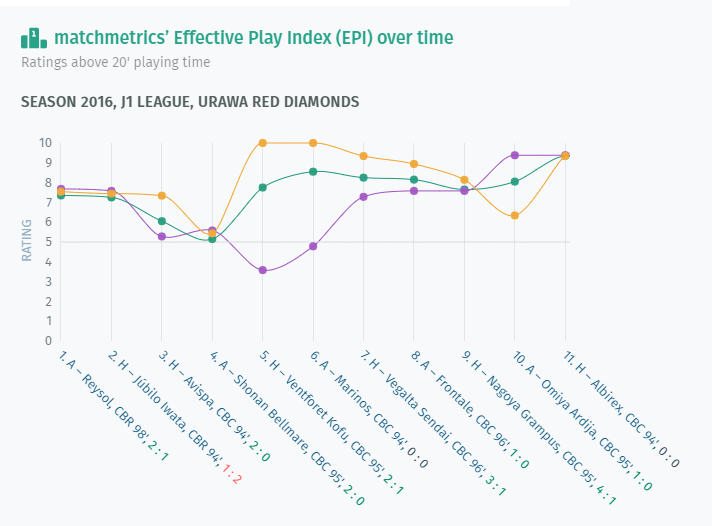 At that time he had just transferred from Shonan Bellmare to Urawa Red Diamonds and had gotten his first matches in, and delivered at a very convincing level for a 23-year-old player.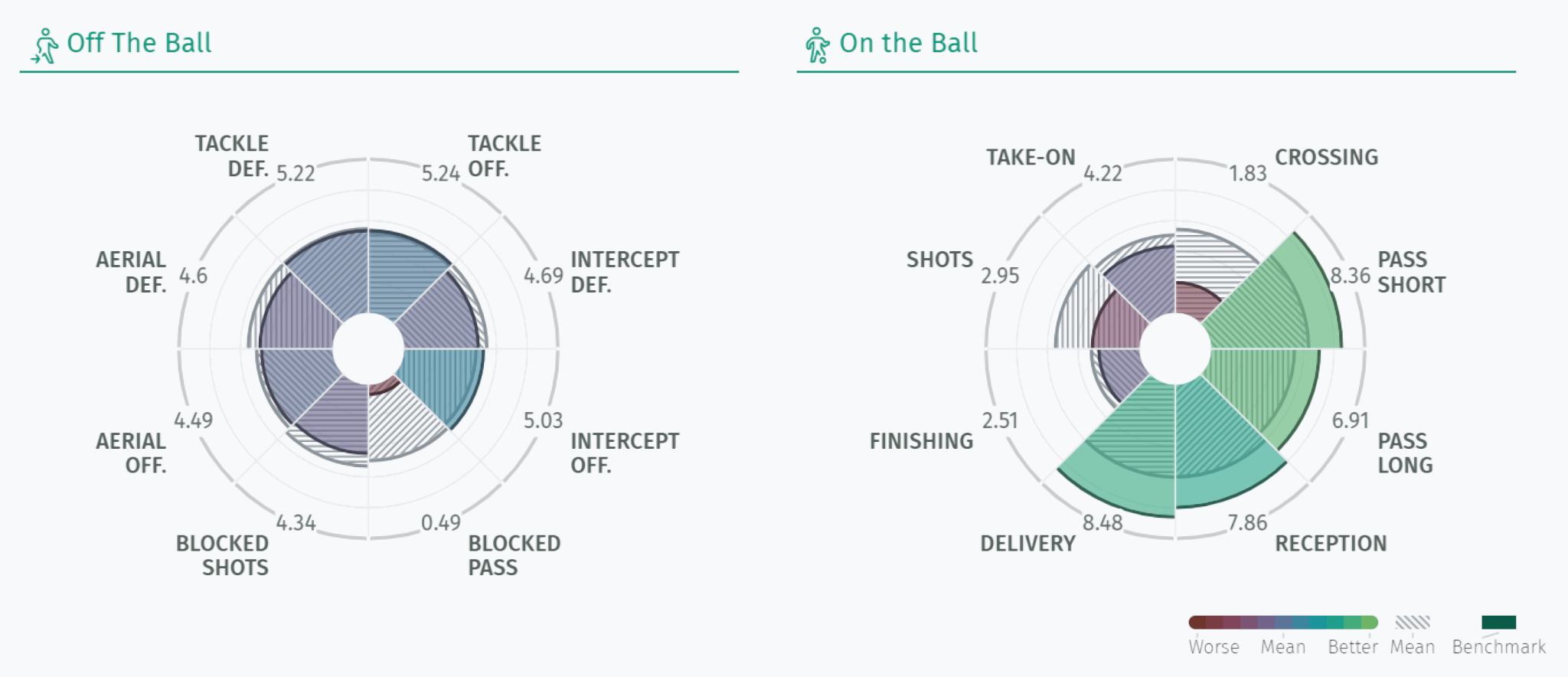 The profile he offered at the end of the season then was very interesting. He was very solid in defence, without any clear points of failure, and offered very constructive passing play, in build-up and into valuable offensive positions, with short and long passes.
So, dependable rather than spectacular in defense, with good offensive output in structuring play. This looked like an application to be played slightly higher up the pitch, which is there idea to place him in defensive midfield came from.
But, what if this was just a fluke? Perhaps one good season amidst a sea of mediocrity or failure? Good thing we can look at his development across different, subsequent seasons.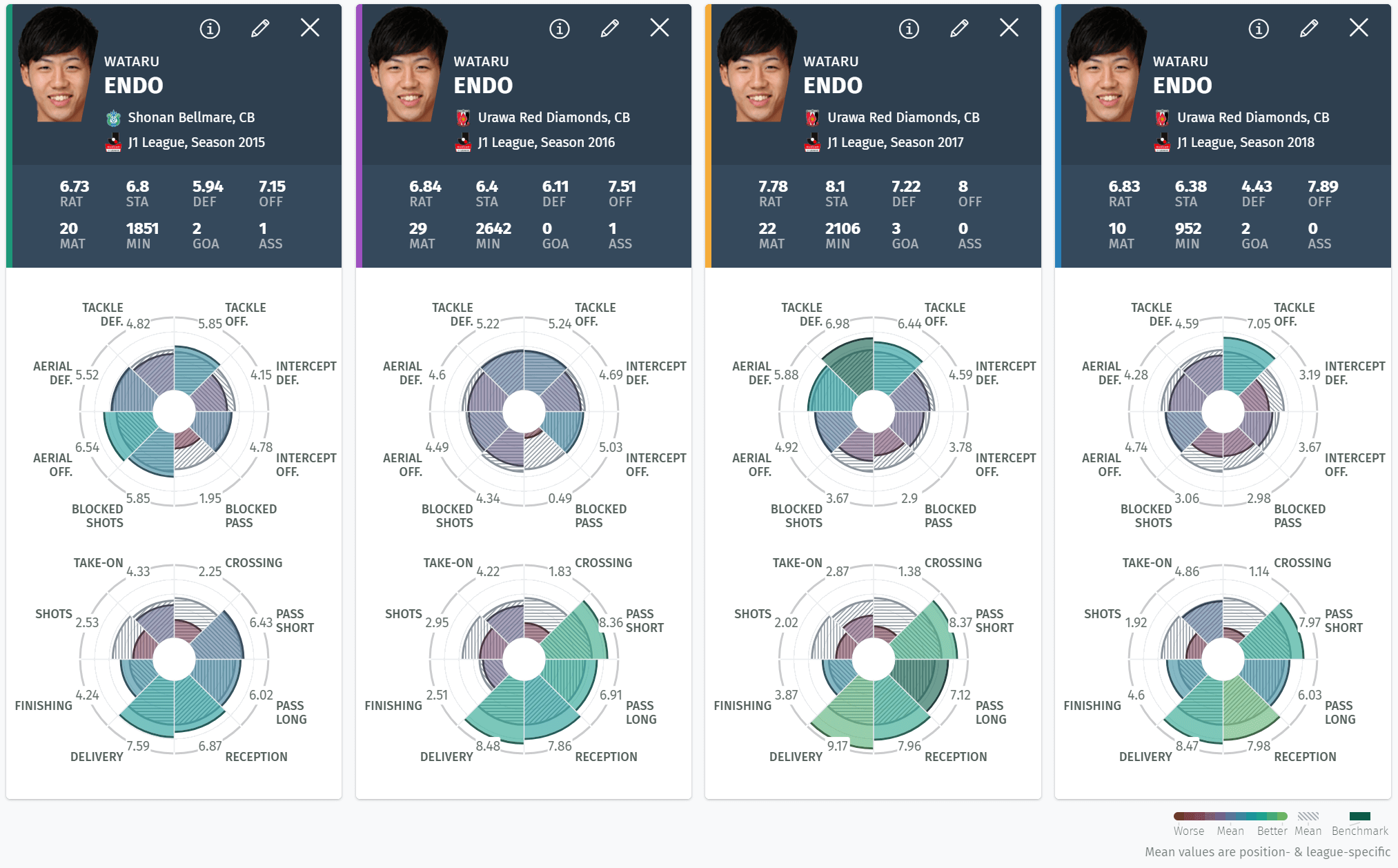 Four seasons at a glance. There is some variation to his profile, but it still clearly is a profile: A characteristic set of strong areas and lesser-developed ones. 2016 was not a fluke.
And while coming to Europe from Japan requires coping with a big change in location, culture and language, we had a bunch of Japanese players kicking around in the Bundesliga, like Kagawa, Hasebe und Kiyotake already. And despite all the differences in environment, those among others had established an image of Japanese players as being very driven, professional, reliable and disciplined, with actually little to no difficulties in settling into their new environment.
So, let's look at his performance in 2nd Bundesliga this season. I have replaced the first entry with his current season: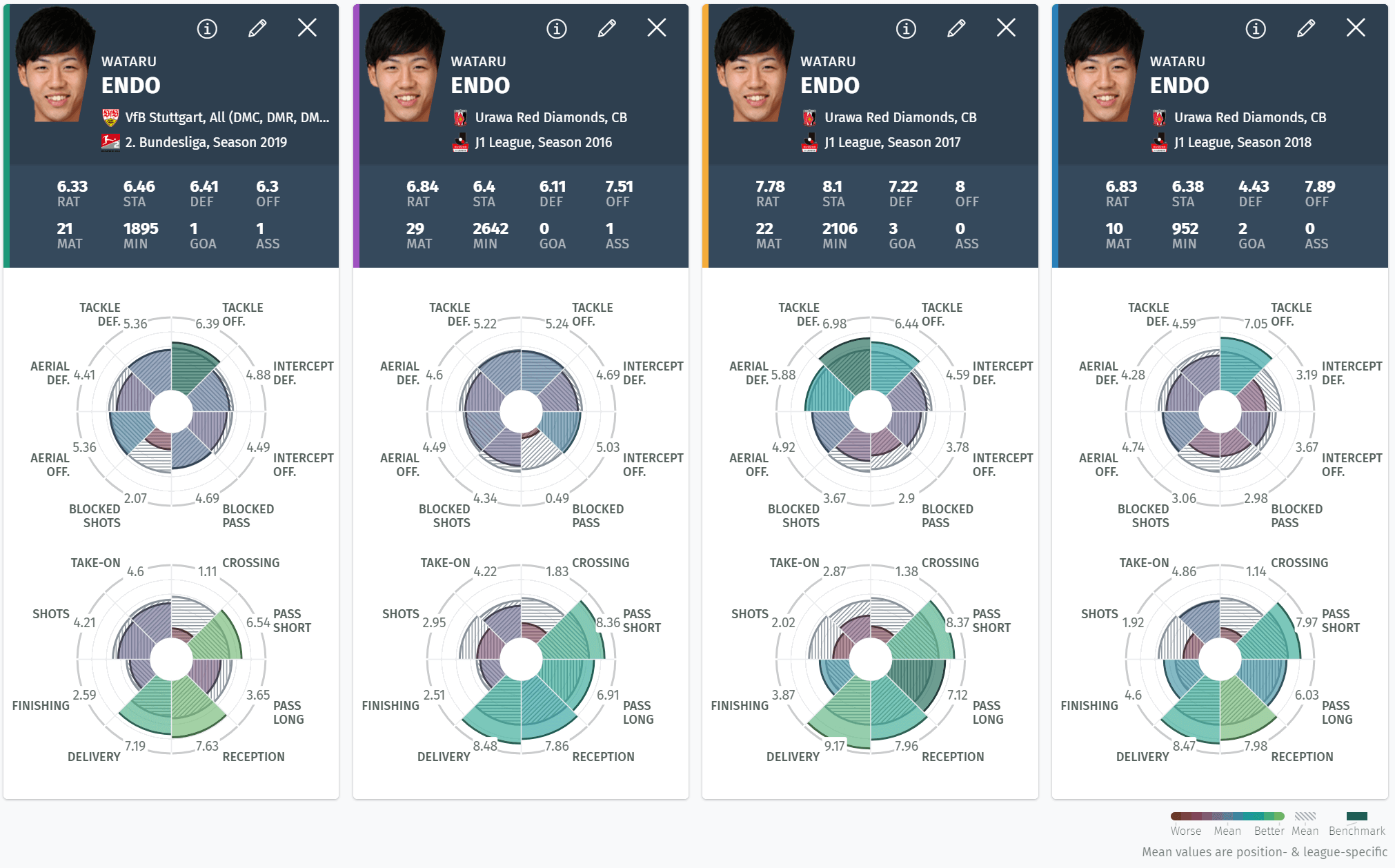 His long passes have suffered, which can also be a matter of tactical instruction, but the rest still looks very similar to what he offered in Japan. The ratings are just very slightly lower in the relevant offensive categories, which could be chalked to the difference in competition levels.
But pretty much any player can have a great season. And then there are some players that can have great seasons in ways that statistics do not cover well. But if there is a player in Scoutpanel that offers great performance year on year in a reasonably tough competition, it is unlikely he is a lemon.
It still takes imagination, decisiveness and conviction to go after these players, after you find them in Scoutpanel, but it is worth taking a very close look at them.
Want another example? How about Naby Keita in 2015, still in Salzburg?

("Just Austrian league, but the current ratings for Naby Keita of RB Salzburg are super striking, especially for a 20 y/o. He's top everywhere and outperforming his league to a nearly absurd extent.")
Best player of his team, best player of his league, benchmark player in five out of eight on-the-ball categories (with a sixth very close to it) on his position. Sadly, no deal came to pass. But back then there had been question marks regarding the level of the Austrian league and how much faith could be put in performances delivered there. Now we know better. In fact we also have worked on putting leagues in relation to each other and allow projection of player performances across different competitions.
While Keita became a prominent Liverpool player of international renown quite quickly, it took longer for Endo to find some of the recognition he deserves. As we have been tracking him closely for a long time, we are very happy for him and hope to see him perform equally well in the 1st Bundesliga now after VfB Stuttgart managed to secure promotion in a thriller ending to the season.
There are some more promising, under the radar players in Scoutpanel to discover right now. Contact us and let's talk about those, before we show you how to find them yourself. With Scoutpanel.
Author:
Michael Markefka
Head of Analytics and Co-Founder @matchmetrics