Why the Bayern against PSG win was more deserved than the 0-1 lets on
But, was the final match as close as the 0-1 result could make you think? Our scouting and analysis system Scoutpanel does not think so.
Congratulations to FC Bayern München, who crowned their season efforts with the Champions League title! Hansi Flick and his team did a great job after they have reset their course under his leadership. PSG under Thomas Tuchel also had a great run but was bested in this final match of the competition. In general though, this Champions League season has seen some great performances and surprising wins in a very entertaining knock-out phase.
In the picture you can see Bayern coded in the yellow color, and PSG in blue. Bayern outperformed their opponents by a wide margin in most categories, delivering lots of value in most performance categories while restricting PSG heavily.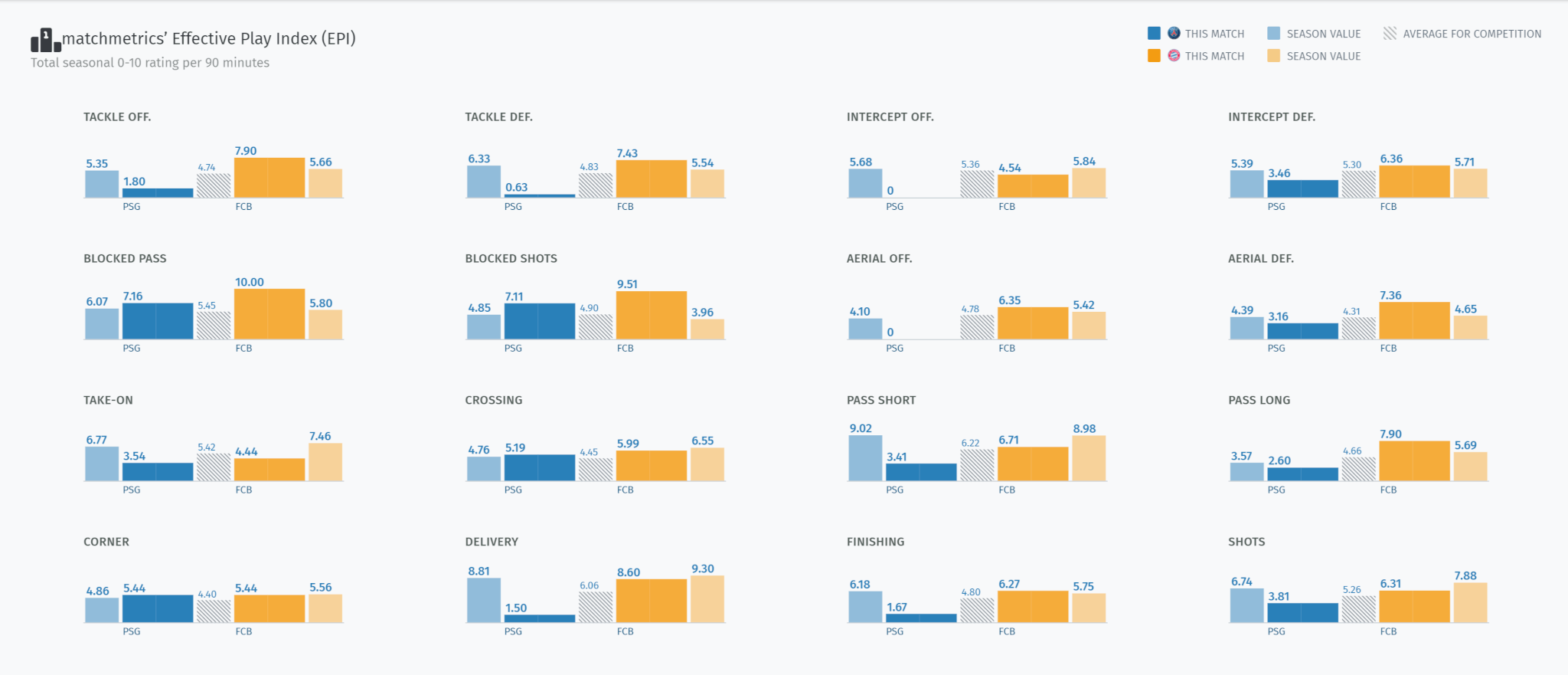 This is how it breaks down for the teams compared to the opponent, the competition average (gray texture in the middle), and compared to their own season average of the past matches within the given competition.

You can see how PSG had a hard time getting any kind of handle on Bayern, with the Tackle Defensive, Tackle Offensive, Intercept Offensive, Intercept Defensive categories crashed down to very low ratings, way below what they have shown in prior matches. Bayern had no such troubles, with good pressure on man and ball in their Tackle Offensive, and solid control of space in their Intercept Defensive values with their Tackle Defensive also being on point.

Bayern drifted towards longer balls in build-up play than they've played before, and looking at the ratings for Aerial Duels, this has paid off, with Bayern handily beating PSG in the air in defense and offense. PSG themselves though did not manage to create much of a structure in their passing play, especially their short pass build-up play disrupted by Bayern's attentive defense and their long balls creating even less value than before.

In Delivery, our rating for ability to deliver the ball into positions of offensive value, PSG was cut short, while Bayern managed fine. Shots, which describes the offensive quality and sum of the positions the team tried to score from, shows PSG not having been without any chances at goal, but Bayern handily outperformed then. And to round this off, the efficiency in front of goal expressed in our Finishing rating hands this to the Munich side.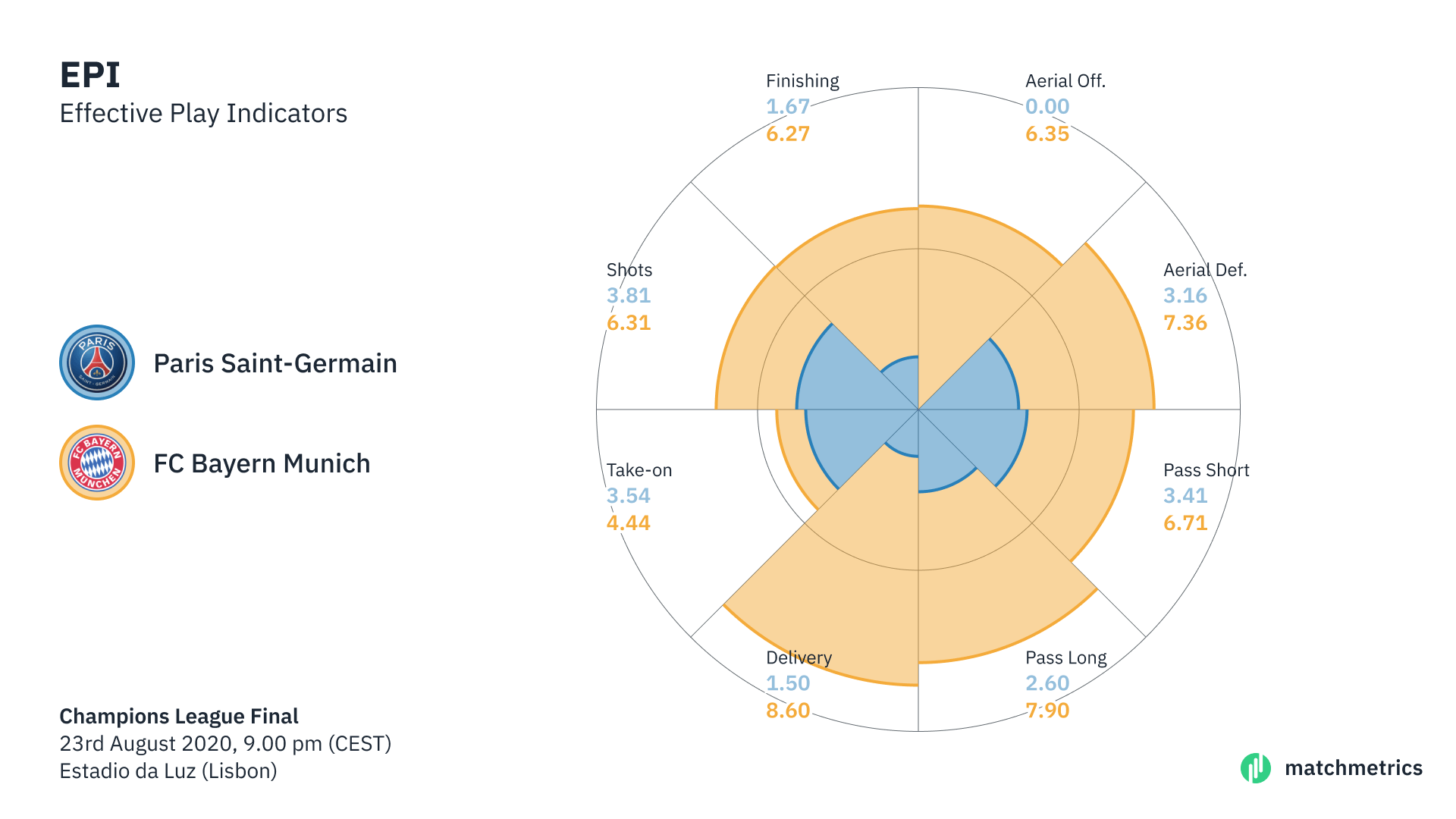 Looking at the data overall, a 0-2 seemed more likely than a 1-1.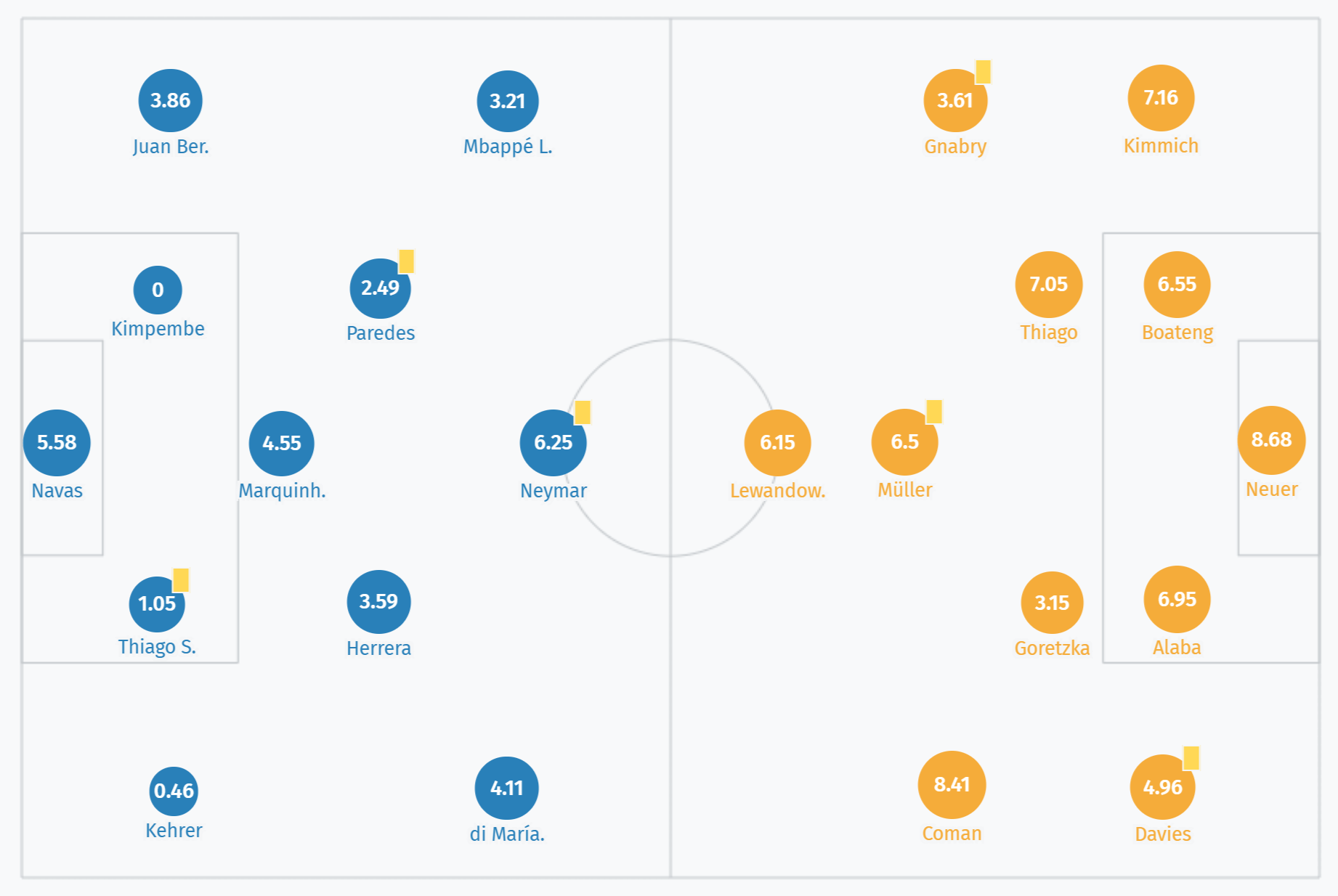 But for all of Bayern's on-the-pitch prowess, our system agrees with general consensus that Manuel Neuer was the man of the match, with the highest overall rating. In Scoutpanel this is a mix of importance in value, event volume and success rates. Coman, Kimmich and Thiago had great games as well, with the Bayern side showing few weaknesses in single match performances. Neymar had a good game, but not a spectacular one, and especially not a good enough one to carry what could be seen as liability in defense, where PSG's performance remained below what they've shown before.
We are sure both sides will take away positives and negatives from this outing, both will rebuild, both will look forward to expanding their legacy. The next season is closely ahead.
Are you interested in having your own team or matches analyzed? Curious to know where Scoutpanel sees the breaking points of a coming opponent? Contact us for trials, demos and consulting. We love to talk football!
Author:
Michael Markefka
Head of Analytics @matchmetrics