Find Raw Diamonds Before They Shine – Moneyball in Football
Recruitment is a key part of a football club at any level of competition. Finding players that are able to provide competitive and financial returns lays a very solid foundation for any side to achieve success. Nowadays data plays a key part in the decision making process of recruitment, and clubs look to emulate what Billy Beane did in baseball, famously covered in the book "Moneyball" and movie of the same name. Baseball is its own challenge and presents itself very differently in statistics, but perhaps we can transfer some of the approach.

We looked a few years back into the Scoutpanel database and picked some of the many examples of players who could have been spotted and later brought financial and sportive returns to their clubs. In this upcoming series, we will explore each of the past seasons and present five cases each, with a bit of explanation on how the players set themselves apart. The lists given are not exhaustive of what Scoutpanel offered in that year, but illuminate how apparent performance is in Scoutpanel even in its early stages. If you want to see more players or check back on specific ones, just give us a shout.
Season 2015/2016
1. Caglar Söyüncü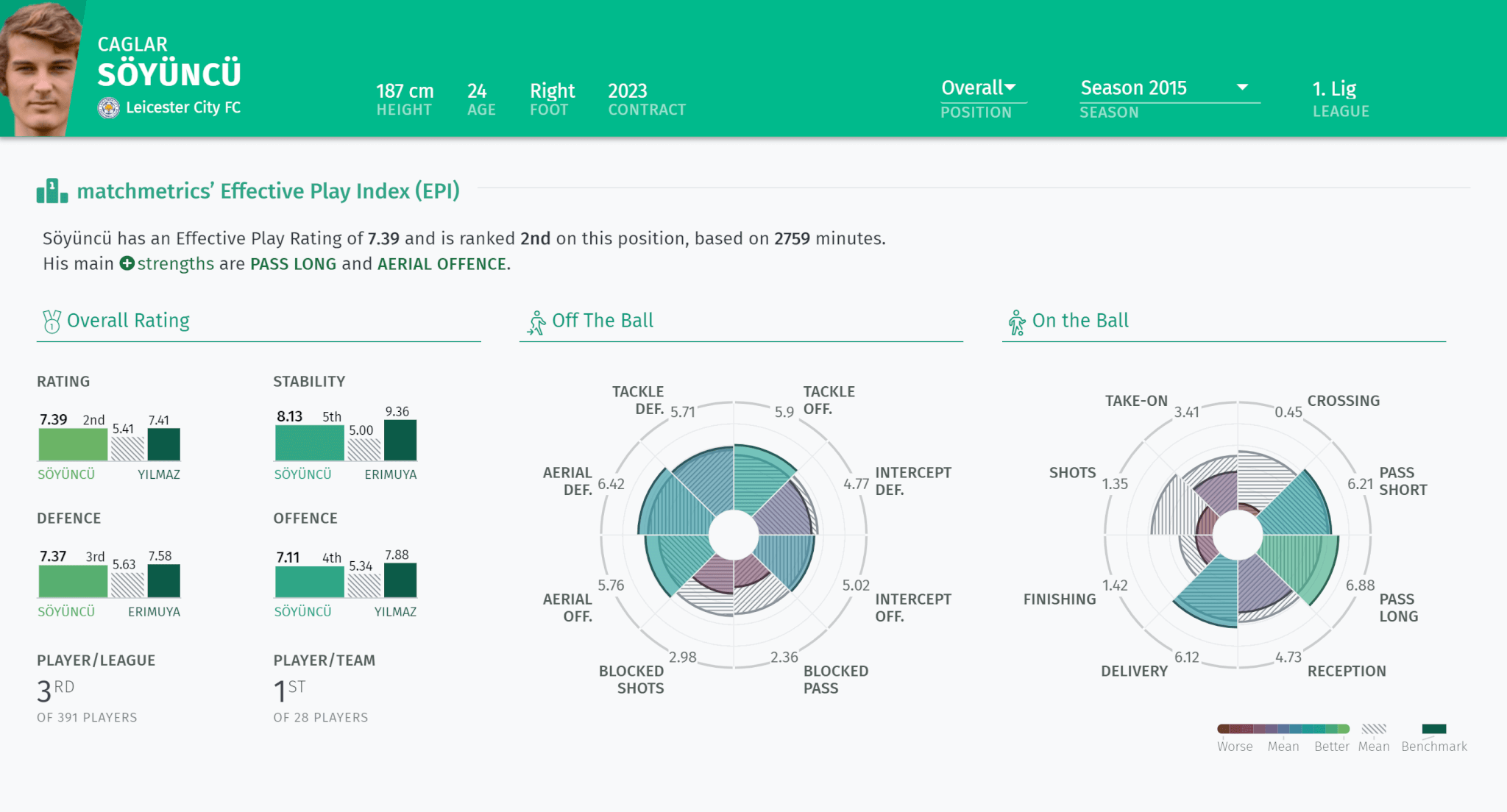 The Turkish defender was playing in his country's first tier for Altinordu FK and had a great season to his name, rated the 3rd best player in the league and 2nd best defender with the 5th highest stability.

At that time, Söyüncü was valued at 1 million Euros according to Transfermarkt, and he went on to Bundesliga side Freiburg for 2.65 million and was later sold to Leicester for 21.1 million, which means a gross profit of around 700% in transfer fees. Now one of the most reliable defenders in the Premier League, his value is estimated at 32 million In the last five years he appeared in 50 Bundesliga and 40 Premier League matches and earned 28 caps for Turkey.
2. Denzel Dumfries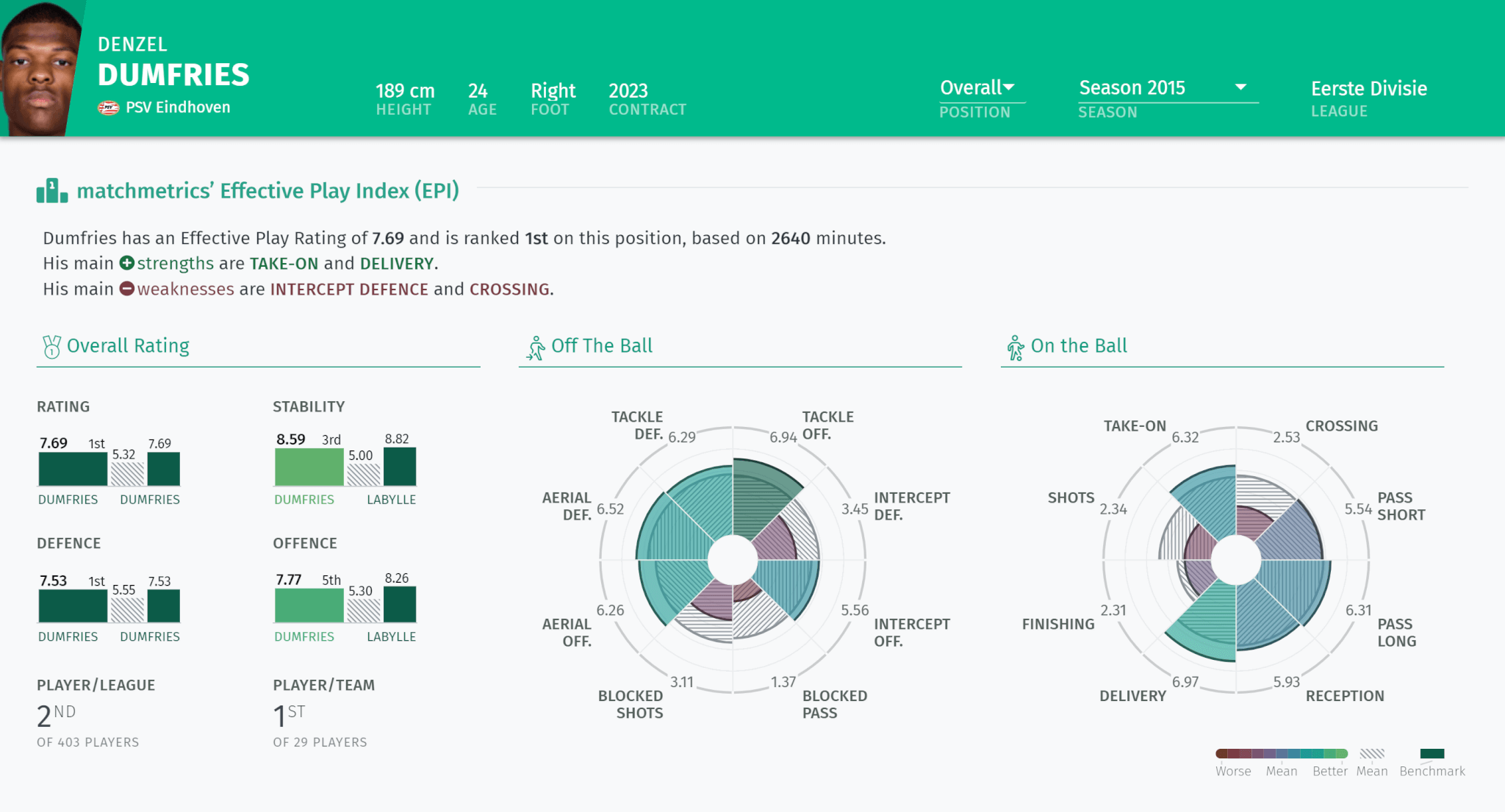 A 7.69 rating put Dumfries as the best fullback in the Dutch second division of that year and the second best overall player. Then valued at 250 thousand Euros, Dumfries stayed a further year with Sparta Rotterdam before moving to Heerenveen for 750 thousand, and later on to PSV for 5.5 million. Now as a Dutch international, Transfermarket.com sees his value at 12 million. Being 24 years old, with more than 120 Eredivisie appearances and 9 international caps, Dumfries could play at a high level for years to come and may yet add to his international tally and market value in the future.
3. Fabian Reese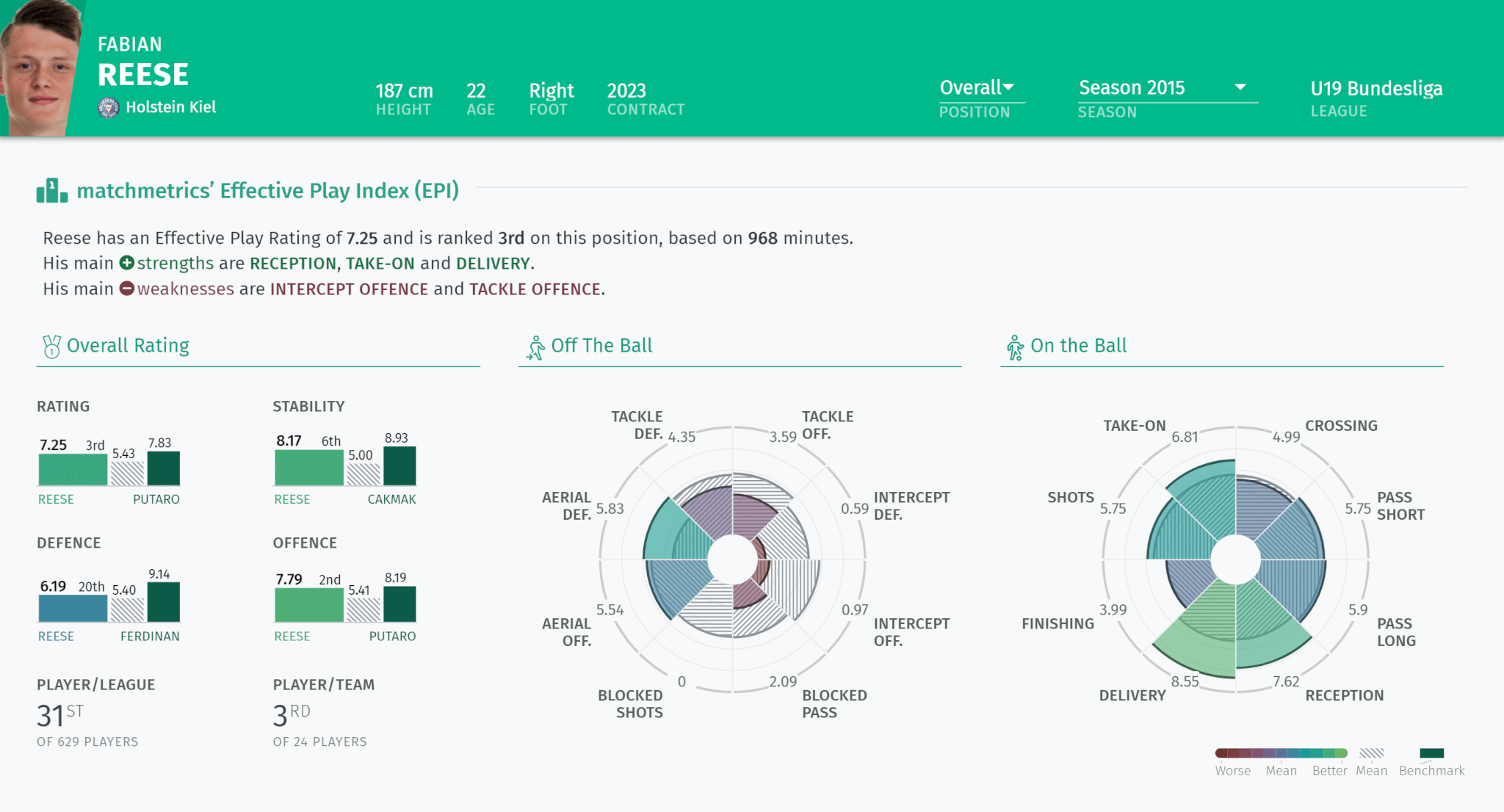 Fabian Reese had a really strong season for Schalke in the U19 Bundesliga of that year. He scored 6 and assisted 7 in 10 games, which helped him be considered the 5th best forward in the competition according to Scoutpanel. His value was a mere 50 thousand Euros at the time. His development continued with a loan to Greuther Fürth and then a permanent move to Holstein Kiel for 100 thousand Euros. A very smart move for a 22 years old former U20 international, who is currently valued at six times more than that.
4. Milan Skriniar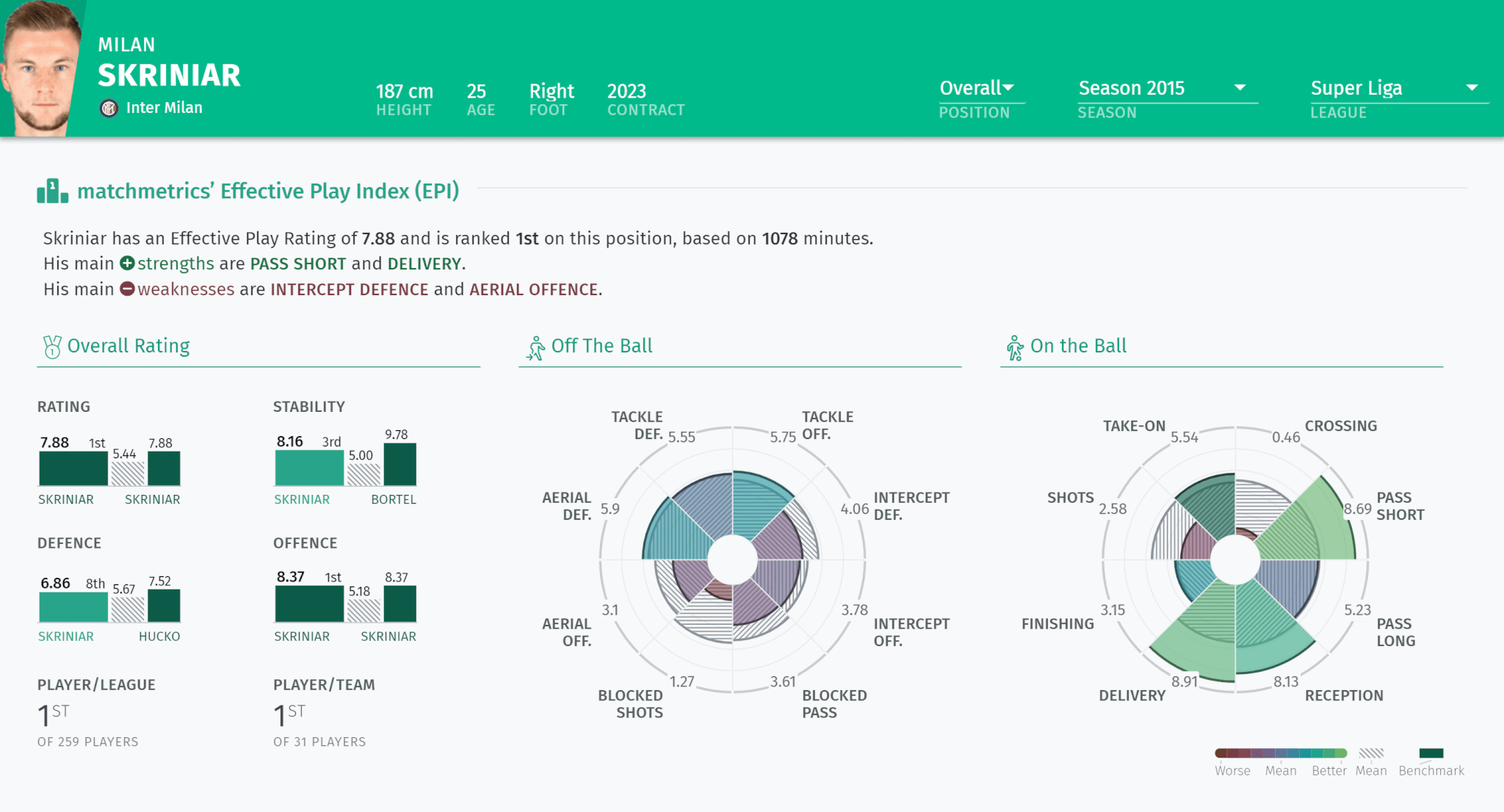 Milan Skriniar played only half of the 2015/16 season at the Slovakian Super League, but had the best rating across all players in the competition. His Transfermarkt value at the time was 600 thousand euros, but Sampdoria paid 5.2 million to acquire his services, which down the line proved to be a bargain buy. After a string of solid performances for I Blucerchiati this made Inter Milan pay 34 million Euros for the player, whose value has now further increased to 48 million. Despite being only 25 years old, he's already one of the best centre-backs in the game with 31 international games and 138 Serie A appearances.
5. Ousmane Dembélé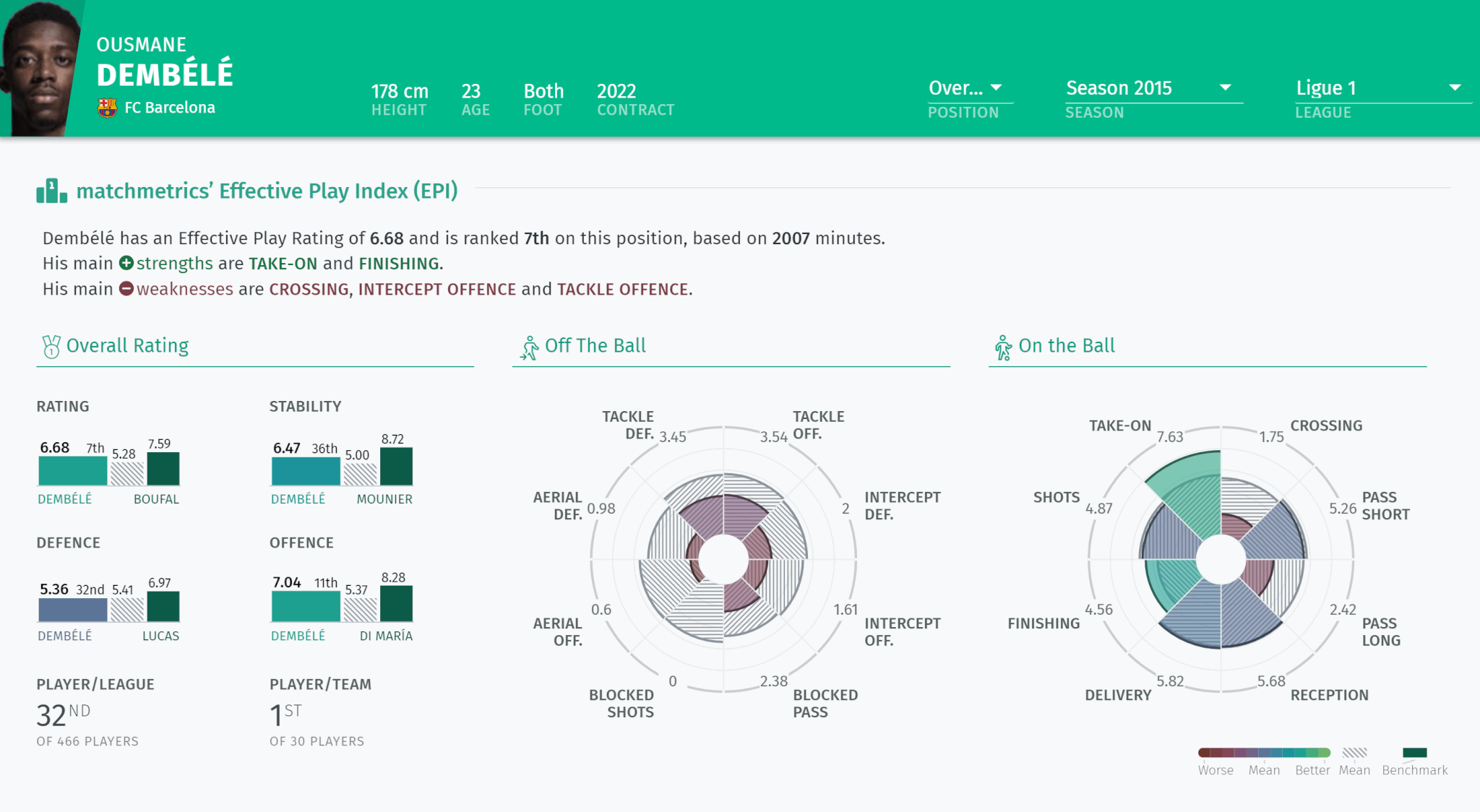 Back then Ousmane Dembele had caught the attention of Sven Mislintat, chief scout at Borussia Dortmund at that time. The 5th highest take-on rating for a winger in Ligue 1 for such a young player showed that there was something there. It was his breakthrough season and Dortmund beat their competition to sign him for 15 million Euros. It took less than a year for the German side to multiply the fee paid by more than 8 times and sell the the player to Barcelona for a whopping 125 million Euros. Multiple strings of injuries hindered Dembele's progress and saw his market value drop to what is now 56 million Euros, but at 23 years old and 41 goals and 44 assists in 153 senior level club appearances, there is still time for his career to get on the uprise again.
Authors:
Pedro Ferreira
Sales Representative Brazil @matchmetrics
Michael Markefka
Head of Analytics @matchmetrics