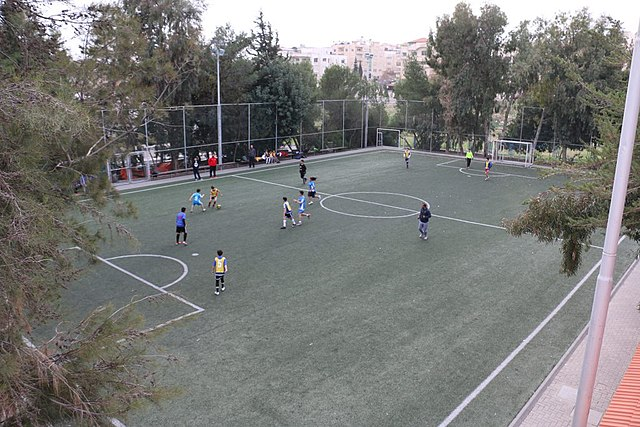 Image by random contributor. Source: Wikimedia Commons
The magic of data. The ever-growing applications of data in football to aid decision-making, and the new challenges imposed by the pandemic when it comes to finding new players, enhance the importance of having a good platform to explore players around the globe. And get individuals who will aid your club, with sportive and financial returns. 
The expansion of such data is now at a point that you can discover a player with outstanding performances at youth level already, before he breaks into the first team, and get yourself even a better deal. Or make a deal viable at all. 
That's why the Matchmetrics team used Scoutpanel to explore youth leagues around the globe and pick a dream 5-a-side team, of players you haven't heard of yet, but likely will in the future. The only rule is: players can't come from the same league. 
Here are our picks, so you can follow those youngsters blossoming in the next few years.
Samuel Soares – Liga Revelação – Benfica  – Goalkeeper
Born in 2002, the current U20 Portugal international, who stands at 1.89m has a very solid defensive performance, with 5 clean sheets in 9 games at Liga Revelação's second round and saving 75% of the shots he has faced over the last two seasons (124/165). His real trait, however, is his distribution, with the ability to constantly launch passes to the final third and the opposition penalty box. Developed in the same molds as former Benfica goalkeeper Éderson, he may as well follow in his footsteps, as even at youth level he already provides assists to his teammates.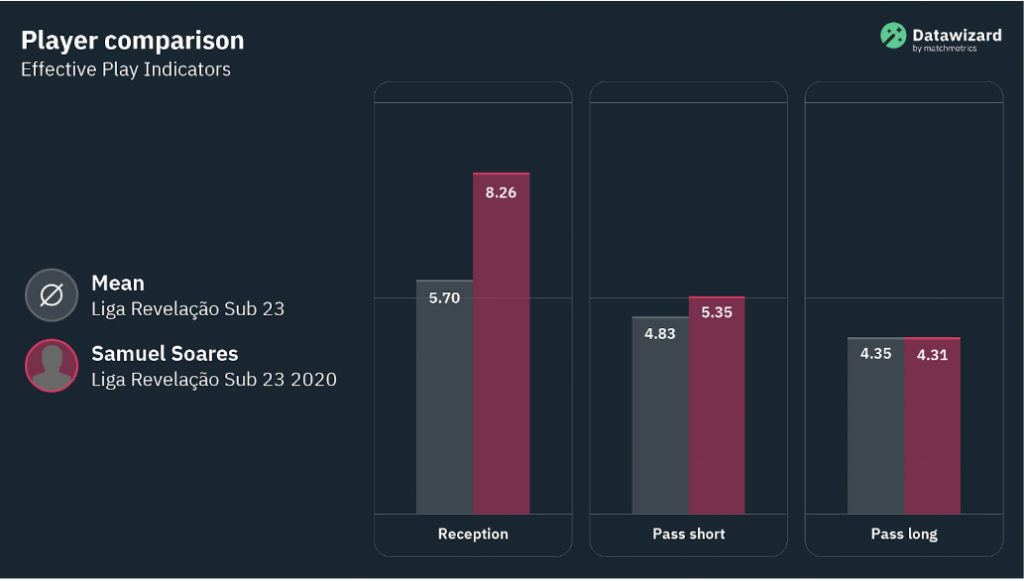 Charlie Cresswell – Premier League 2 Division Two – Leeds – Centre-Back
A very complete defender, dominant in the air with 1.87m, and comfortable in possession. Born in 2002, Cresswell was the heart of Leeds' U23 defense. On the ball, the defender has the highest EPIs for centre-backs in the competition in short pass, long pass, reception and delivery. Not convinced? He's the first on interceptions, clearances and aerial duels and second on tackles, tackles success, and aerial success. 
A progression to the first team may follow soon and if the player can keep his performance levels in the Premier League, you're looking at a future star.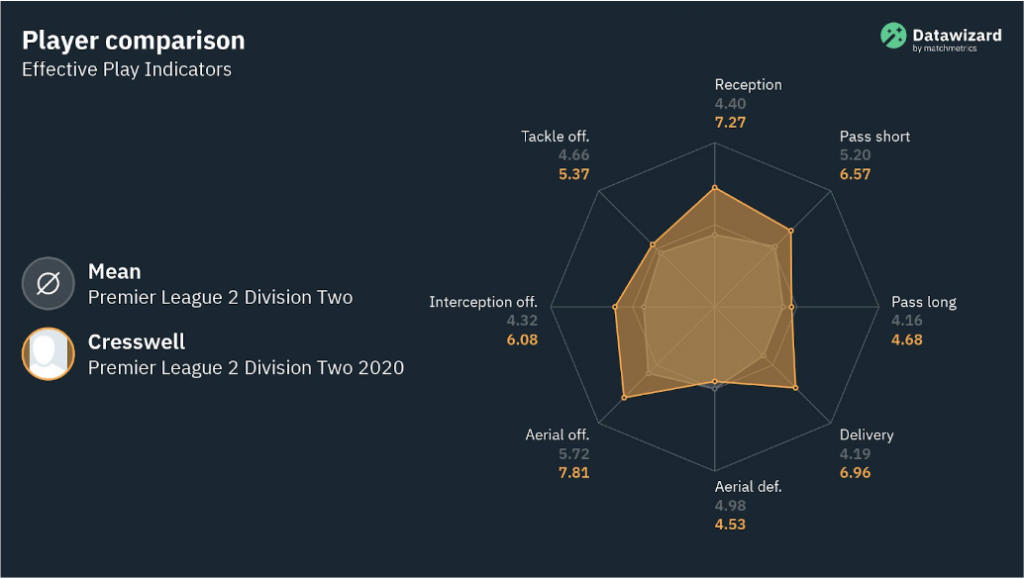 Fabio Miretti – Campionato Primavera – Juventus – Midfielder
Juventus obtained the service of Manuel Locatelli, even though they have a carbon copy in their club's youth system. A complete midfield dynamo, Fabio Miretti makes things happen for his side. Now 17 years old, born in 2003, the player got promoted to Juventus Primavera after 16 goals and 6 assists in the Italian U17 League. Despite not getting a similarly staggering goal involvement return in Campionato Primavera, the player led the league in terms of creativity, with 1.12 chances created per 90. Miretti flaunts the highest EPI for delivery and offensive tackles, meaning he's suited to counter-pressing demands he may be asked to perform, and also features in the top 3 for take-ons and receptions. With a stability rating of 8/10, something quite unusual for a player at his age, especially playing in an age group above his own and at this very high level.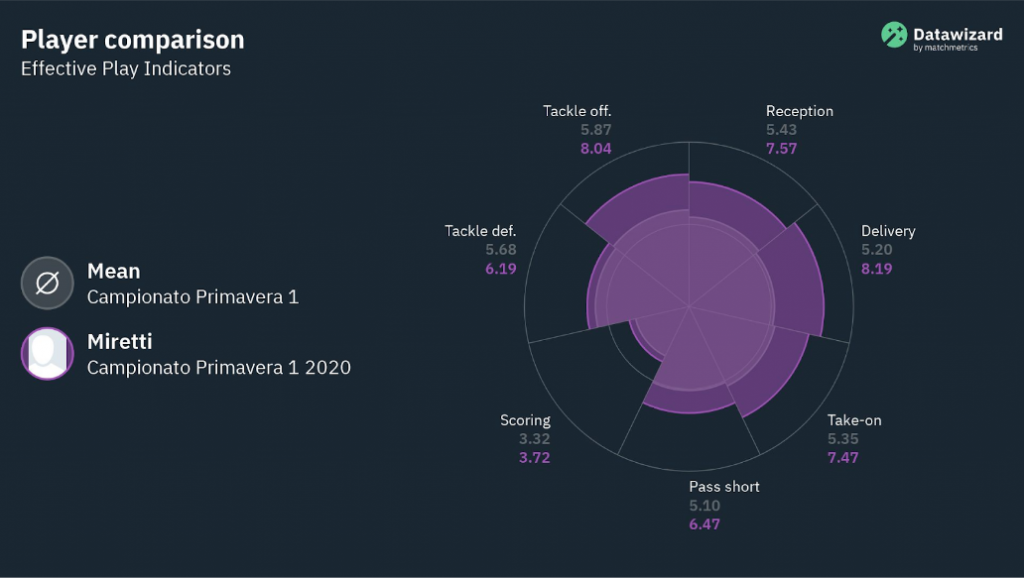 Alexander Lyng – U19 Division – Helsingör – Attacking Midfielder
The youngest member of our 5-a-side team, born in 2004, has astonishing numbers. 37 goals and assists from 27 matches across the Danish U17 and U19 leagues. In the U17 Division, in which he got more minutes, a conversion rate of 0.95 indicates not only good finishing but excellent decision-making to pick his shooting positions. Both in the U17 and U19, the player is head and shoulders above any other midfielder in the reception, finishing and shooting EPIs, with 1.65 created chances per minute rounding off his on-the-ball ability. However, it doesn't stop here. With the highest volume of tackles, with 60% success, and a well above average offensive and defensive tackle EPI, the player shows his energy and ability to play and contribute off the ball.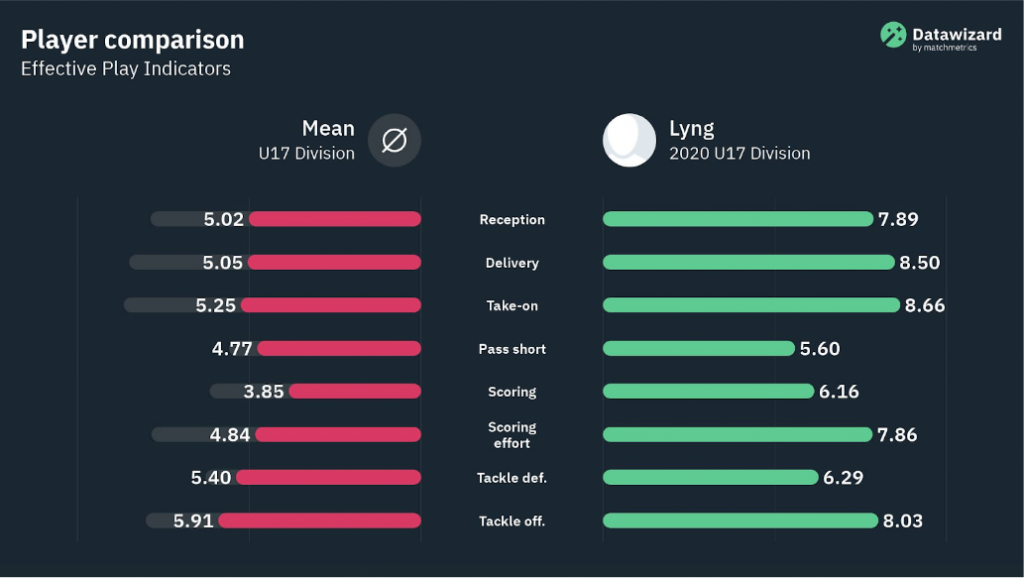 Eduardo Mustre – U17 League – Pachuca – Striker
Do you remember that kid from school who used to be good at everything? It's Eduardo Mustre. After being national tennis champions in three different categories, he decided to move into football and is doing *very* well. The second highest conversion rate, going with the highest number of shots gets you a top goalscorer: Mustre, born in 2003,  had 22 goals to his name in 25 matches. Eduardo, however, is not the classic poacher, with a good EPI for take-on and offensive tackles indicating that he can create spaces and also contribute when his team doesn't have the ball. A 0.6 created chances per 90 also jumps to the eye, considering that he is the finishing point of attacks for his team, and a good volume of crosses reinforce his mobility and dynamism to move to the flanks and exploit space. Starting to get on the fringe of the first team, don't forget his name. You'll see it a lot in the future.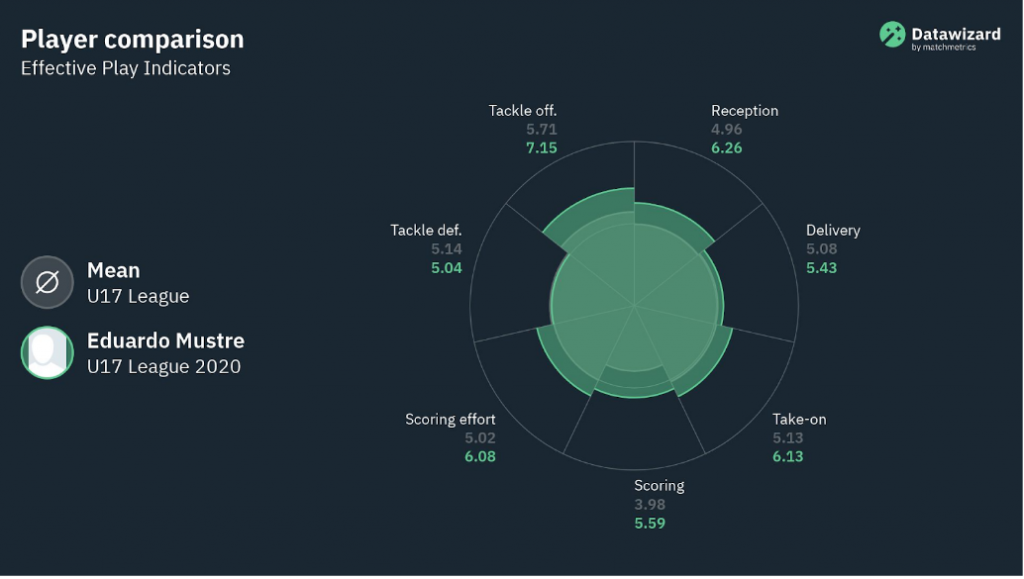 WANT TO FIND YOUR PLAYERS? CONTACT US
HAVE AN ARTICLE REQUEST OR IDEA? CLICK HERE