Flashes of brilliance marked this player as a diamond in the rough four years ago. Two years ago he already shone.
Kai Havertz is getting his big ticket move and joins Chelsea, filling a vacancy left by Willian moving to Arsenal. His efforts to join the London side at Stamford Bridge have occupied the press for a while now. And Chelsea are getting a player who is ten years younger than Willian and shows a remarkably similar profile.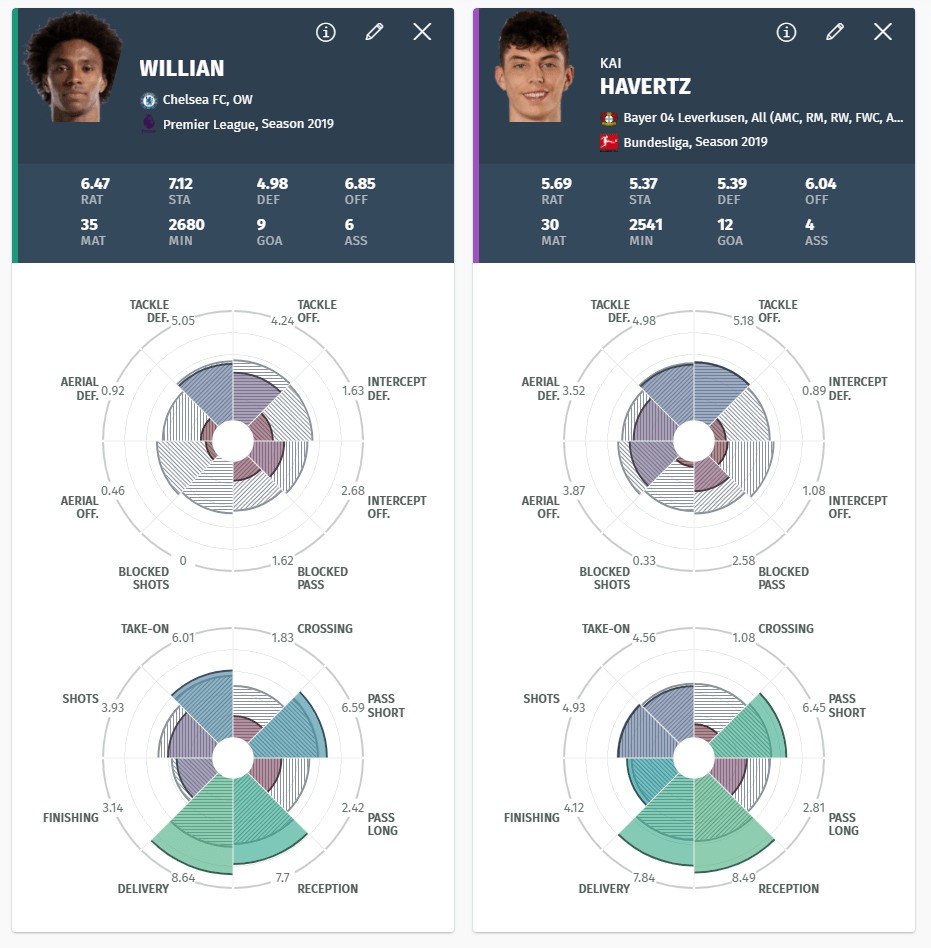 This looks like a natural fit and should establish continuity at a very high-performance level with a player who has many years of his career left to contribute. But by now Havertz is already a household name, well established at Leverkusen and the German national team. Given this transfer saga's media notoriety and Havertz' public profile, it does not feel like we are witnessing the sudden reveal of a hidden gem, rather than the natural career progression of a very good player. But, could he have been spotted earlier? And having known him earlier, could there have been enough trust to make the risk-reward scenario of signing him at a younger age a viable proposition? Let's examine his case.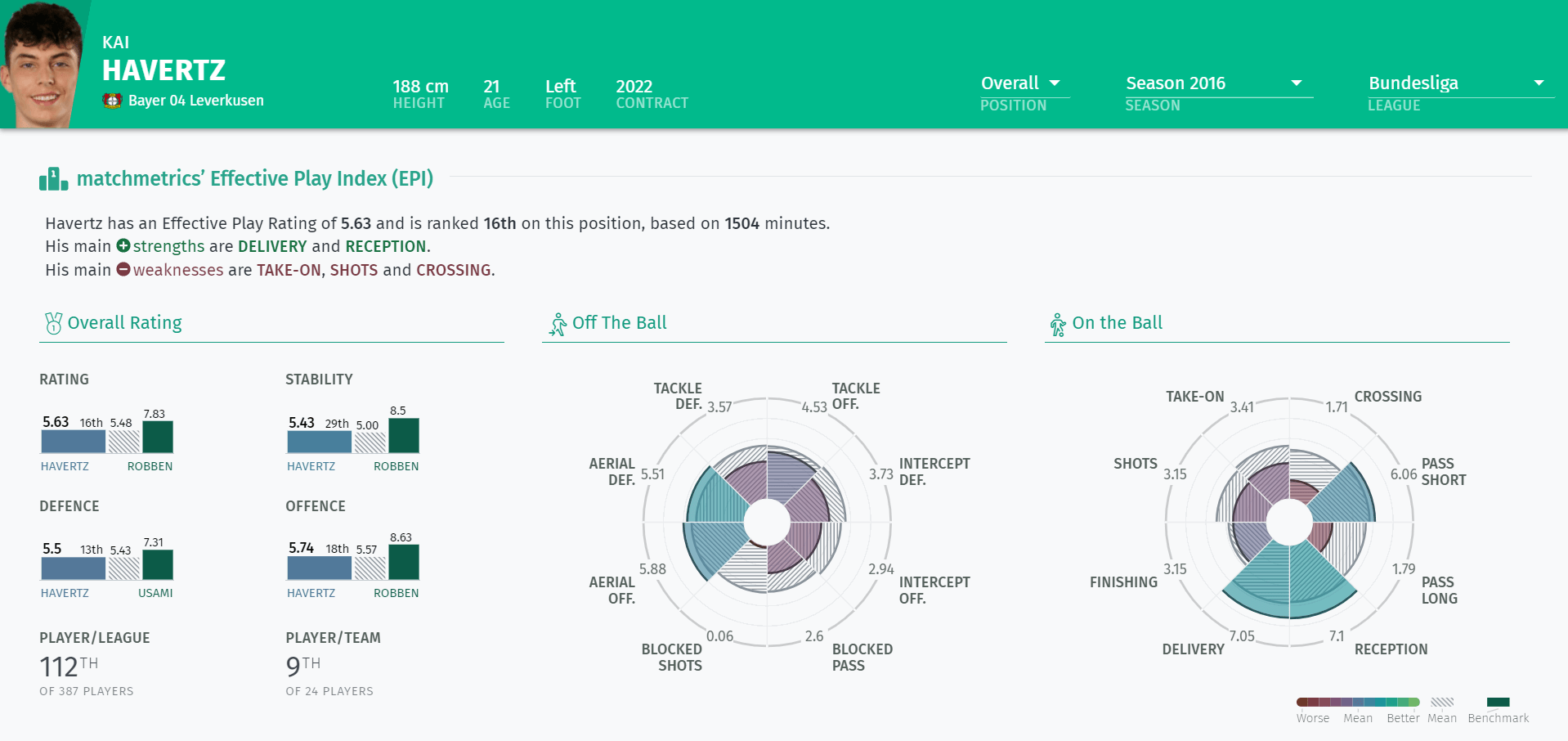 Four years ago, he already was an above average Bundesliga player, with solid build-up play, active offensive link-up and aerial presence. At an age of 17. That alone should have put him on everyone's radar. And as his stability rating of 5.43 shows, he had not completely settled yet.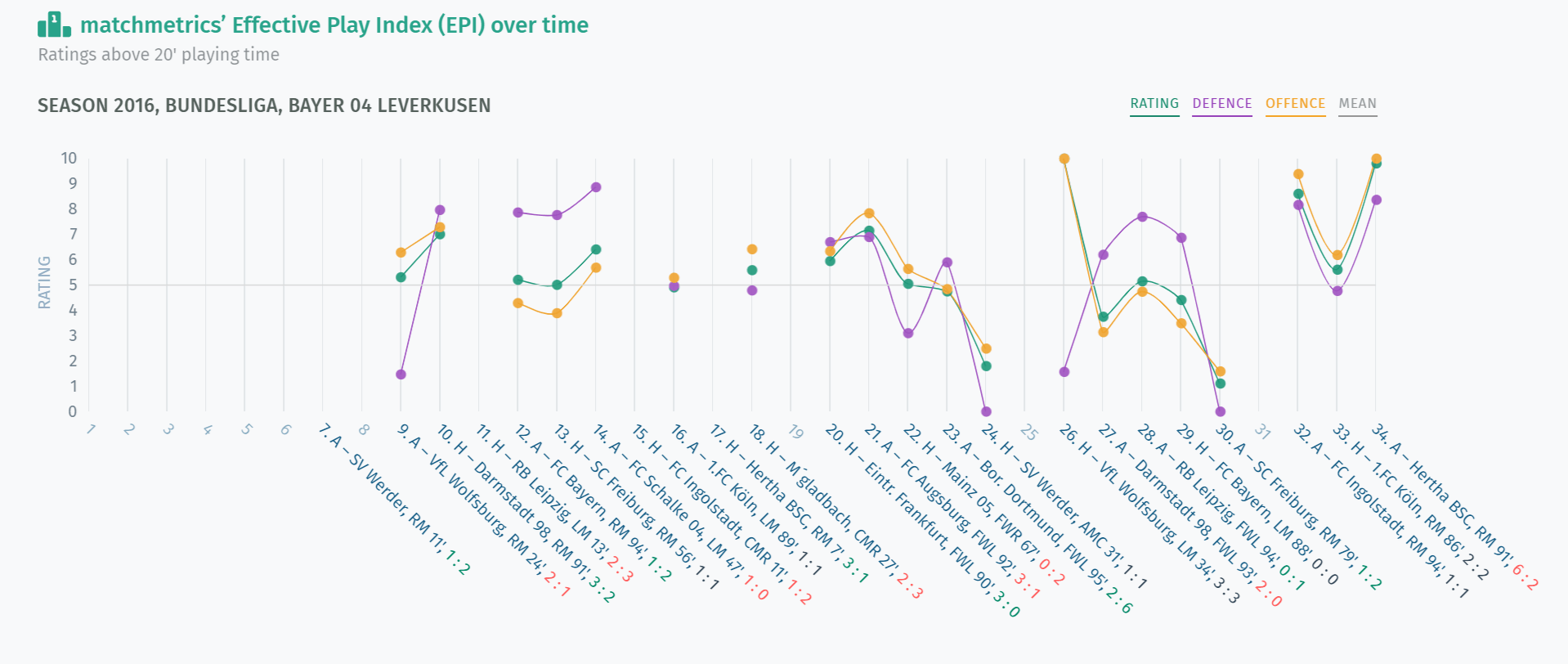 Looking at his season trajectory, we see some good bits and some letdowns. But the matches against Augsburg, Wolfsburg, Ingolstadt and Hertha showed what he was capable of at young age in a very competitive environment. During that year he also spent some time playing in the German U19 competition, where he showed some undeniable performance spikes that put him above the rest of the field, as you can see in the polar charts below.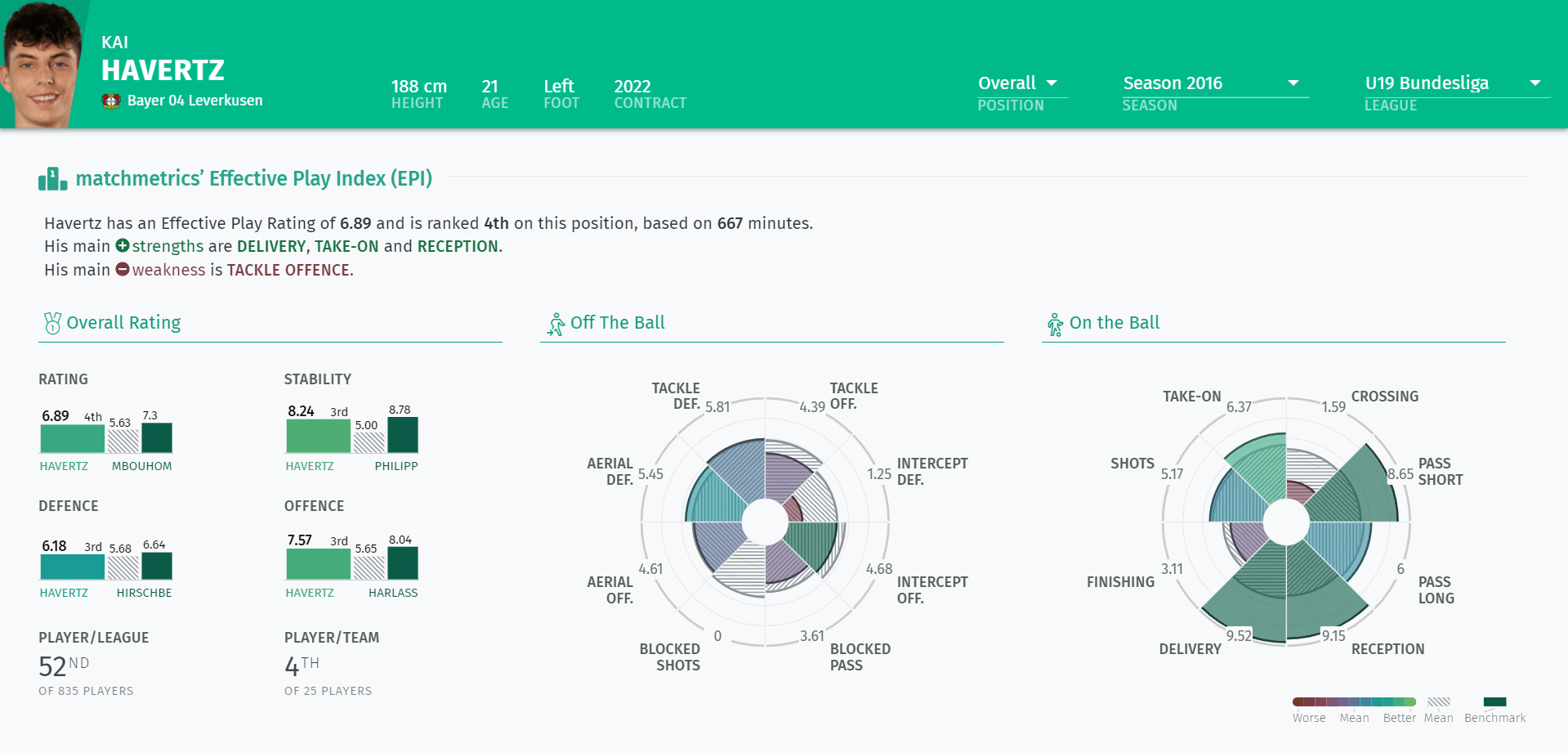 Especially his passing and link-up play were stellar, with some good effort towards goal.
You still might have been tempted to put him off as one of the hopefuls, just another talent, back then, so let's skip ahead at take a look at his 2018/19 season.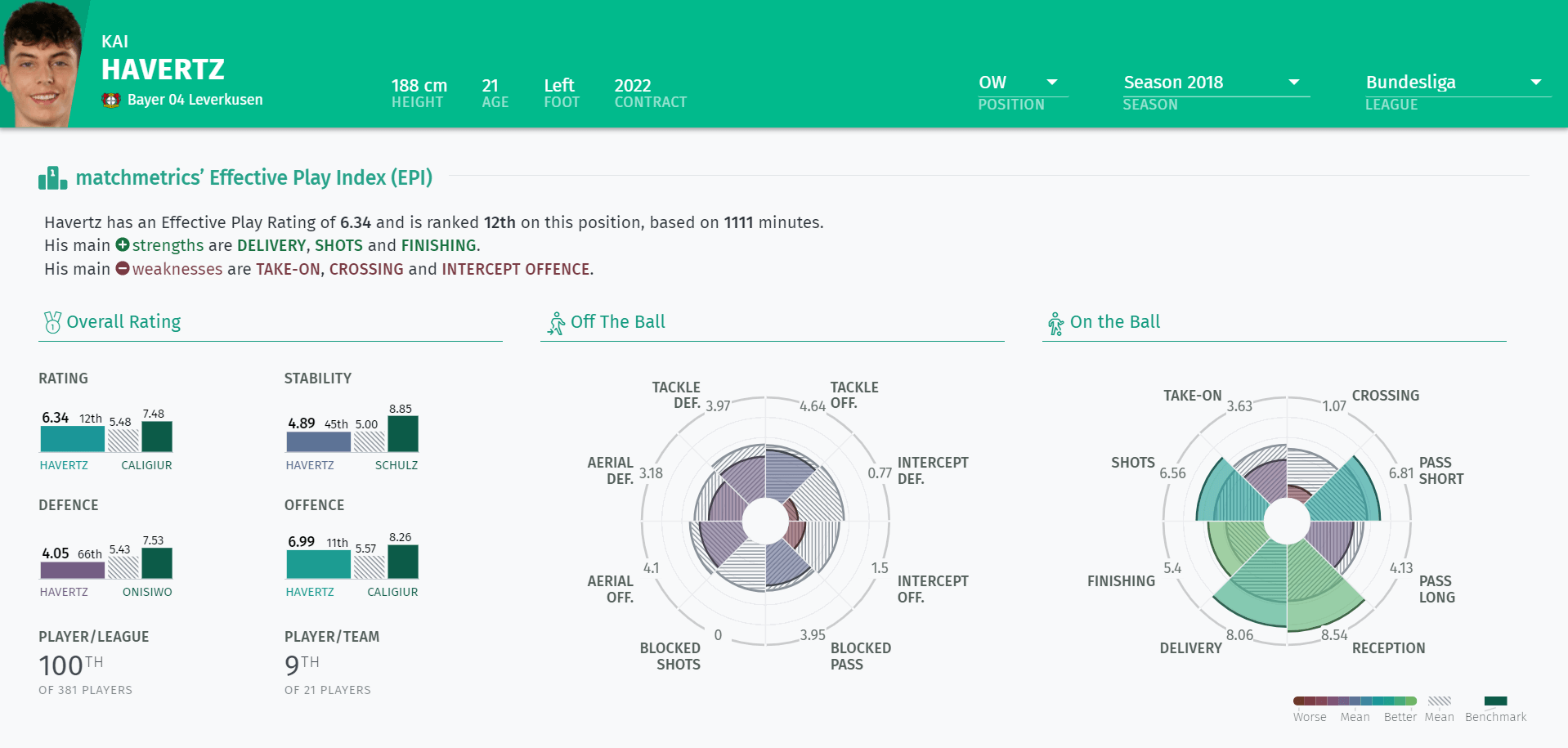 This is his Bundesliga performance for 2018/19 as a winger. Good build-up play with good short passes, very good offensive link-up in the offensive value of places he successfully received the ball at and delivered it to, with high-quality shot opportunities and impressive efficiency in Finishing, turning those opportunities into goals. His one 1v1 dribbling could possibly have provided more value, but for a player that moves intelligently between lines and finds and create value beyond his individual take-on, this is only a minor and debatable issue.

And his season history shows more than ten performances with very high ratings, hitting the rating ceiling in quite a few of those, with some occasional matches where he wasn't completely on song. At 19 years old.
This is all the proof you should have needed. Beyond this point you are paying extra, or you are not able to afford him any more unless you are in charge of a very exclusive selection of clubs with substantial resources.
Late 2018 we actively and completely stopped using him as an example in media and for show cases, to keep the value we have seen to our clients, while mentioning him only to those for a while before that.

"Havertz is too much of a hot topic" to publish his charts. Want to know the blacked-out names? Want to know which other names our system provides, for any kind of budget? Talk to us and find out in our demos, trials and consulting. If you can't sign Havertz, find the player who could replace him.
Author:
Michael Markefka
Head of Analytics @matchmetrics
e-mail: m.markefka@matchmetrics.com