Atalanta Bergamo – the road to success
1. Introduction – The evolution into a top team
2. Squad planning – The optimal squad depth
3. Transfer policy – Main focus on no-names and talents
4. The game plan – Team balance despite offensive power
5. Conclusion
1. The evolution into a top team
Atalanta Bergamo, the hottest team of the Serie A right now! Eleven wins from nineteen games mean sixth place in the table – ahead of higher-ranked opponents such as Inter Milan, Torino or AC Fiorentina. The employment of new head coach Gian Piero Gasperini has paid off completely. The Italian, who previously trained CFC Genoa for three years, is increasingly focusing on the youth.

The Montagsscout, January 6th, 2017
This was titled almost three years ago and described the situation of the Bergamascan club at the time. A lot of things happened, many talents from that time were sold – but Atalanta is still one of the top teams in the Serie A. The Daily Mail headlined in September 2019: How a club with a tiny budget like Burnley's and a team of outcasts have joined Europe's elite. So, how did they do that?
Atalanta's sporting development can be sketched using this graph. The team's combined performance data shows a steadily positive trend, the current rating of 7.45 is the highest of all Serie A teams of the 2019/2020 season.
2. The optimal squad depth
The standard answer from football managers regarding the optimal squad size is mostly 20 field players and 3 goalkeepers – Atalanta got exactly this many players! Each position is thus filled twice. As echoed in the podcast quote, every single squad player comes to his stakes, which is a huge plus in terms of team chemistry. Nobody is left out, everyone is needed.
Despite the summer purchases, Atalanta generates a transfer plus of an incredible € 48 million euros. This is a great testimony, showing the quality of the management.

Podcast # 03
3. Main focus on no-names and talents
The key factor is about the management. Director of sports Gabriele Zamagna, together with the successful coach Gasperini, managed to increase the squad value from 80 million euros to almost 300 million euros – within three years! The smart scouting combined with the fixed game system 3-4-1-2 was the reason for their upswing. The style of play is also enormously attractive and has thrilled football fans worldwide.
Increasing the squad value year after year and still make profits? It is the ideal picture of an optimal scouting process. The focus of the transfer policies of Atalanta is based on several pillars:
1. Hot talents, preferably from the own academy or at least Italy
2. No-name players as a bargain
3. Late bloomers to take over important team roles
4. Smart transfers to ensure the squad quality
1. Barrow, Baselli, Bastoni, Bonaventura, Caldara, Conti, Cristante, Gagliardini, Gollini, Kessié, Locatelli, Petagna (many of them already sold)
2. Tolói (fee: 3.9 million euros from Brazil), Palomino (4.5 from Bulgaria), Djimsiti (free transfer from Switzerland), Gosens (0.9 from Holland), Castagne (6.5 from Belgium), Hateboer (1 from Holland) , Freuler (2 from Switzerland), de Roon (1.3 from Holland)
3. Alejandro "Papu" Gómez and Ilicic
4. Caldara, Malinovskyi, Czyborra and Muriel
This overview shows how intensively Atalanta scouts abroad. In the past few years, this has led to a competitive advantage as they knew how to boost their clubs economy with a  balanced mix of scouting and youth development. These groups can be described as 1. Hot talents, 2. Stability players, 3. Late bloomers and 4. Quality transfers. What conclusion stands out now?
Almost all of the hot talents come from Italy or have passed an Italian youth academy. They will have a high sales value due to their nationality and high-quality education. It will hardly be possible to keep them for more than two or three years, but financially a sale is a blessing.
The stability players nearly never come from Italy or played in the Serie A previously. Most of them were active in smaller leagues, making them considerably cheaper than comparable Italian players. These players can be sold after a good development for mostly over 10 million euros or help to improve the squad substance. Bergamo decided to try to keep all players of this category, who fit well into the system and have demonstrated their ability, skills and personality.
The late bloomer species is massively related to the Gasperini game system. Since arriving in Bergamo, Gómez has had complete freedom, was allowed to be creative and develop his individual class. The 1.65 meters tall Argentinean became a fan-favorite, called "Dio" (God) in Bergamo.
Incidentally, he was signed from Ukrainian side Metalist Kharkiv for less than 4.5 million euros in 2014, since then he nearly played 200 games for La Dea.
The other God, Josip Ilicic, was searching for constancy in his game during his spells in Palermo as well as in Florence. Gasperini converted the former attacking midfielder/right-winger into a striker, which helps him to use his well-known incredible shooting power more often. His outstanding technique gradually emerged in a confined space. It is hard to believe, how his technical abilities have not been discovered earlier.
The quality transfers round off Atalanta's transfer portfolio, they were once again outstanding. Ruslan Malinovskyi, a central midfileder, transferred from Genk, owns strong stamina and technique, Duvan Zapata was signed on a permanent deal after being an institution in Atalanta's game for more than a year. Luis Muriel enriches the squad, featuring amazing joker qualities (11 goals after 36 league rounds) with his outstanding pace and shot. In addition, he knows the Serie A quite well after spending seven seasons at Udinese, Sampdoria etc. Lennart Czyborra, bought from Heracles Almelo (Eredivisie) is already being set up as a backup for Robin Gosens, who could become an export hit in the summer.
If you spend some time in Africa and visit the football schools regularly, you will be able to scout some hidden gems there, who can turn out to be exciting players in the future.

Podcast # 03
At any rate, the African market should be mentioned. The Nerazzurri were able to discover the talents Franck Kessié (signed for 1.5 million euros from the Ivory Coast) and Musa Barrow (signed for 0.2 million euros from Gambia). The former went to AC Milan for a total of 32 million, the latter will bring in at least 13 million in summer 2021 when FC Bologna's purchase obligation is due. This shows how investing in african football will pay off most of the time, earning 45 million euros income from just 1.7 million euros expenses.
4. Team balance despite offensive power
The balanced squad depth distinguishes Atalanta this season. All players show offensive dangerousity, which makes them variable. The defensive wingers Gosens and Hateboer/Castagne in particular are always looking for the way into the box, staying in the blind spot of the opposing defense, before making a run and scoring (especially Gosens). Creative player Alejandro Gómez also likes to pull out on the left wing and outnumber the opponents there. The central midfield is powerful, while the central defenders are dangerous at standard situations. Smart transfers such as Caldara, Malinovskyi, Czyborra and Muriel are equivalent alternatives in their positions and give the squad the necessary quality across the board.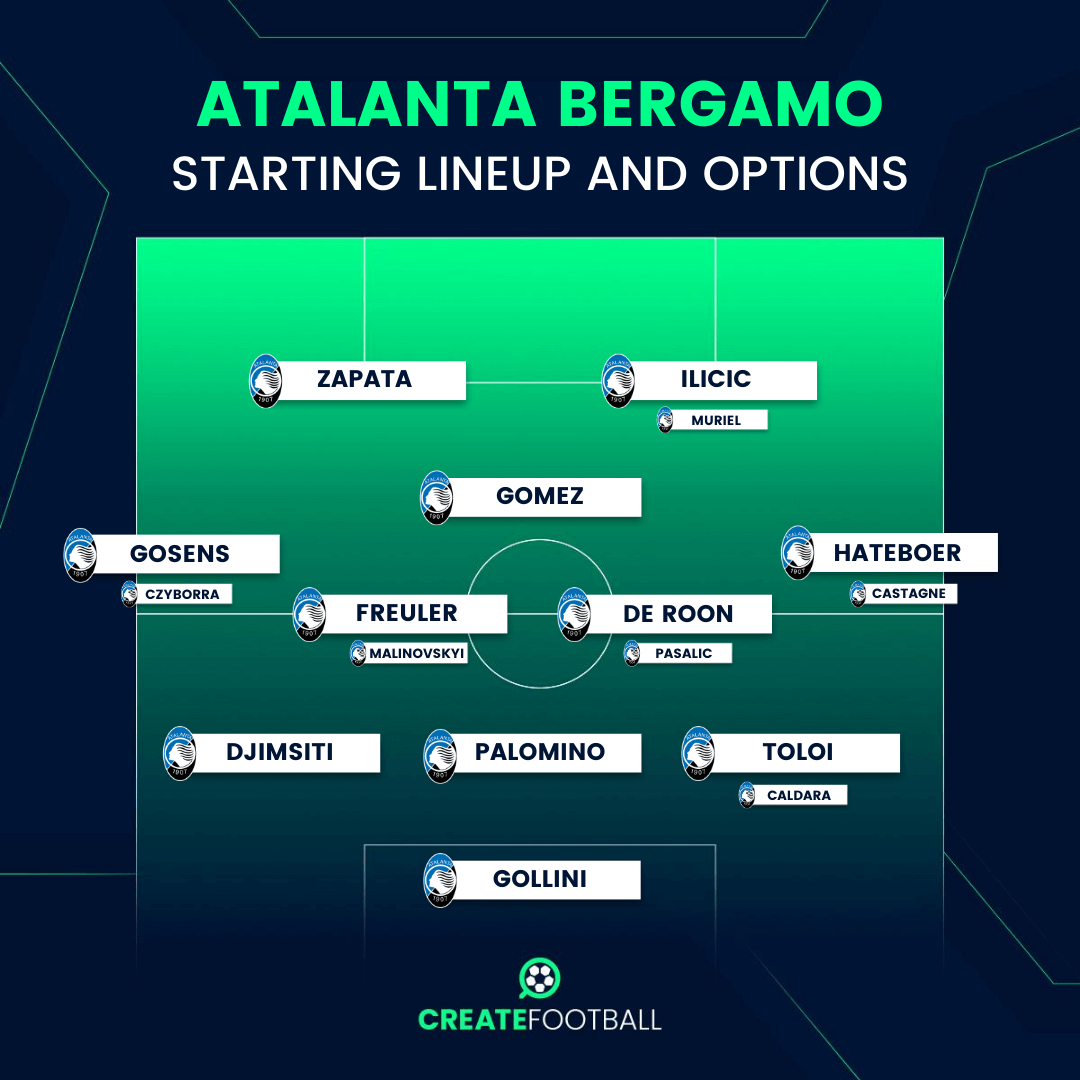 Game principles
Atalanta always plays in its typical 3-4-1-2 basic formation, playmaker and "number 10" Papu Gómez sometimes adds himself to the two attackers. The build-up play of the opponent gets disrupted quite early by pressing their defenders super high and early to provoke long balls – those passes can be easily defended by the strong central defense. To guarantee this, Gasperini relies on a space-oriented marking, combined with a man-on-man marking of the build-up player in the central defensive midfield by Gómez. The strikers Zapata and Ilicic like to direct the opponents' build-up play by chasing them to one of the sides of the field with their crescent-shaped runs. Individual errors and risky passes by the rival are the main targets. The task of the two defensive wingers Gosens and Hateboer is to prevent the opponent's vertical pass, which stops them to outnumber Atalanta on the flanks, for example in a 4-4-2 formation. Only when the passing line is blocked and the outer central defender took over his man, Atalantas left or right mid puts pressure on the player carrying the ball.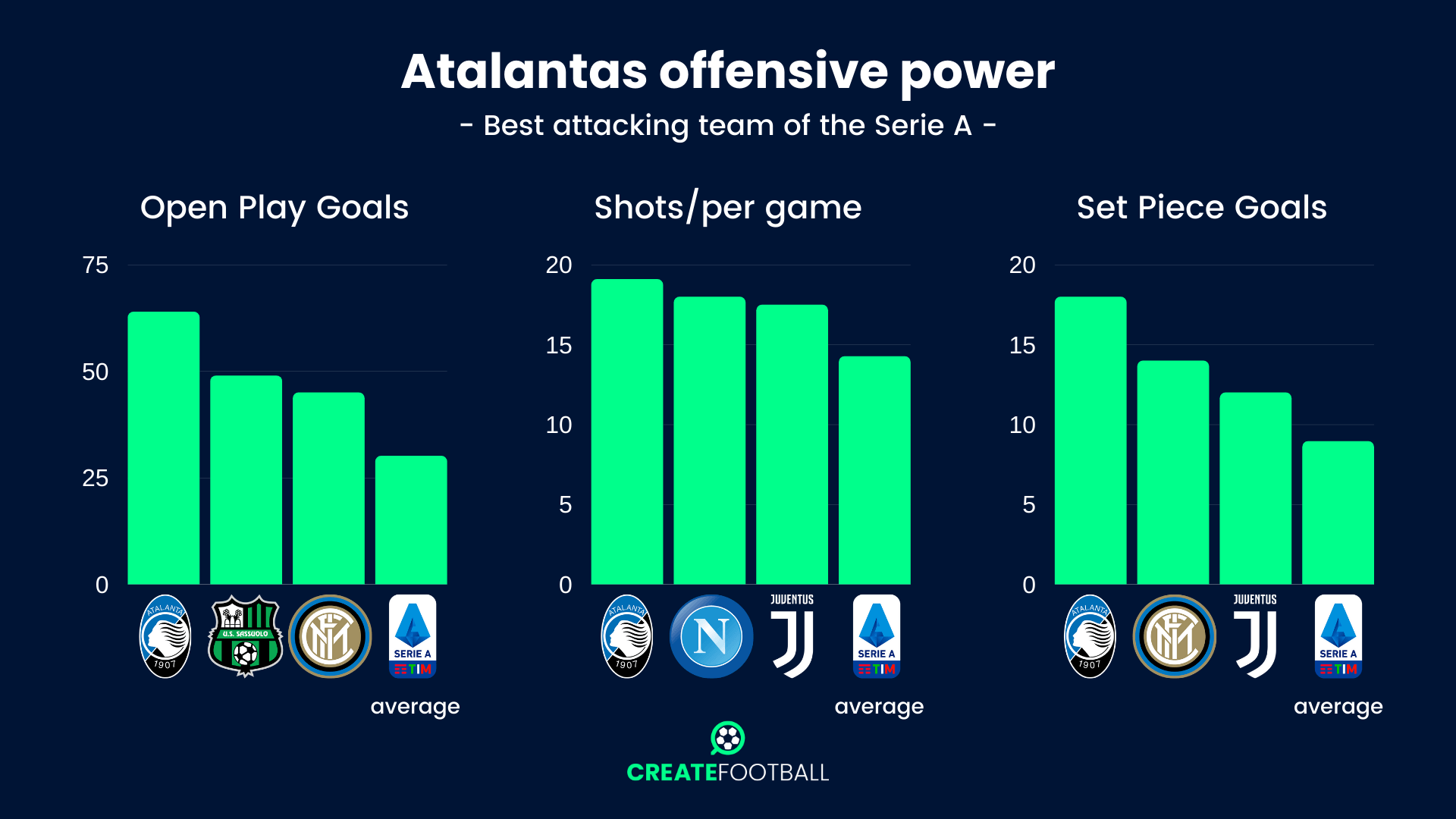 Atalanta likes to dominate the rivals with a lot of ball possession during their attacks, but they also produce many bad ball controls and dispossessions – however, they manage to win many duels right after due to their high pressure. Alejandro Gómez again plays a key role in generating triangular and diamond formations on the field, which helps to outplay the opponents. He not only connects the defensive midfielders, e.g. Pasalic and de Roon with the strikers but also the players on the flanks. Fluid positional changes are not uncommon, it can happen that a striker roams far on the wing and one of the right/left mids rushes past him right in the penalty area, waiting for the far cross. Above all, Robin Gosens benefits a lot from this tactical idea, scoring 10 goals and providing 8 assists in all competitions.
5. Conclusion
Atalanta Bergamo's strategy shows, that if you scan smaller markets and pursue a clear philosophy on the pitch the act between athletic performance and financial growth can succeed. It is a rare example of high quality in the areas of squad planning, scouting and game philosophy. It is going to be exciting to see the heights Atalanta can reach in the near future – the will unfortunately miss out on this years Serie A Scudetto due to poor performances last autumn, but in the Champions League quarter-finals they will face Paris Saint Germain. Gasperini's men don't have to fear anyone!
Author:
Mats Beckmann
createfootball.com