As the new Bundesliga season looms, we want to take a look at some of the clubs that might challenge Bayern München, if the stars align just the right yet improbable way, but are more likely to squabble between each other over the Champions League spots in the table. Given how Havertz' transfer has dominated football media in recent weeks, and how they have lost another key player in Kevin Volland, Bayer Leverkusen seems like a reasonable place to start. They've shown good performances, placed well if a bit unlucky in the table, and could be expected to demand more from the coming season.

In our overall rating they place third. They are highly rated in ranked in all relevant event categories and had a very solid base to build on for further progress.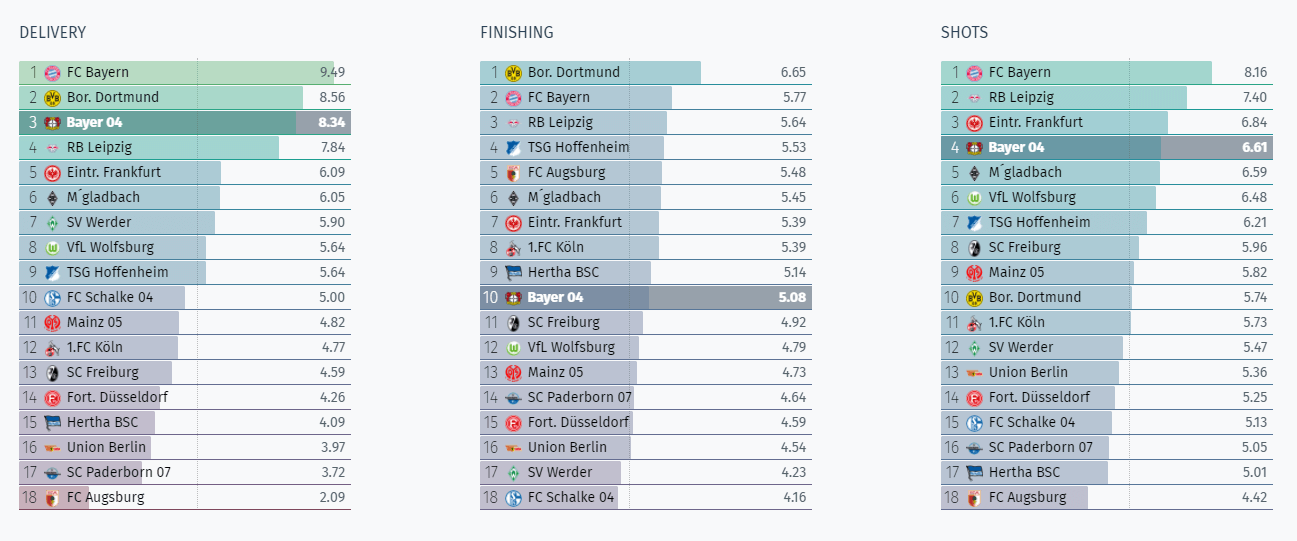 They were able to successfully deliver the ball into positions of offensive value (DELIVERY), and also generated a good amount of valuable scoring opportunities (SHOTS). They have been let down by their efficiency in front of goal, converting the kind of opportunities they had into actual goals (FINISHING). Their finishing was on a reasonable level, just about league average, but not on par with the top teams in the competition. If just two or three matches had gone their way, with slightly more luck and/or skill in converting their chances, they might have found themselves in second place in the league table, qualified for the Champions League.
But, now two key players have left, with Havertz gone to Chelsea and Kevin Volland having joined AS Monaco. We'll stick to those two players with their potential replacements for this piece.
First up: Kai Havertz, and Florian Wirtz, who could turn out to be a straight replacement.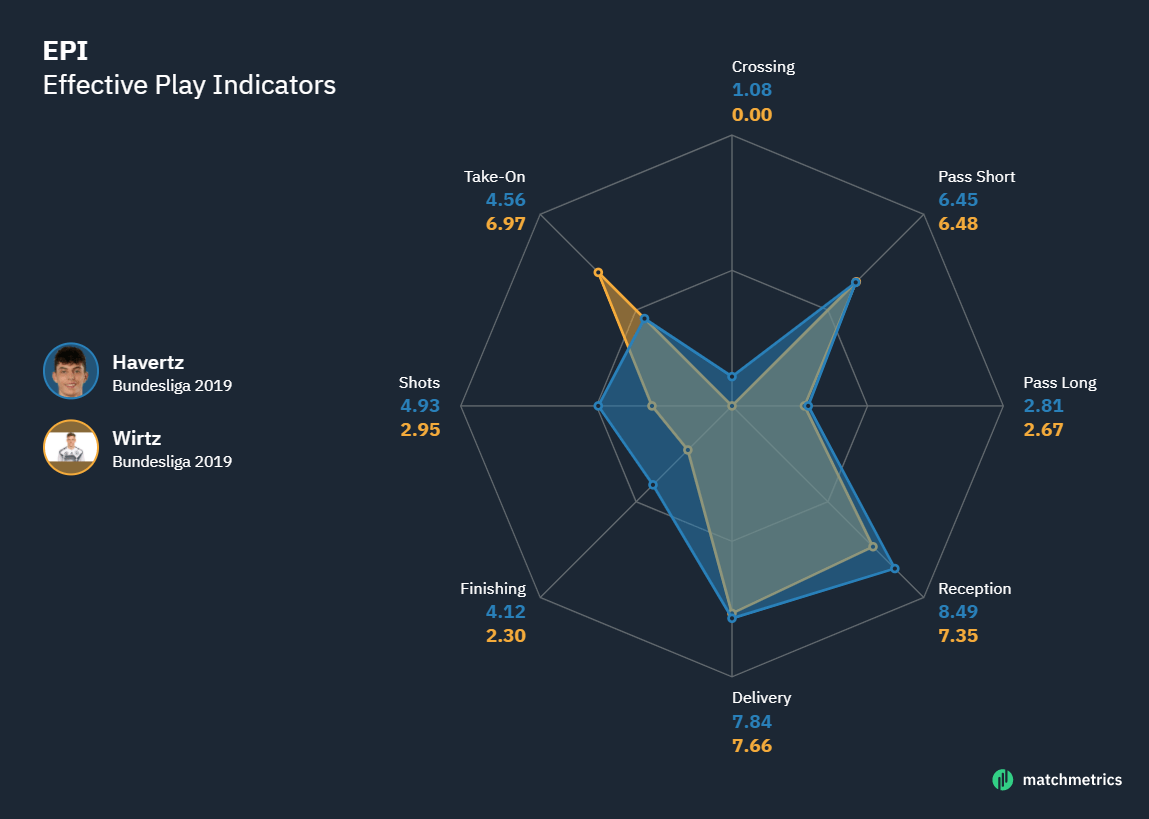 Granted, Wirtz has not seen much playing time in the Bundesliga. But his profile looks remarkably similar, with less activity towards goal, but more value in offensive 1v1 dribblings. But he's only 17 and has just gotten his feet wet at that level of competition. So let's compare his U19 performance to Havertz, who last played there in 2016.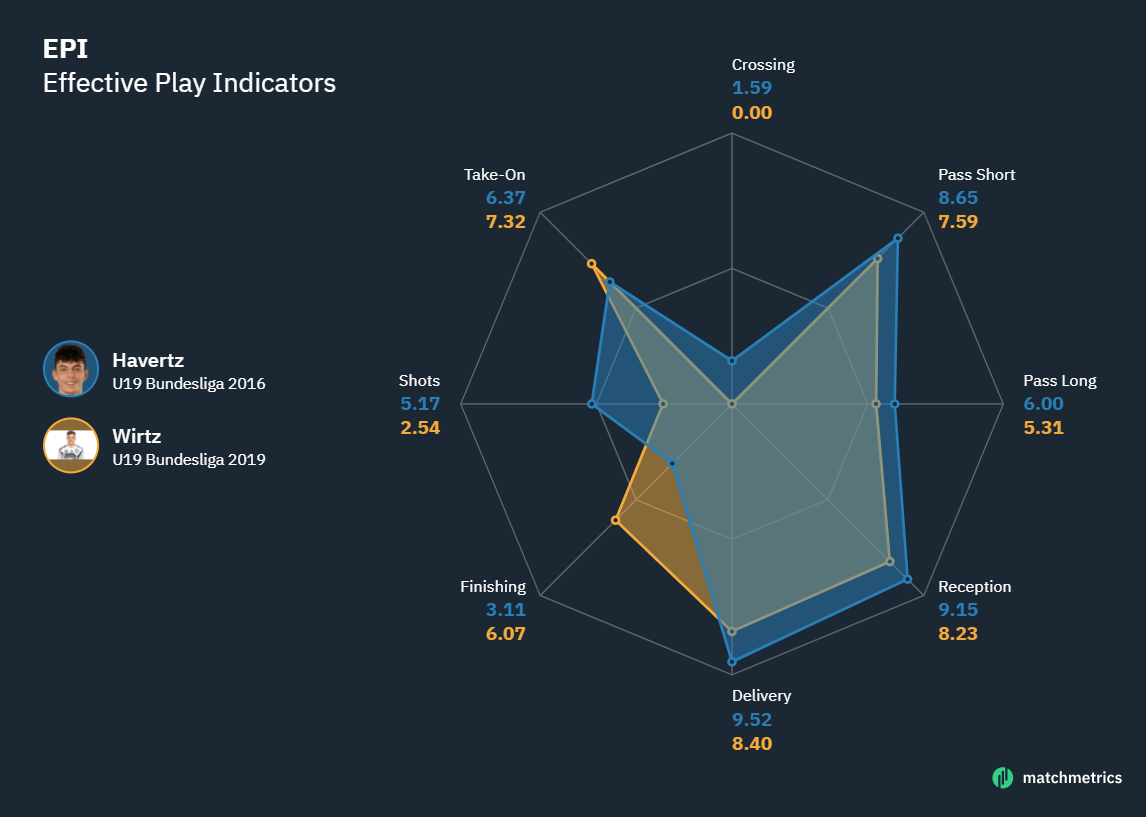 Again remarkably similar and you can see why Wirtz could be expected to grow into the vacancy left by Havertz' departure. Perhaps not quite there yet, but sample size in playing time is quite low for both. Given these commonalities, it would not be a surprise for Wirtz to turn into the next superstar growing out of Bayer Levenkusen's ranks to rise to international recognition.
So how about Kevin Volland and Patrik Schick? Here a comparison seems much easier. Both have played a respectable amount of time as forwards for an offensively-minded top team of the Bundesliga.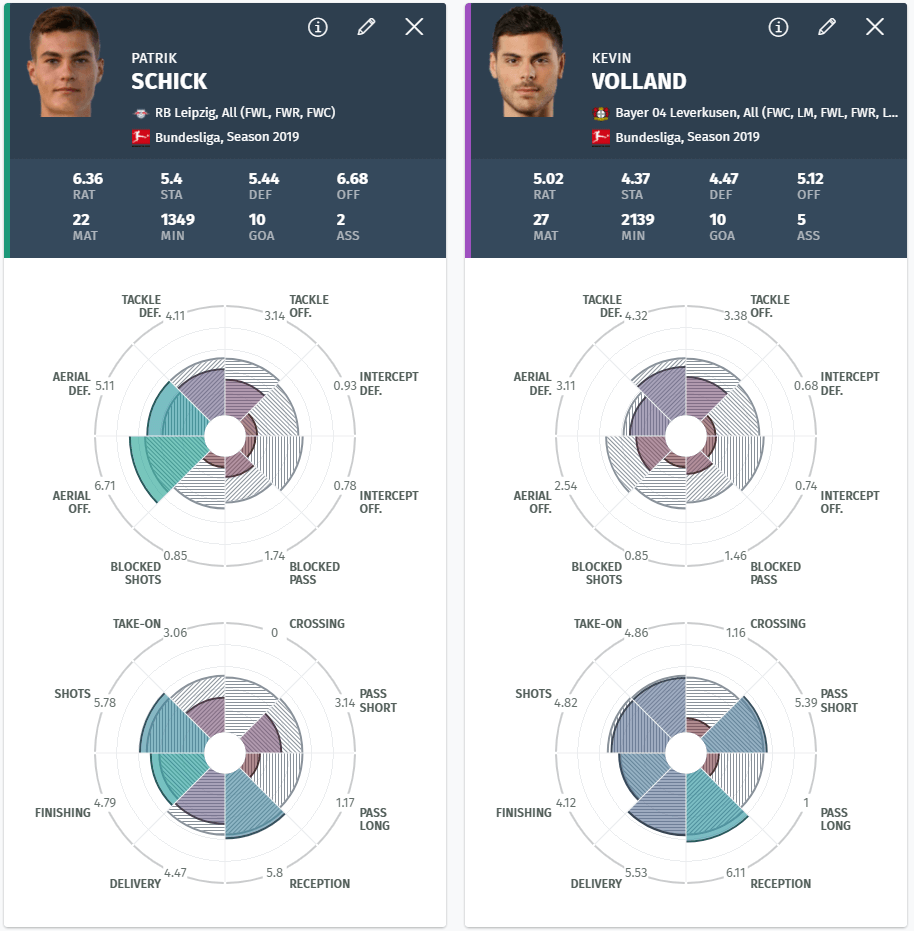 This reveals a slight difference in type, with Schick looking more like a target man compared to Volland's more complete profile. Schick is much more of an aerial presence, occupied with scoring goals, while Volland had the advantage in constructing play (PASS SHORT) and also setting up his team mates in positions of offensive value (DELIVERY). Schick seems more suited to a direct style of play instead of fluid link-up. So either Leverkusen will have to adapt the way they play, or Schick is intended as a backup player, despite his significant price tag, to be used as an option to handle teams with destructive play and deep defensive lines that offer little space for passes towards goal.
But what about other forwards on their pay roll? Alario for example?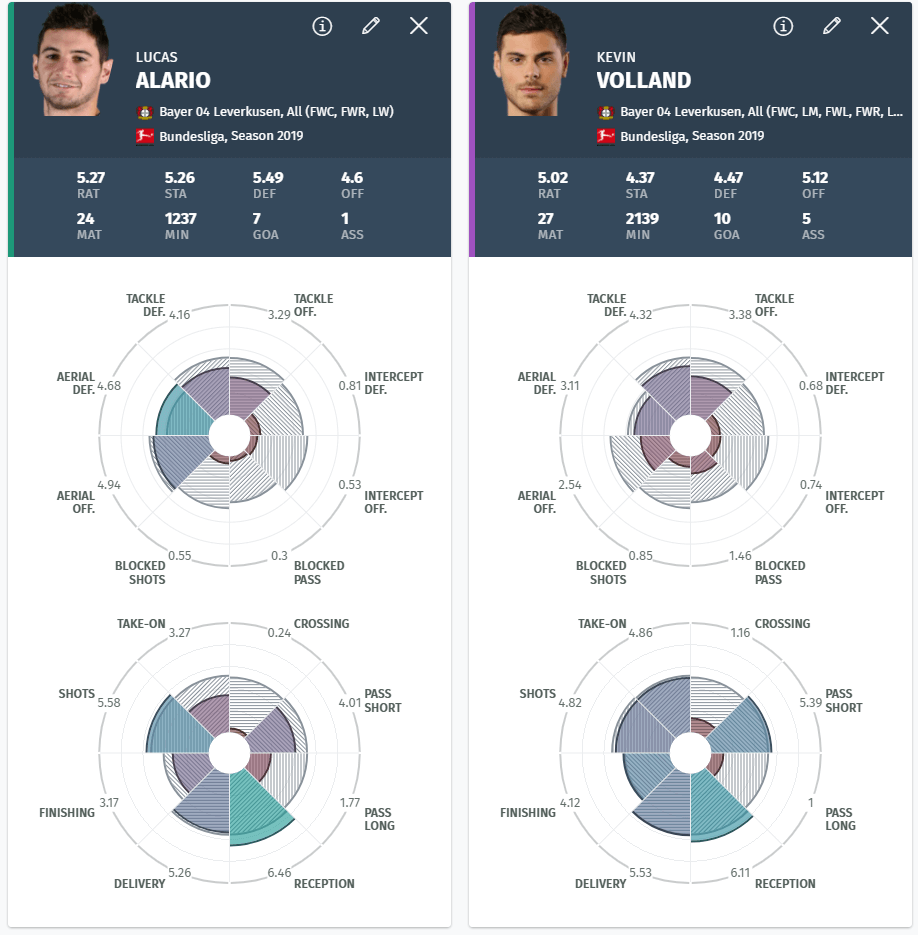 He seems like a reasonable stand-in in playing style, but with slightly decreased ratings in some key areas, like finishing and build-up play in short passes. While Alario would have passed as a backup for Volland for a limited amount of time, making him the starter on that position would not really provide that additional push the team might be looking for.
So where does that leave the club? It could make sense to look for yet another striker to complete their ranks, so another deal might very well be in the works. There are some interesting alternatives provided in Scoutpanel, and we are looking forward to see what the people in charge at Bayer Leverkusen come up with to deliver on their ambitions.
Author:
Michael Markefka
Head of Analytics @matchmetrics
e-mail: m.markefka@matchmetrics.com