Image by Ronnie Macdonald. Source: Wikimedia commons
From the Championship to the Premier League (2/2): Who can make the cut?
After analyzing the players who have already made the cut into the Premier League in the previous blog post, we now take a look into the future. The haunt for the next talent seems to heat up with every year, but who are the Championship players that can shine in the Premier League as early as next season? And where should they go? We explore 3 of the hottest young talents in the Championship right now, and also using Scoutpanel's data project, where should they move to have an instant impact and playing time, or if they are looking for long term development. 
1. Bryan Mbeumo
The French attacker just signed from Ligue 2 side Troyes and his first season at Brentford sees him with 20 goal contributions already for the bees. Very good with medium and long-distance shots, he is also very strong taking on players and has poacher instincts when in the box. Brentford is battling for promotion, but even if they make it to the Premier League it's hard to see them keeping their prized asset much longer. 
Where Should He Go? – Immediate Impact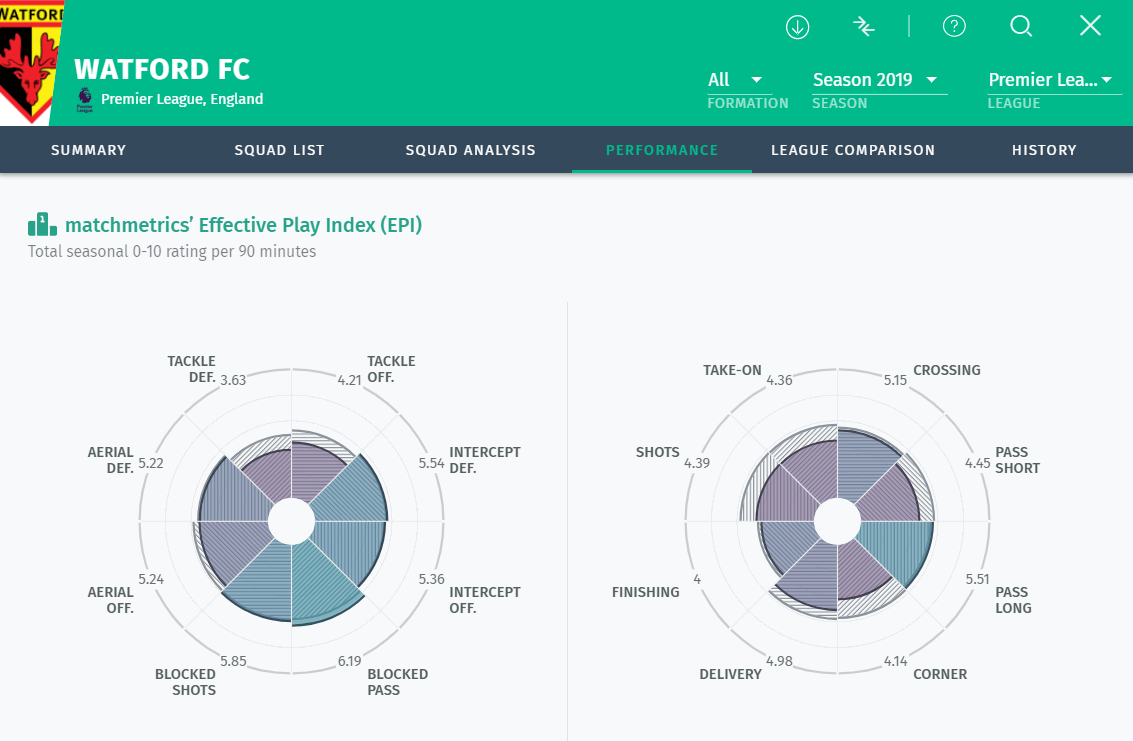 Watford is clearly lacking that spark in the attack, having the second worst goal scoring record of the competition so far. They are also 20th in dribbling success and 17th in chances created and goal conversion. A survival battle is underway, and if they do beat relegation this season, firepower will be surely needed if the Hornets intend to do so beyond this season. 
The Competition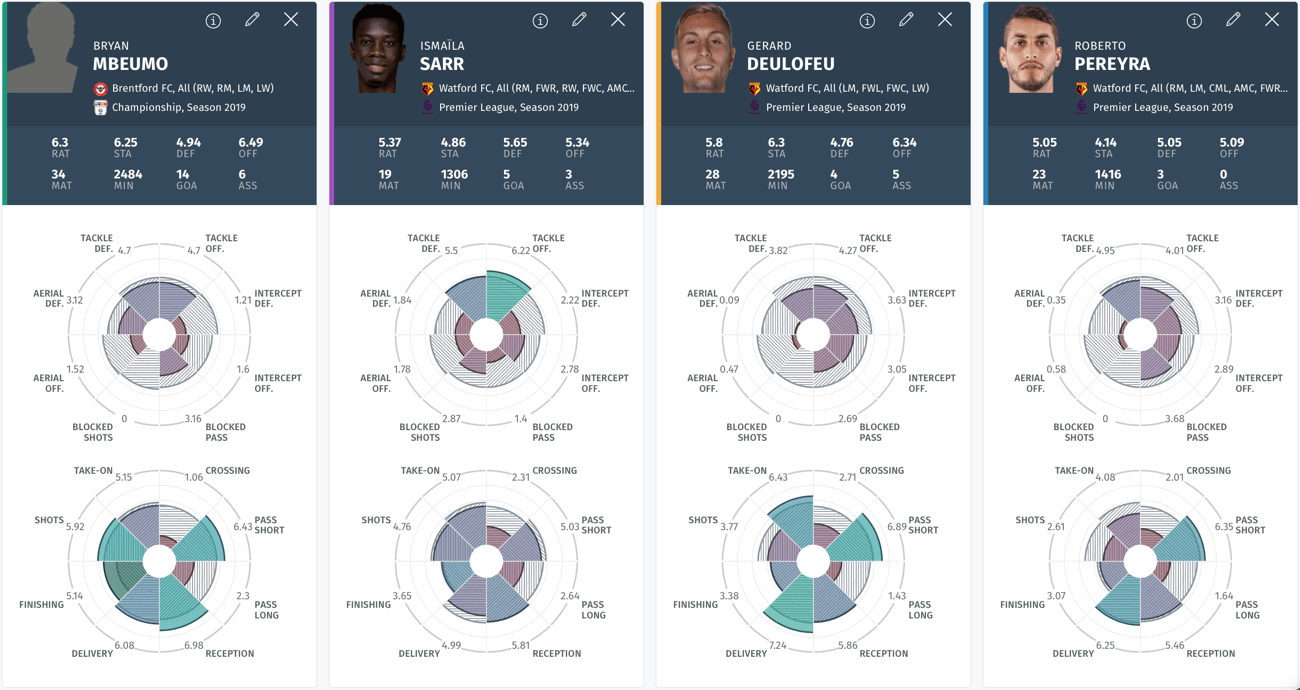 With a proven track of adding goals from the wings, Mbeumo leads the way when it comes to Overall Rating, Offensive Rating, Defensive Aerials, Reception, Finishing and Shots, whilst being second for stability, defence, offensive tackles, take-ons, short-passes, blocked passes, offensive aerials and delivery. Yes, this is a lot. And not only that. The gap between him and the second place in shots, an EPI the Watford team is lacking a lot, is 1.16, meaning he is 11.6% better on his shots position than Ismaila Sarr, and comparing him to Pereyra the difference widens to 3.31 or 33.1%.  It's also worth noting that Mbeumo is the benchmark for finishing from offensive wingers in the Championship, meaning he's the most effective player in this position playing in England's second tier.  His goal conversion, for example is 0.42, against Sarr's 0.29, Deulofeu's 0.15 and Pereyra's 0.1. When it comes to dribbling success, his rate is at 70%, with Sarr at 59% – tied with Pereyra – and Deulofeu at 66%. 
Where Should He Go? – Long Term Development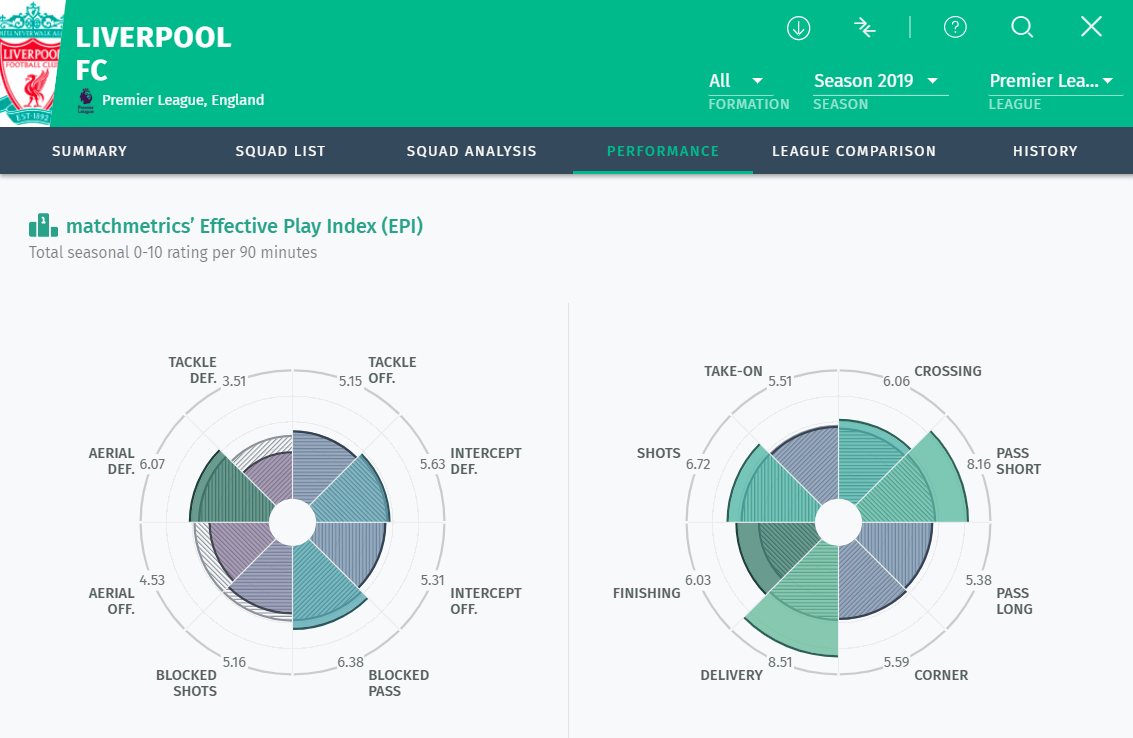 The table leaders play attractive, offensive football and are lacking reliable options from the bench when it comes to using their front trio, there is also getting older by the day, and with the coming of age will need replacement (Who should Liverpool sign to succeed their ageing front trio?). 
The Competition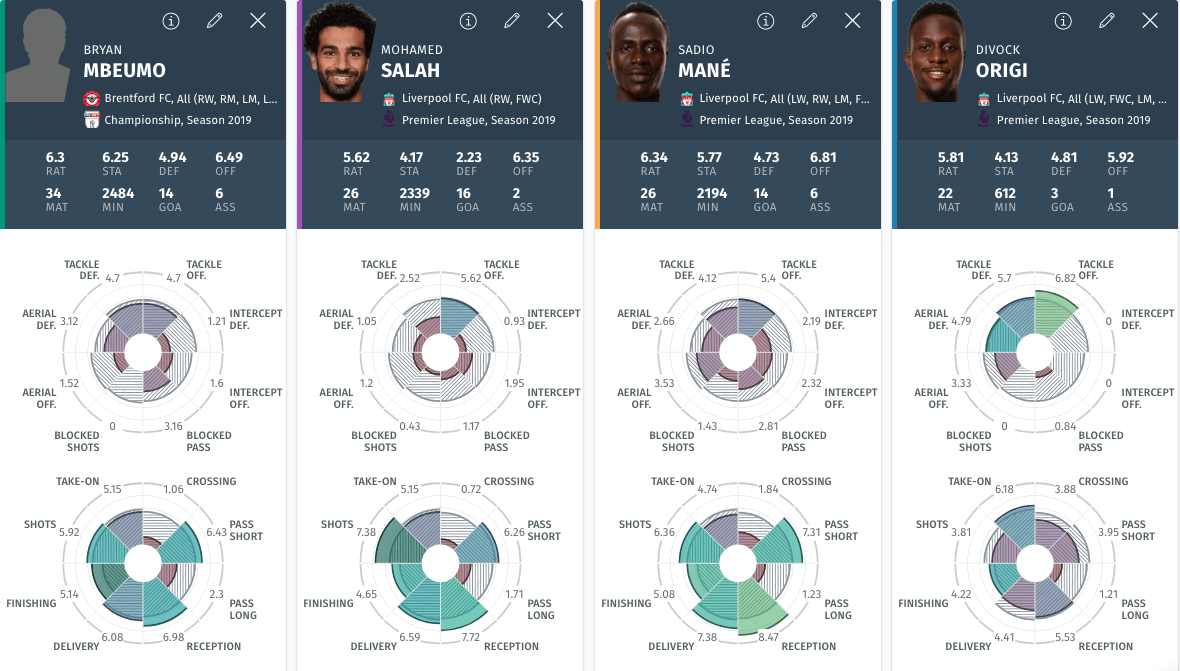 Clearly, getting into Liverpool's starting lineup is no easy job, but with the AFCON back in January, meaning Salah and Mané will be away for the whole month, Mbeumo will certainly get some minutes for himself that he can build from. Also, he's one of the few players in Scoutpanel's database – and that's 550 competitions worldwide – to have his EPIs mimicking Salah's. Using some standard statistics, Mbeumo has 3.38 completed tackles per 90, Salah 2.02, Mané 3.09 and Origi's 3.66, when it comes to take-ons Mbeumo ranks 3.16 facing 2.93, 3.40 and 3.66 from Salah, Mané and Origi respectively.
2. Grady Diangana
Having changed the capital for the Midlands when signing on loan at West Bromwich from parent club West Ham, Diangana was looking for match experience at senior level. And not only that, he found a great platform for his development and is catching the eye for The Baggies. 
Where Should He Go? – Immediate Impact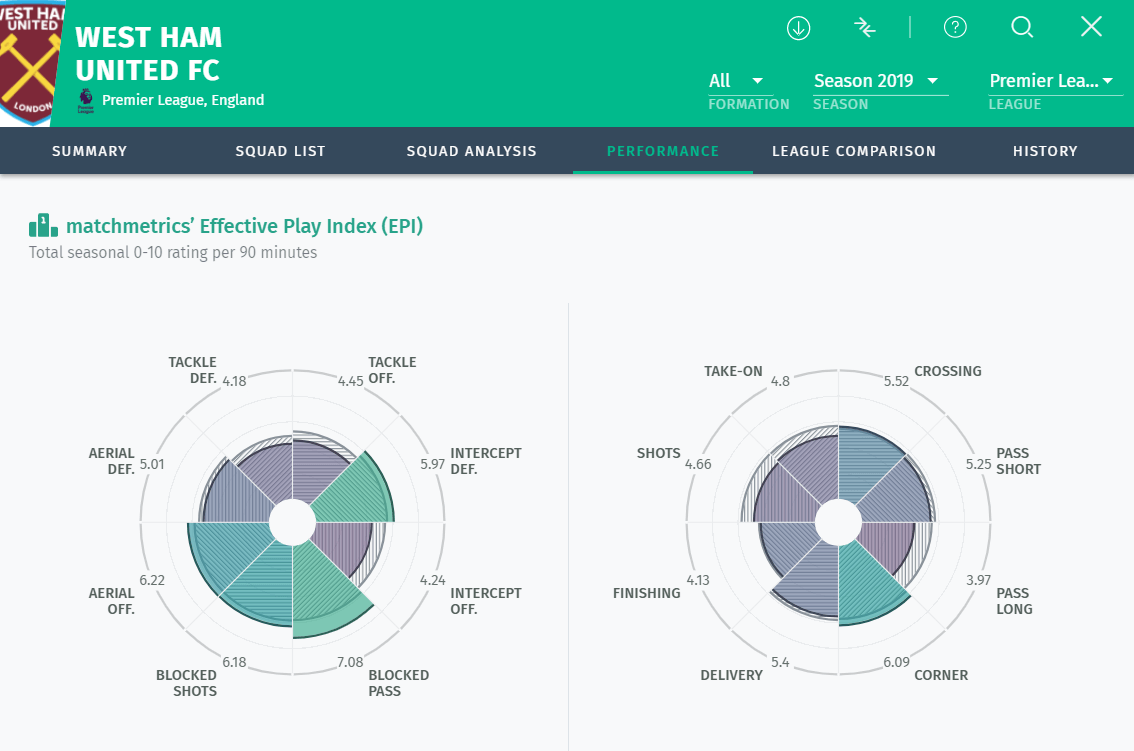 Where else could it be, right? The Hammers are yet again struggling and playing unconvincingly to say the least. The answer to improving their fortune could have been in the club's youth ranks. The London side is ranked 12th in delivery and 16th in finishing in the Premier League.   
The Competition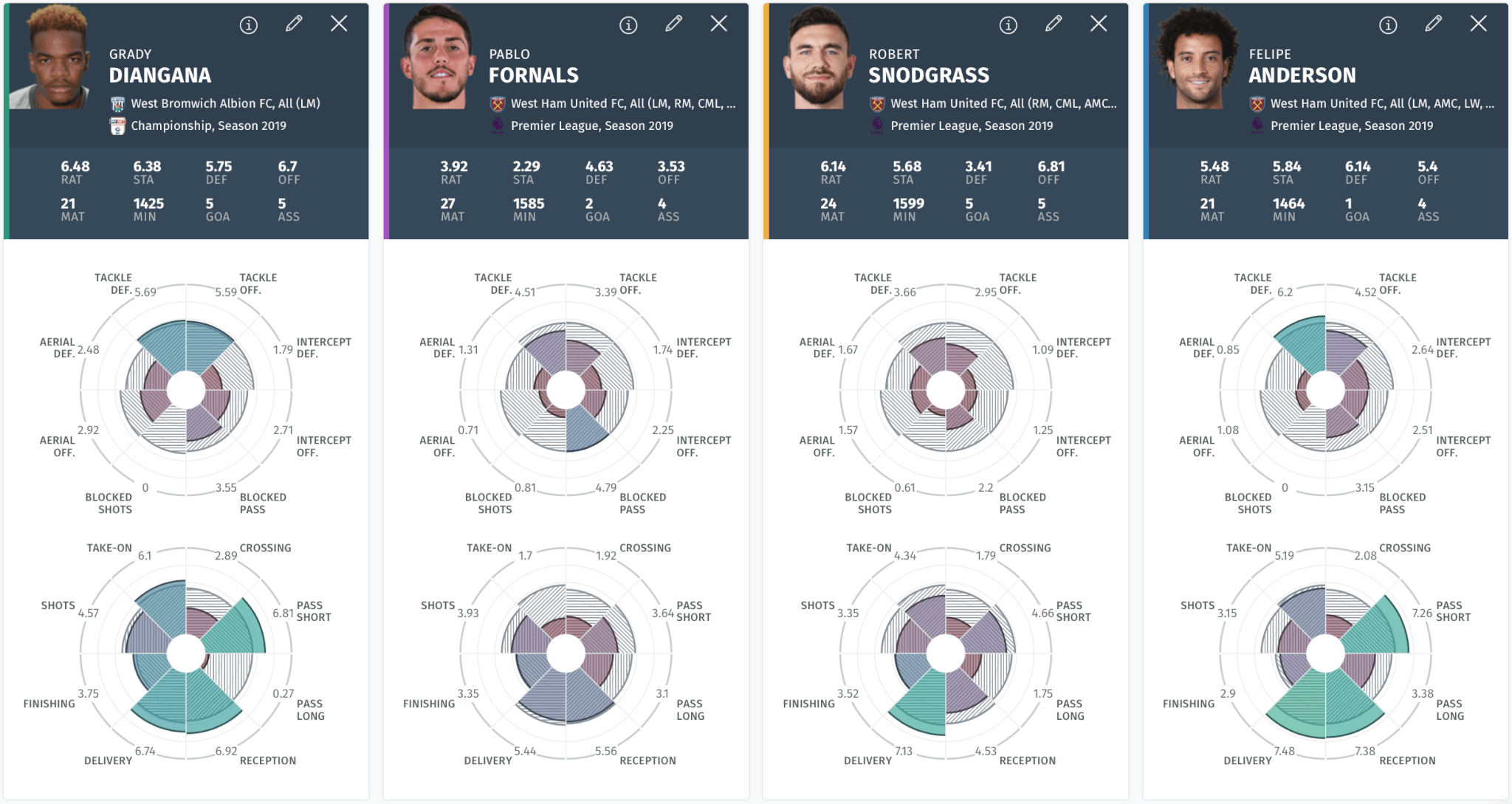 The fact that Diangana is better than Fornals in every single EPI bar long passes and blocked shots means not only West Ham could have had a better player by using its own academy, but could also have saved the reported 24 million pounds paid for the spaniard's transfer. He also beats Robert Snodgrass in 16 out of 20 EPIs and Felipe Anderson on just 12, including, but not limited to Stability, Shots, Take-ons and Offensive Tackles and Interceptions, something West Ham as a whole is struggling at. As usual, looking at  the standard stats, considering successful dribbles, shots and created chances, all per 90 minutes, we have, respectively: Diangana: 5.25, 2.03 and 1.15. Fornals: 1.03, 1.58, 0.51. Snodgrass: 3.07, 1.26 and 1.32 and Felipe Anderson at: 5,43, 1.41 and 0.74. 
Where Should He Go? – Long Term Development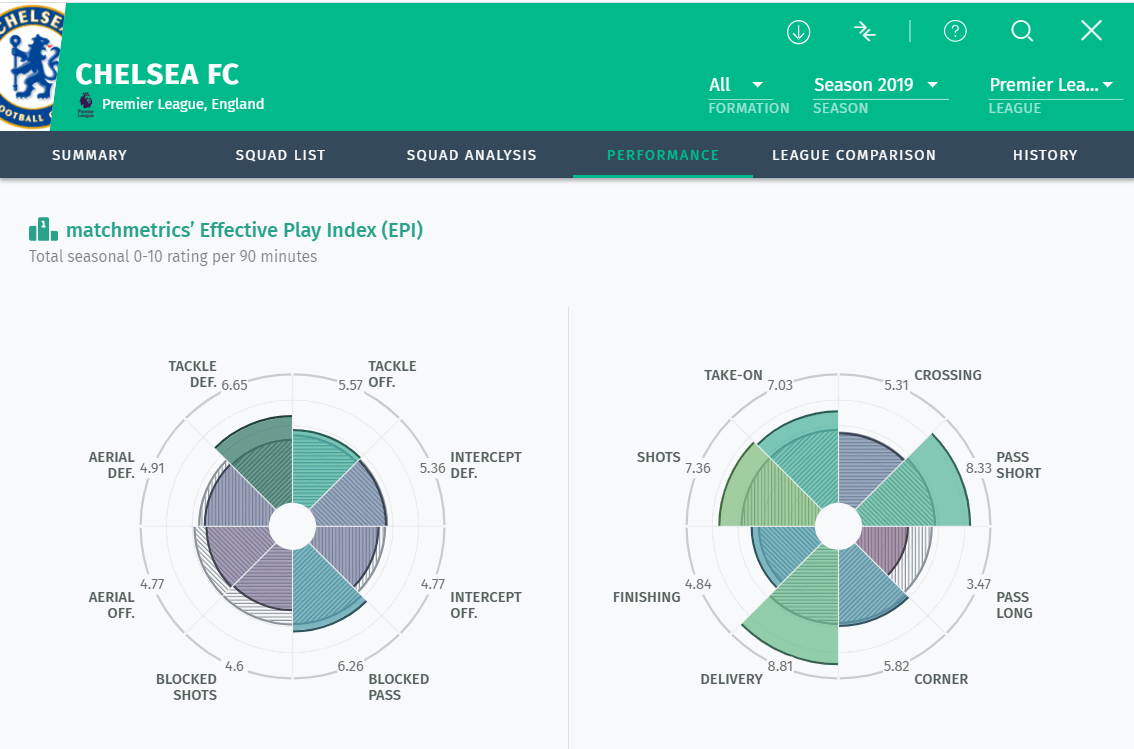 If there is one team to benefit from West Ham's academy, this team is Chelsea. Lampard and Terry are down in history as two of the most important Chelsea players, and both came through the Hammers' youth setup. Chelsea has a great history with tricky creative wingers, and Diangana ticks all those boxes.  
The Competition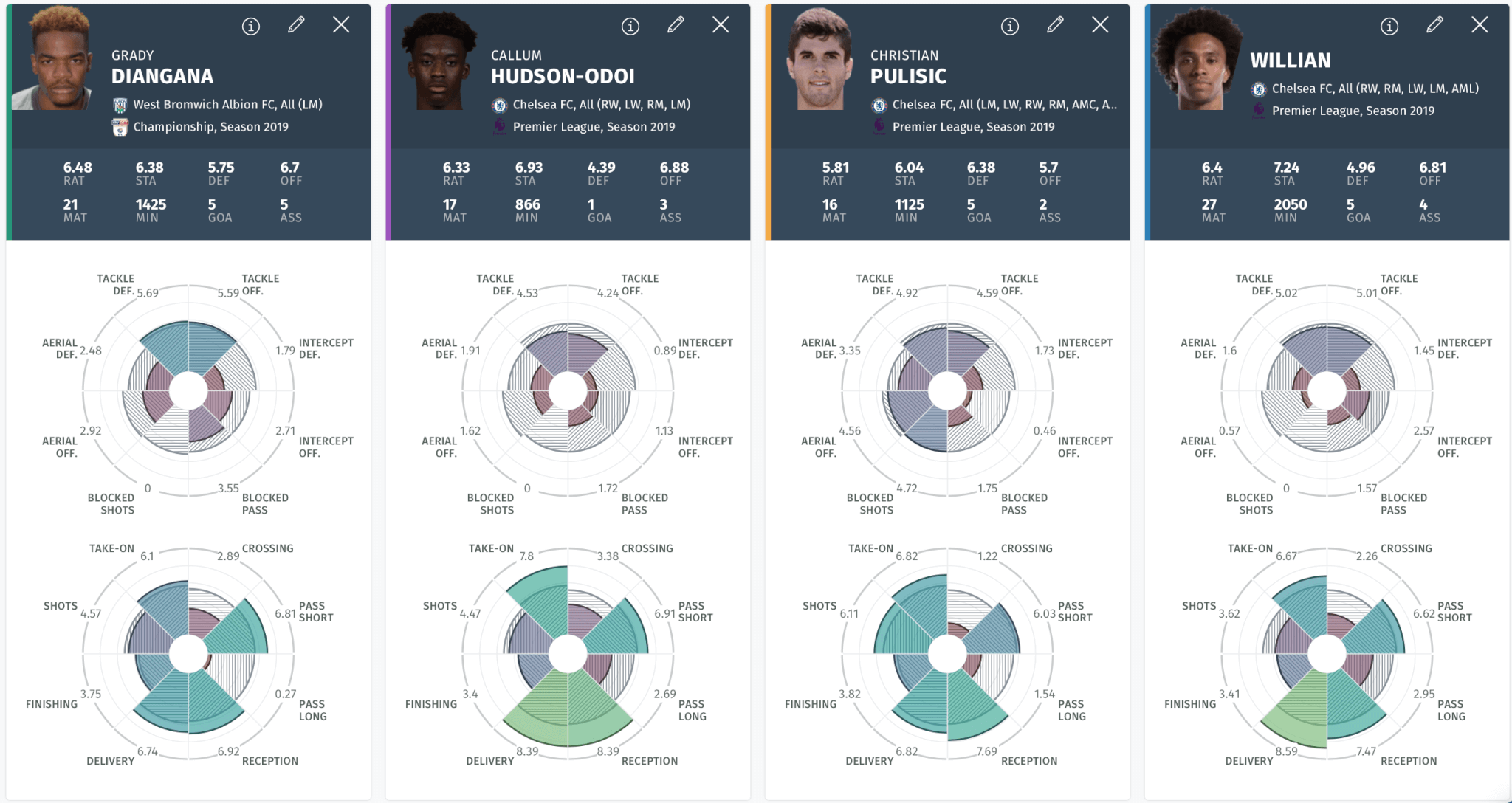 Chelsea does have two young and promising wingers in Hudson-Odoi and Pulisic, but with both Willian and Pedro likely to leave at the end of the season on a Bosman, room is made for another winger and who better than a homegrown, young player with a very similar statistic output? Chelsea is already very strong in take-on and shots, ranking 2nd in the Premier League, and a player to keep contributing to it is always welcome. Diangana also edges his potential competitors when it comes to tackles and interceptions EPI, both defensively and offensively. Using standard stats for comparison, Diangana creates 1.15 chances per 90 and is only second to Hudson-Odoi's 1.18, beating Pulisic's 0.78 and Willian's 1.11. Regarding tackles made, he tops the chart with 4.81, Pulisic comes second at 4.56, with Willian's 3.58 third and Hudon-Odoi sitting last with 2.68.
3. Ebere Eze 
A shining light sparks from mid-table side Queens Park Rangers. Ebere Eze is turning necks and dropping jaws with his dazzling dribbling skills that pave the way for the 21 years old and his 20 goals contribution so far in the Championship, just slightly over one third of the goals scored by QPR.
Where Should He Go? – Immediate Impact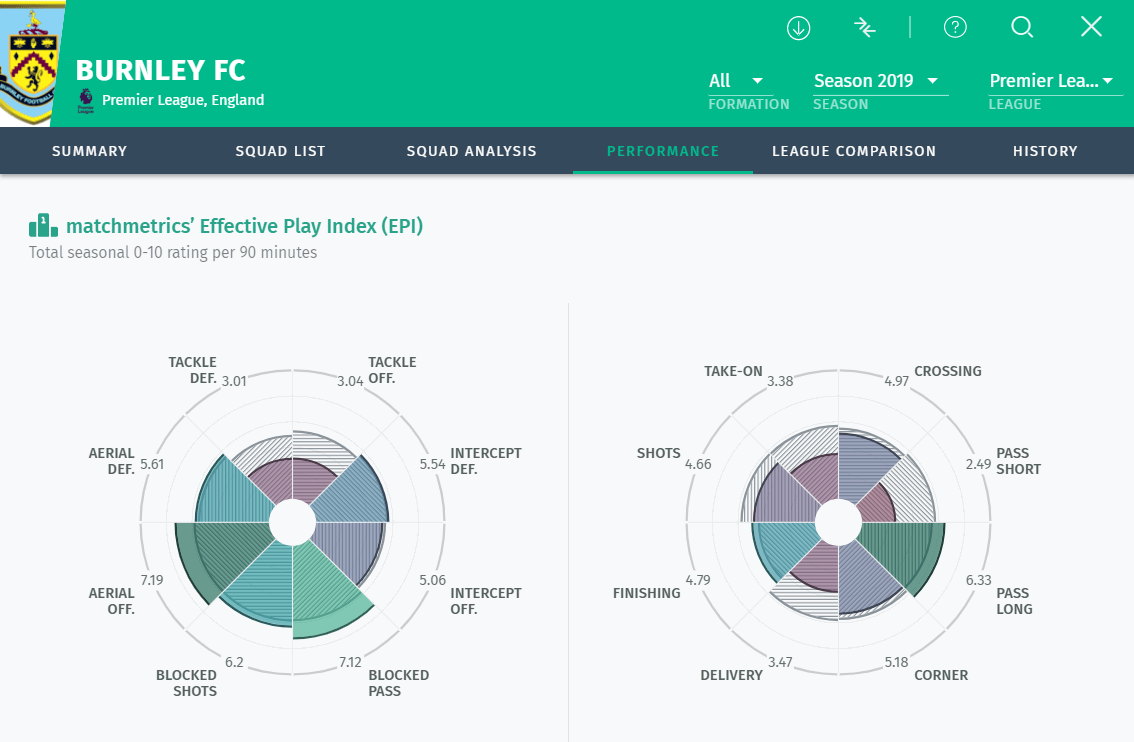 Burnley sits at a bitter 19th place for take-on and delivery in the Premier League. The lack of flair and creativity posed by Sean Dyche's side is at the very least discouraging. Adding some unpredictability to the side can be the key for Burnley to challenge higher up the table and why not even spring some surprises? 
The Comparison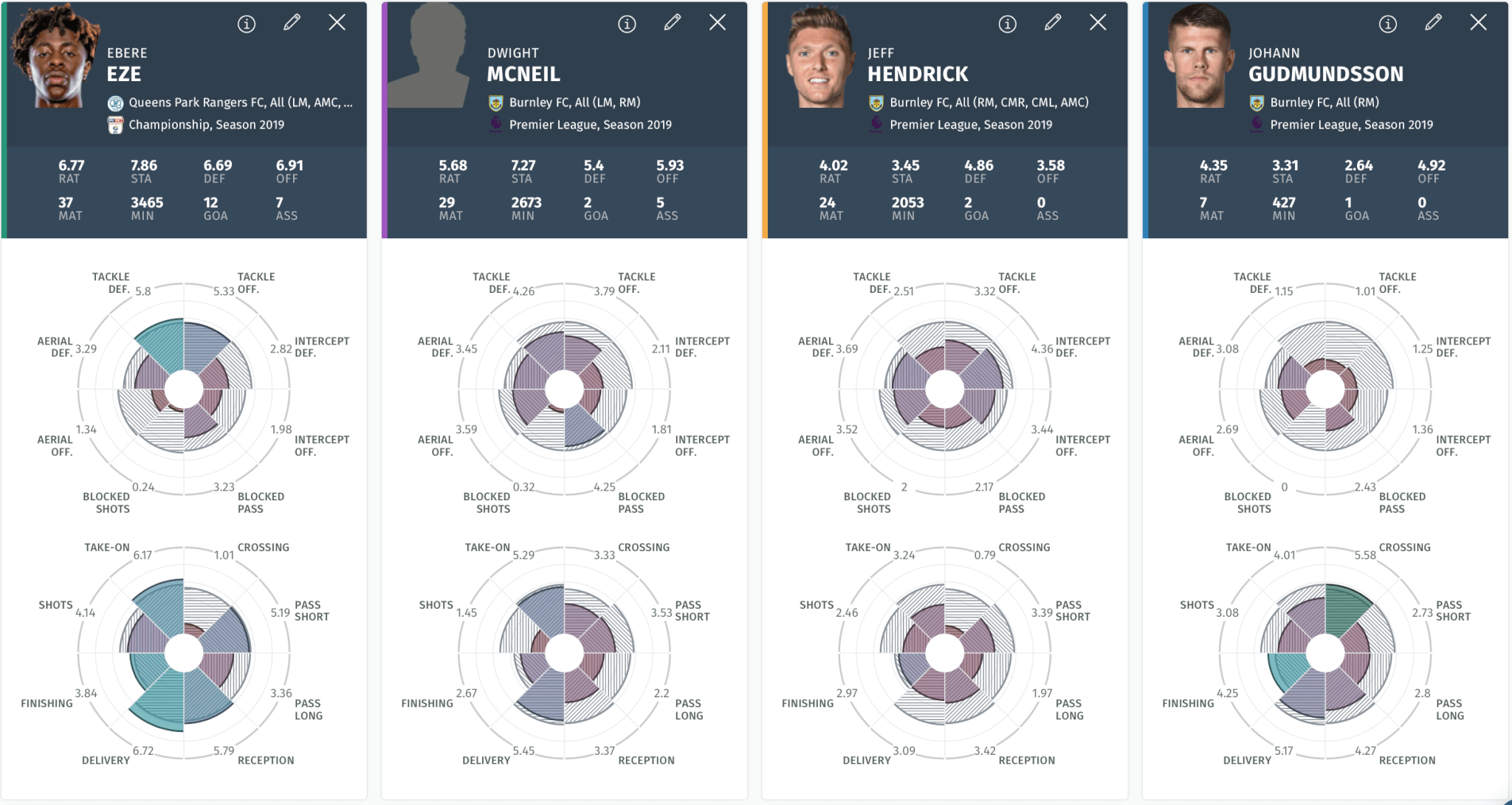 Eze would certainly bring a lot of on-the-ball quality, topping the comparison for take-on, reception, delivery and shots, and despite not having such great EPIs for interceptions as Jeff Hendrick, the young player is well committed and that is confirmed by his tackle rating. Coming to standard stats, Eze also has more dribbles, shots, tackles and through balls per 90. His numbers, respectively are 6.52, 2.16, 5.11 and 1.39. Dwight McNeil ranks 5.93, 1.05, 4.73 and 0.49. Jeff Hendrick scores 2.67, 0.79, 3.75 and 0.3 whilst Gudmundsson is at 2.53, 3.16, 1.48 and 0.84. 
Where Should He Go? – Long Term Development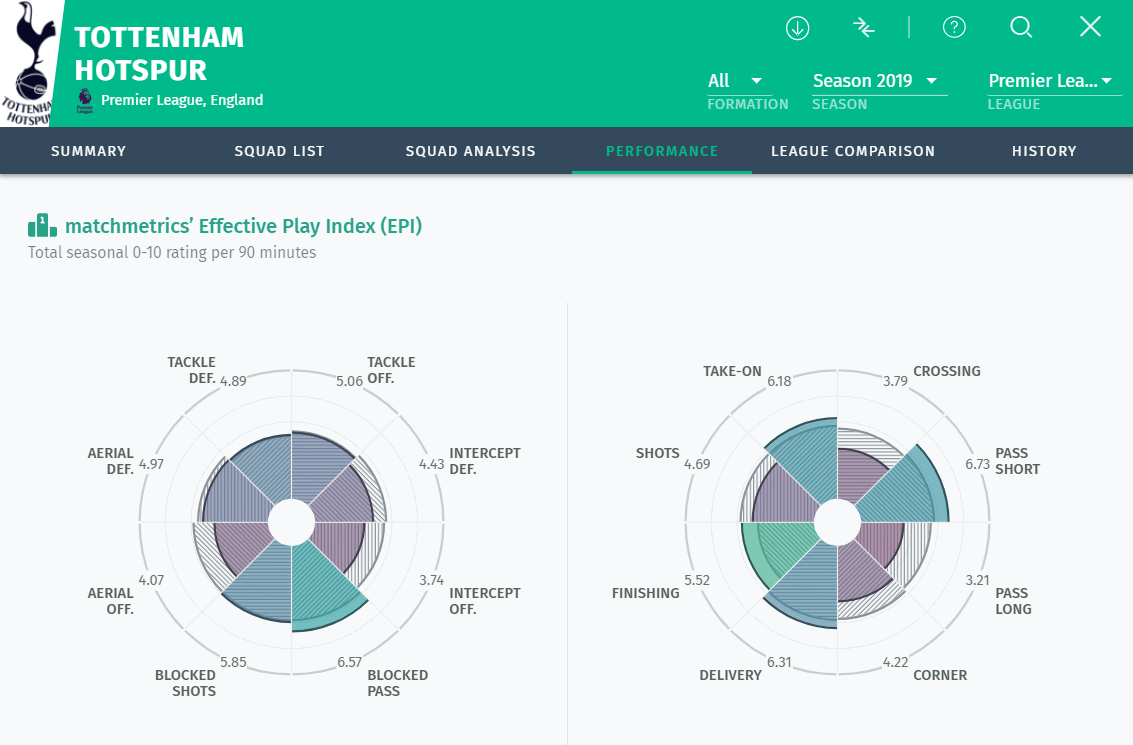 Tottenham ranks well in terms of delivery, take-on and their wingers certainly play a part in it. Being through a transition which saw Mauricio Pochettino being replaced by José Mourinho, and Christian Eriksen – who may be followed by other star players – leaving Spurs, an early move for Eze may ease what the future holds. 
The Comparison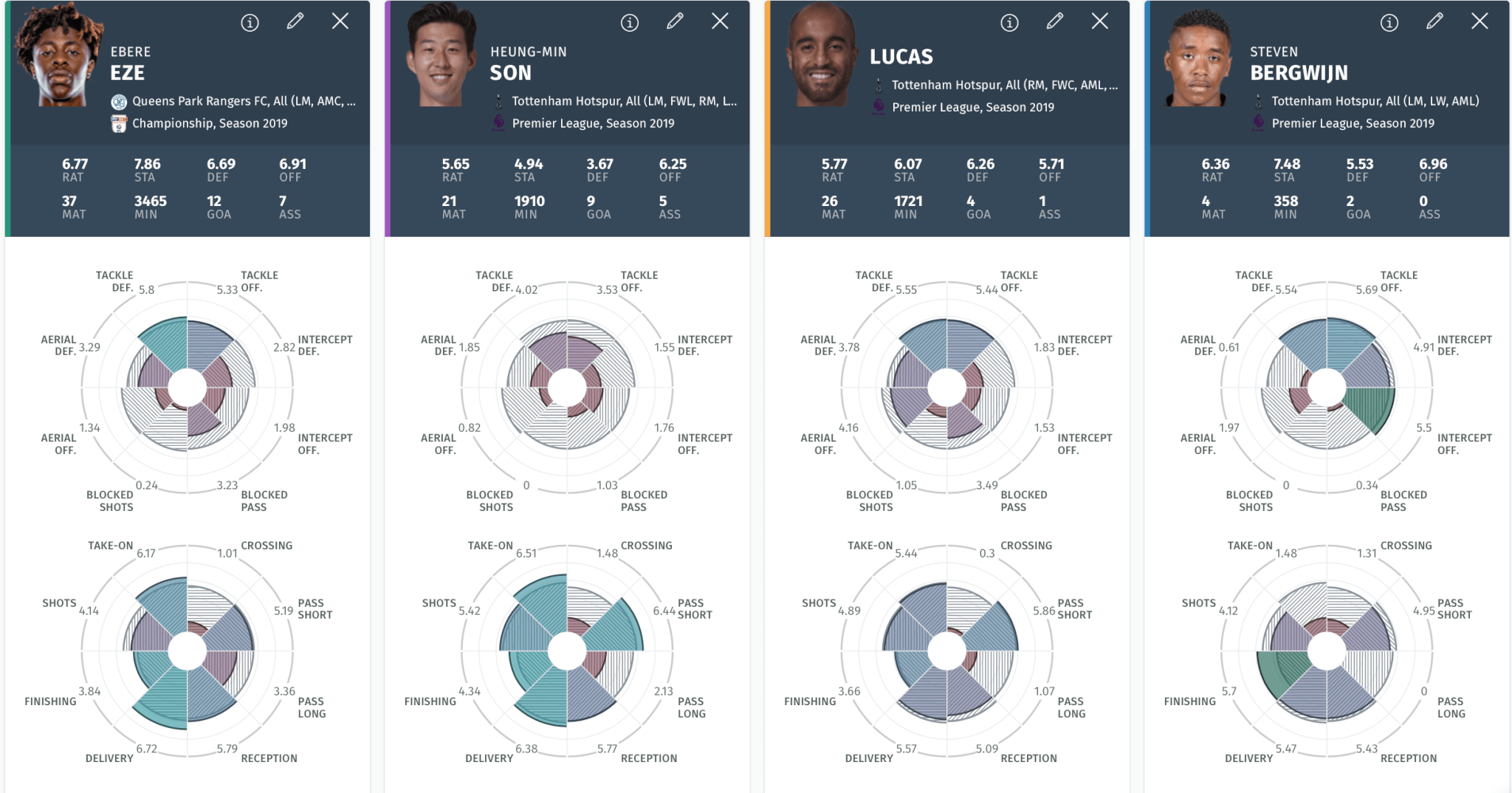 Just as Lucas and Son, Eze has his delivery, reception and take-on ratings as great strengths and all of them share above the average finishing skills, with Bergwijn being the benchmark in the league for this specific EPI, as well as offensive interceptions. Off the ball, Eze's tackling prowess puts him level with Bergwijn and Lucas, and somewhat above Son. Ebere Eze is first on tackles with 5.11 per 90 and dribbles with 6.52, whilst sits second at shots with 2.16. For comparison Son has 3.78 tackles, 5.67 dribbles and 2.99 shots, Lucas: 5.07, 5.78 and 2.11 and Bergwijn 4.33, 3.3 and 1.24 respectively. 
Conclusion 
The Championship is more and more proving to be a good hatchery for talent. With the right scouting and recruitment strategy, teams can pick a talented player at – for now – a fraction of the price players from the top five leagues would cost, and teams that are already doing so will not only get a good sportive but also a positive financial return on their investment.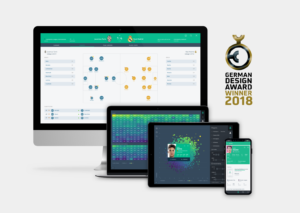 Read more about EPIs and Scoutpanel →